So…
In our last post, which was the first in this, the newest edition of Purse Pattern Chronicles, I showed you the original sketches of what will eventually become our next pattern and told you about my vision for it, which means that now its time for the rubber to hit the road… in other words… its time to draft up the first set of pattern templates and test them out by sewing up the 1st prototype. Now… prior to revealing it to you, I'm asking that you please remember!
This is just a prototype & will…
NEVER be used in the traditional fashion (as a handbag)…
be comprised of cast off notions & scrap fabrics…
have no lining & thus NO interior features AND…
absolutely NO foundation fabrics (ie; interfacing or stabilizer).
That's because the ONLY purpose this sample will EVER serve is as an initial evaluation of the bag silhouette and to get a decent read on how the pattern pieces fit together so I can make appropriate adjustments!
So let's take a look, shall we?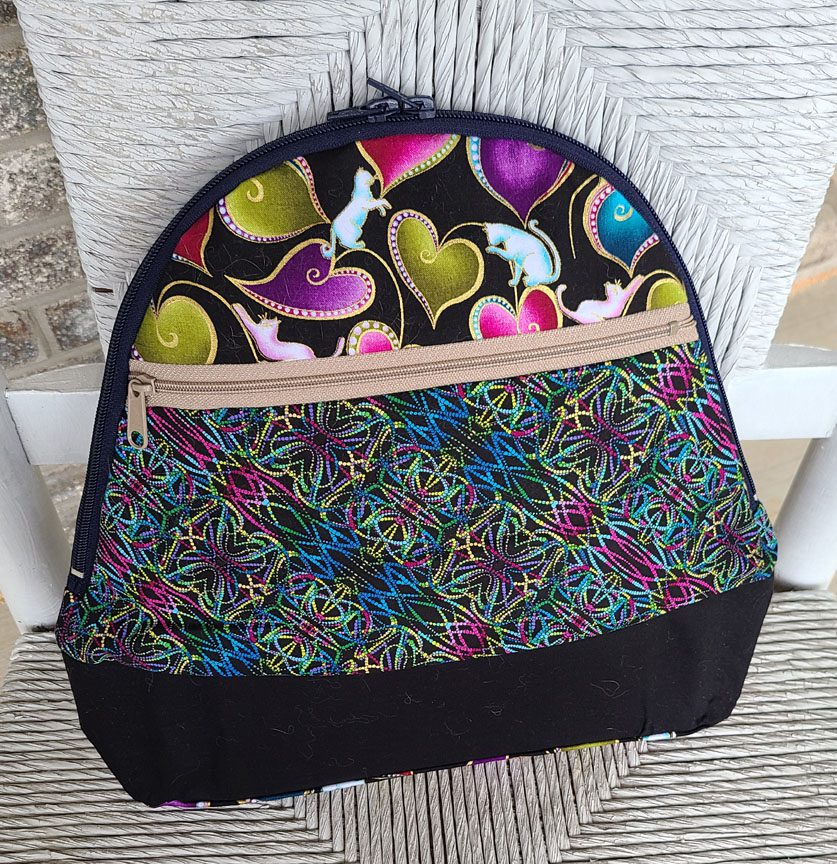 So here's the deal… for a first prototype I was fairly pleased with this bag. Oh I know it's hard to see beyond the mismatched fabric & ugly zipper, but if you refer once again to the 3rd paragraph above, this sample fulfilled my two objectives for a 1st prototype in that the pattern pieces matched up fairly well and I was reasonably satisfied with the basic silhouette. I'll be tweaking it for sure. Most notably, I'd like for the sides of this bag to have a more continuous curved shape so I'll be smoothing out that area area at the bottom of each zipper end.
So stay tuned for the next post in this series when I'll be adding a lining complete with interior features as well as the backpack straps. If all goes as planned that will be my "gorilla sample"!
And now…. it's YOUR turn!
So…I know its probably a bit difficult to draw any conclusions from this one picture but based on it, along with the sketches I shared in our last post, do you think a bag like this would hold some interest for you? And if so, what features would you like to see us add!
And remember, we love reading your comments and answering your questions too, so please feel free to leave either or both in the space provided below.
---
Check out the best sewing pins with me on Pinterest, join in on discussions or show off your work in our FaceBook Group, or get your daily sewing fix on our Facebook Business Page or get behind the scenes scoops on Instagram, and be the 1st to know about new patterns, discount codes and sample sales by signing up for our monthly newsletter.