So…
you might remember from our last post when we showed you the sketch for our new design for Spring 2020, that this out next post it would be time to make the 1st prototype of this new design… well two of them actually… because I wasn't all that happy with the first one I made. Oh, don't worry, I'll show you both of them but please remember for the record, that the fabrics we use for our prototypes are ALWAYS made up in older, already used or otherwise cast off fabrics. So please don't judge these results by the fabric they are wearing. Starting with the next post I'll be sharing posts in new and fun fabrics!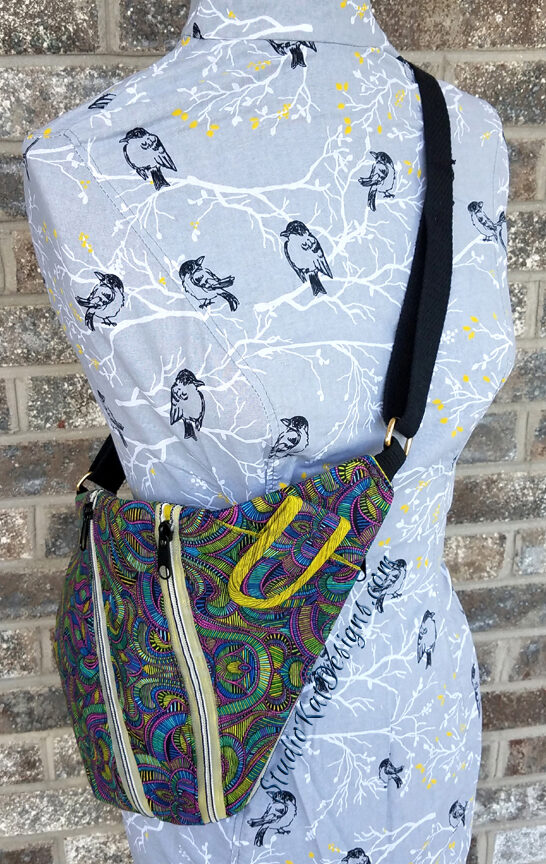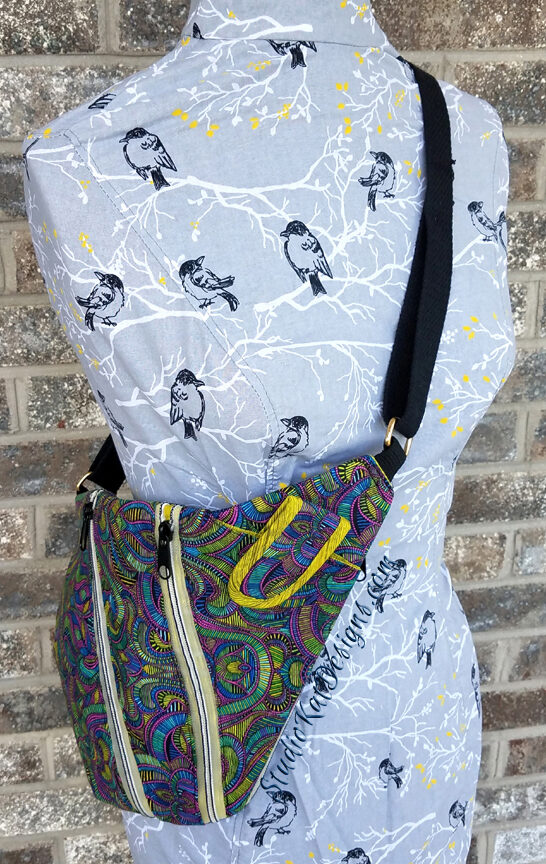 So here's the 1st prototype I created for this design. If gives you a pretty good idea of how I want it to function, but that's about ALL I can say for it.
In terms of functionality, the idea behind this bag is that it hugs the side of your body while wearing it cross body style and in so doing, it's "flatish" silhouette makes it almost undetectable under a jacket, coat or cardigan sweater.
But there's MUCH that needs to be changed about this prototype!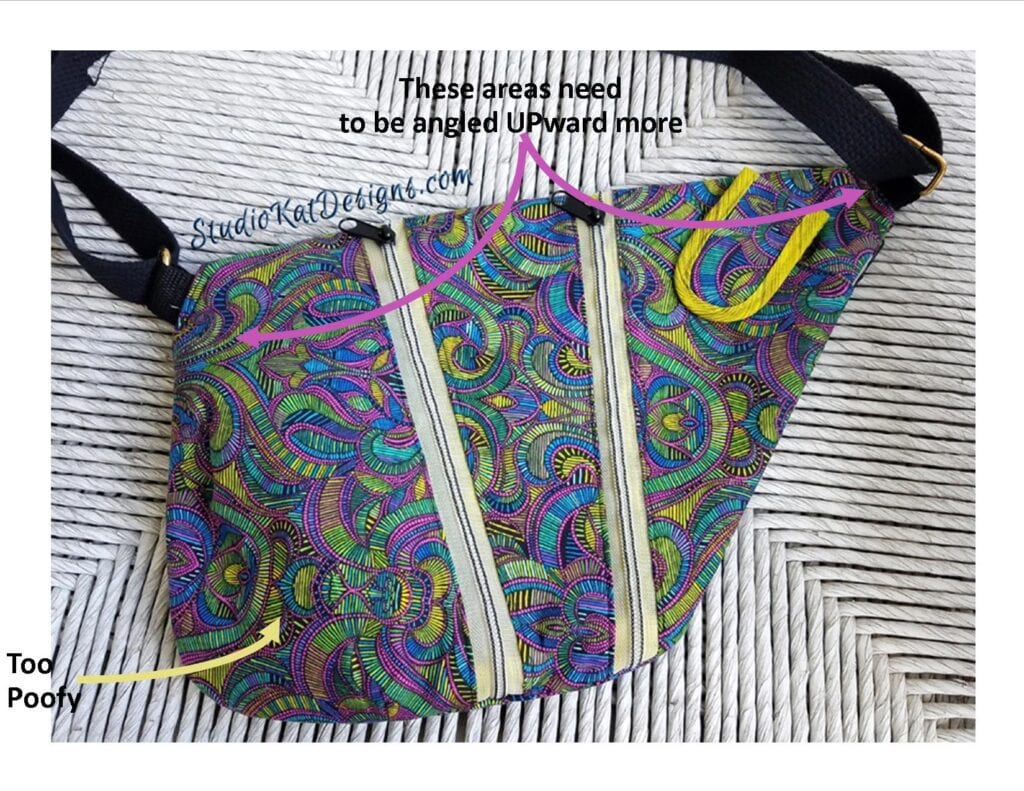 So let me enumerate the needed changes! First off, overall I find this sample to be too wide and the back compartment, is too poofy. Next, the right-most zipper is too close to the bottom right curved section of the bag and this made this area VERY difficult to sew.
Additionally, I didn't like the almost concave shape of the top area of the bag or the angle at which the straps proceed out of the bag. It's unnatural and will produce wear & tear tugging in the long run. And finally, the flip over closure is too tall. So… let's put this prototype aside and move on to the next!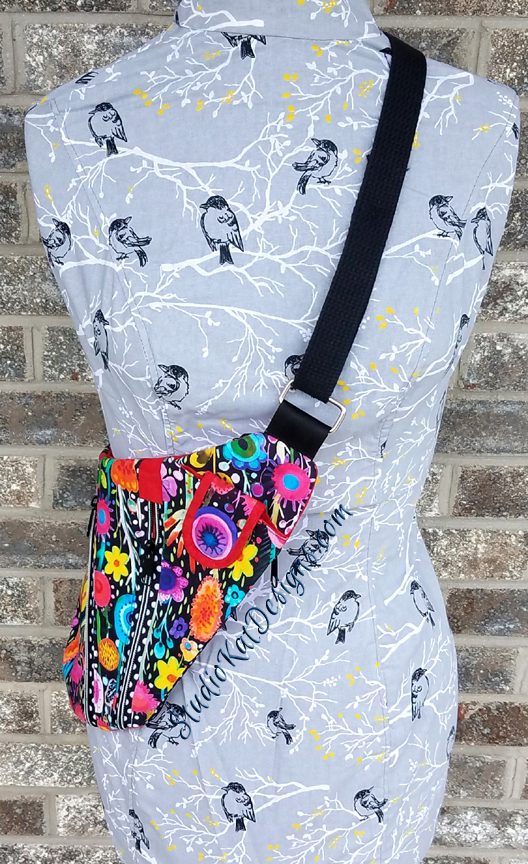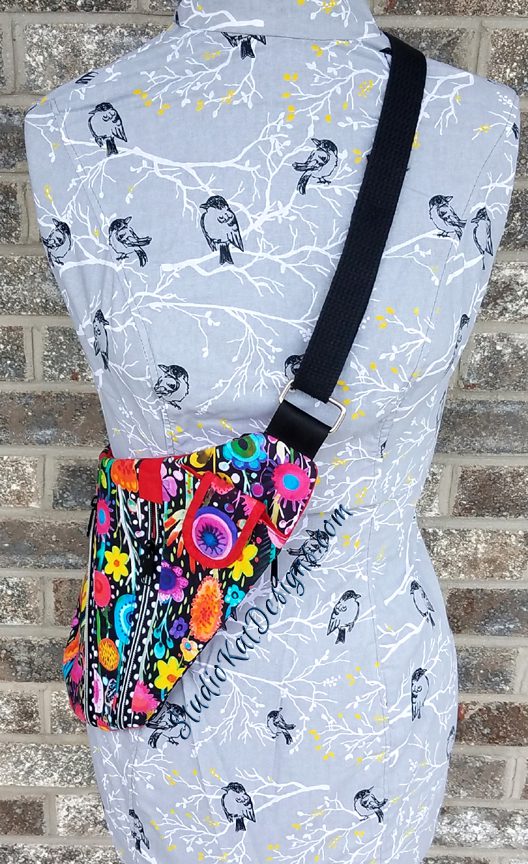 So here's prototype #2 and even though many of my objections were addressed, this bag still has a few issues to be corrected, but first, here's what I liked about it.
First, I like the directionality of the straps this time. I like the way this strap is more angled upwards. (And please note that this strap is just a temporary strap, I have something special in mind that I think you'll like, but you won't see it until next time!)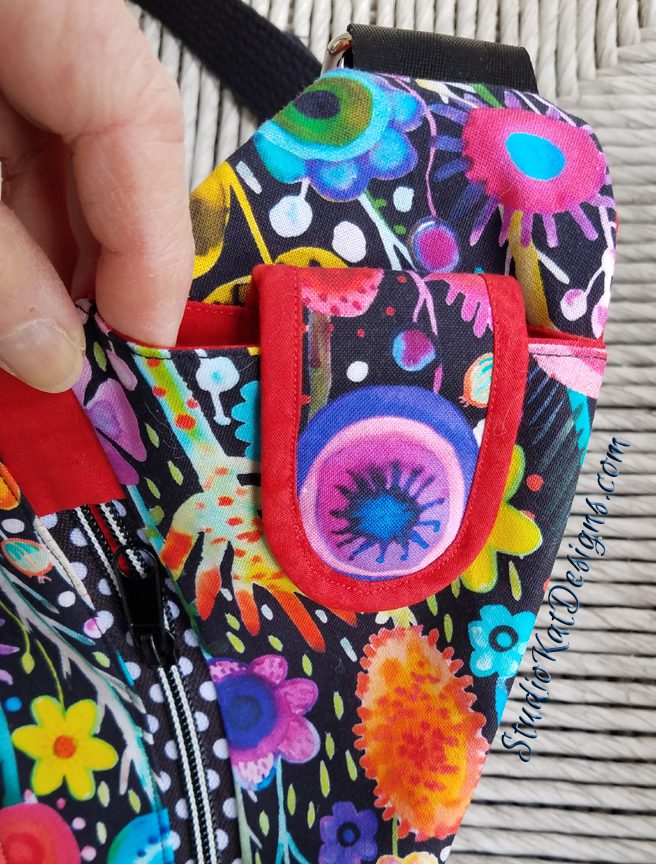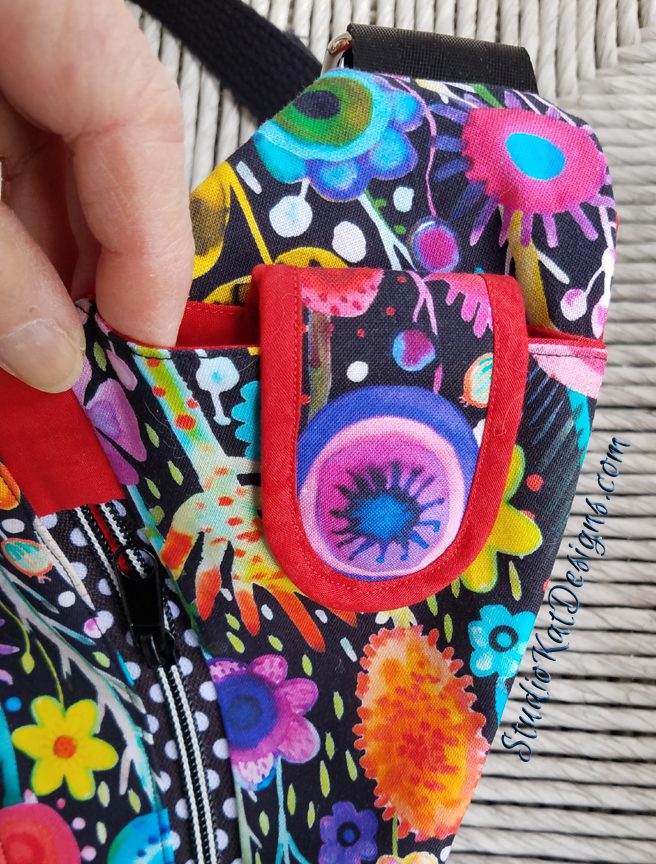 I made this closure (which secures & covers the Phone Pocket) shorter and a bit fatter. Now it doesn't interfere with the top edge of the bag nor does it potentially allow the phone to "sneek" out of the pocket.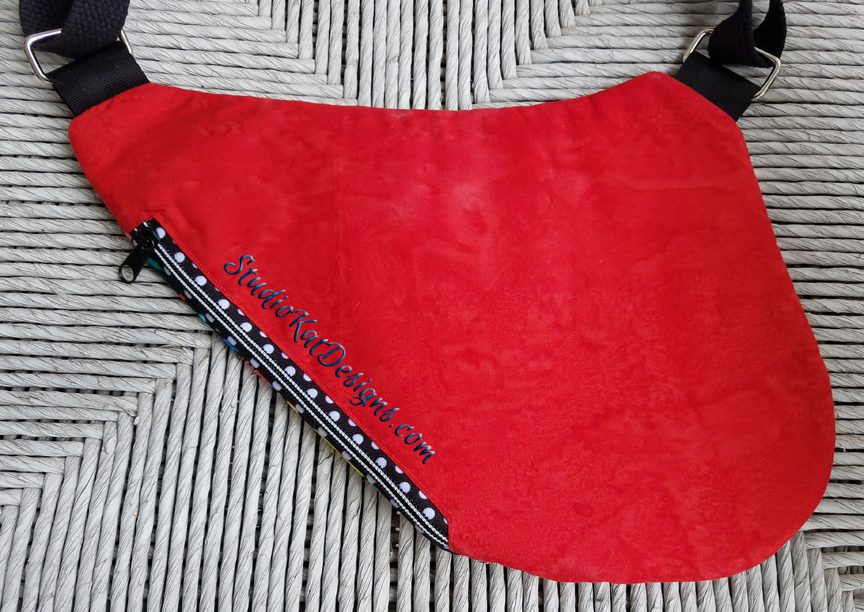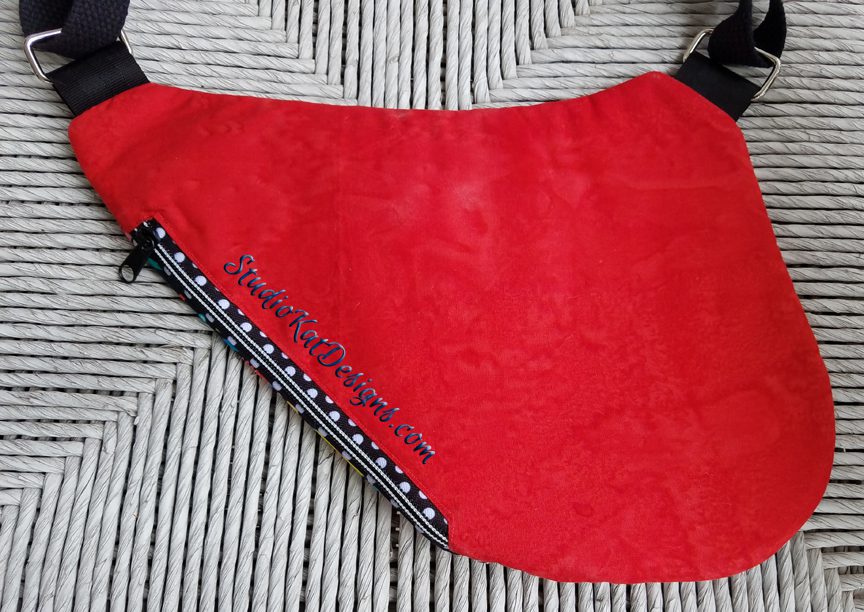 And here's your first view of the Bag Back. There is a zippered opening to what is a full width pocket, perfect for larger items like a wallet, or a small book or tablet.
Here's how this new design looks when its snuggled underneath my velvet jacket. It's very lightweight and easy to wear. It's perfect for folks who prefer a hands-free lifestyle, including Mom's, shoppers and even MEN!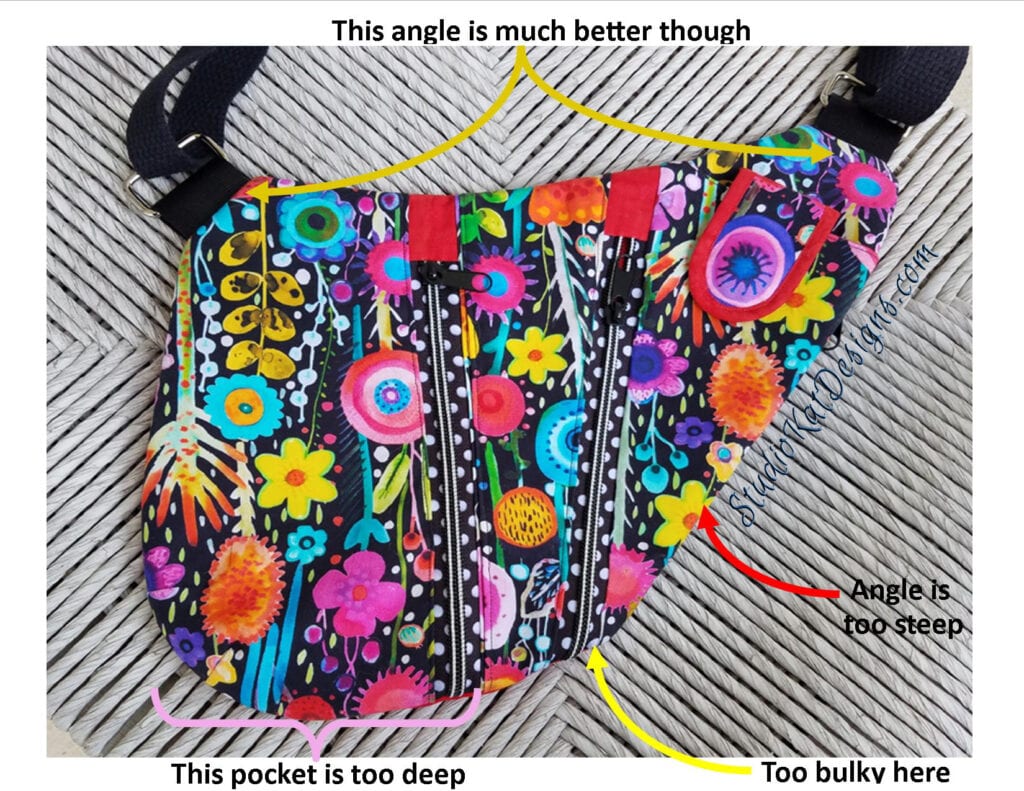 So… even though I overall like this prototype much better, there's STILL things to tweek and correct about this sample!
First off, that back pocket (on the left side of the bag) is the perfect degree of poofiness now, the pocket itself still seems too deep, making the middle pocket (from the right hand zipper to the left side of the bag almost the same depth. Additionally, that middle zipper is STILL too close to that angle corner of the bag so it was STILL difficult to sew thru all those layers and zipper teeth.
Secondly, even though I like the size of that Phone Pocket closure way better now, I do NOT like the way that right-hand side of the bag is angled downward so severely. This causes the phone within the Phone Pocket to be pushed too far over into the middle pocket area and that simply must be changed.
Once I correct these areas of concern, I should have a pretty good "Gorilla sample" to show you for next time, so please stay tuned for our next post in this the 21st edition of Purse Pattern Chronicles!
And now…. it's YOUR turn!
I would LOVE to know what your reaction is to our new design so far! Does this seem like a bag you'd be interested in carrying or making? And remember, we love reading your comments and answering your questions too, so please feel free to leave either or both in the space provided below.
---
Check out the best sewing pins with me on Pinterest, join our Facebook discussions, get your daily sewing fix on our Facebook Business Page or get behind the scenes scoops on Instagram, and be the 1st to know about new patterns, discount codes and sample sales by signing up for our monthly newsletter.