So…
in our last post in this, our 21st cycle of Purse Pattern Chronicles we showed you the 1st and 2nd prototype of what will eventually be our new pattern for Sping 2020. And if you've been with us for any of our other 20 cycles of Purse Pattern Chronicles then you know that what generally comes next is our "Gorilla sample", but it occurs to me that some of our newer customers may not be familiar with that term and what it means.
So here's the deal…
I like to carry the first sample that I make of any new design for a week or two because if there are "issues" with any of the bag features or functionality I like to know about it as soon as possible. If the bag opening needs to be wider, or if the silhouette needs to be taller, or if it needs more pockets or if it's hard to open, or if it sags in the middle when I'm carrying it, I want to resolve those issues right away! Around here, we refer to this as the "Samsonite Gorilla Test"and yes I realize I'm dating myself with that phrase so if you're under 50 just click that link, and it just might start your day off with a smile!
So… with all the preliminaries out in the open, let's talk about this, the "gorilla sample" for our new design which as of yet is unnamed.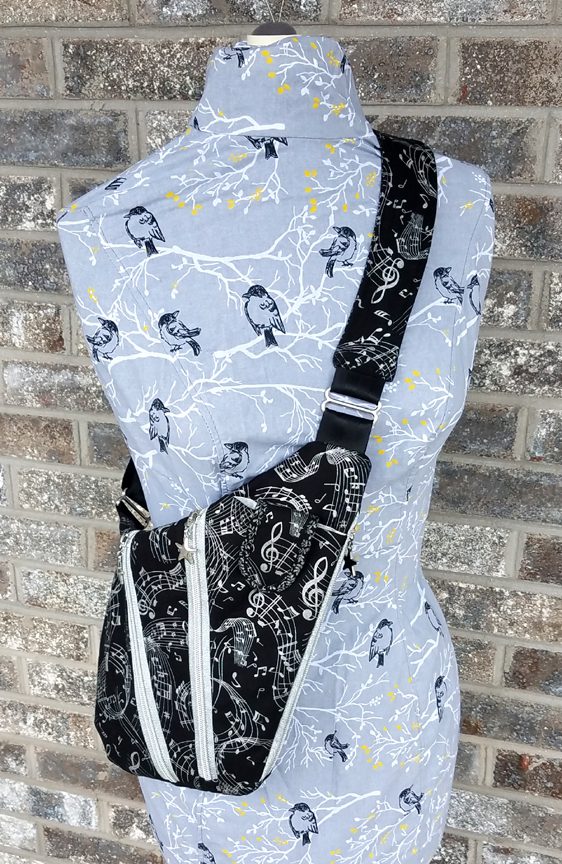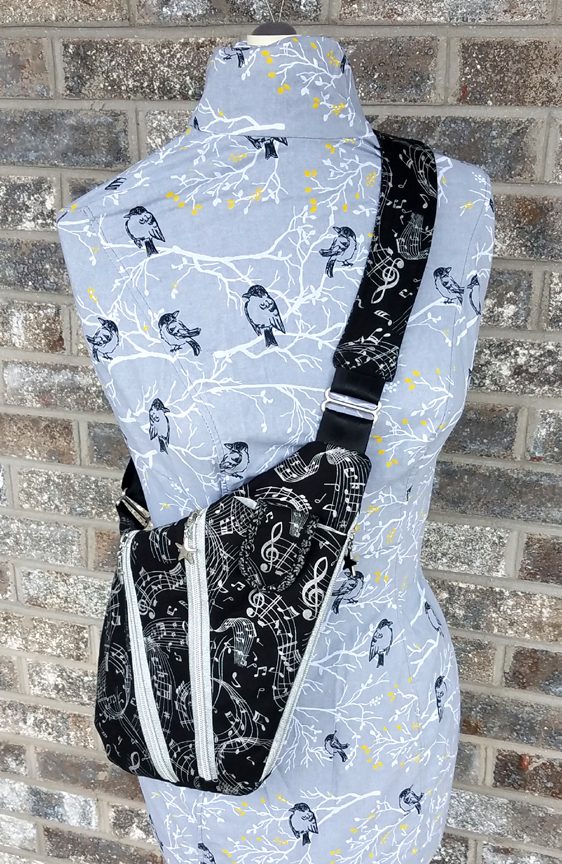 I made some integral changes to this design in this round in preparation for actually carrying this bag for testing!
First off— I remade all of the pattern pieces for the pockets so I could get the sizes just right and at the same time solve the problem of the center zipper being too close to that bottom corner.
I definitely like the pocket proportions better now, and just so you know, this bag is loaded in this picture, with everything I normally carry (except for my phone of course). That would include my wallet, key fob, a couple of lipsticks, pens, and a few medications, and as you can see, it's NOT overloaded. There's room for more stuff as I need!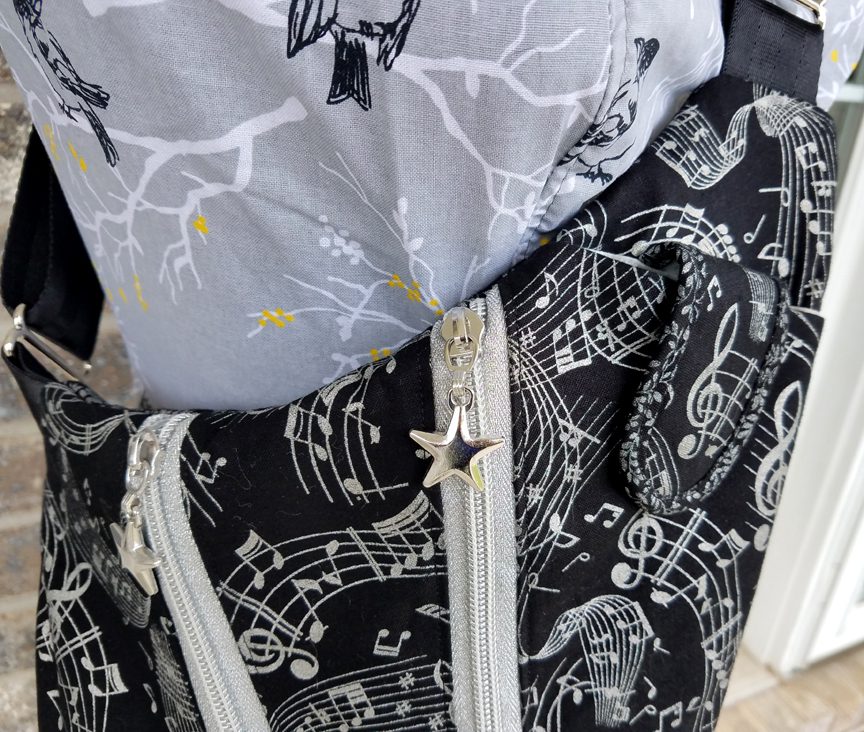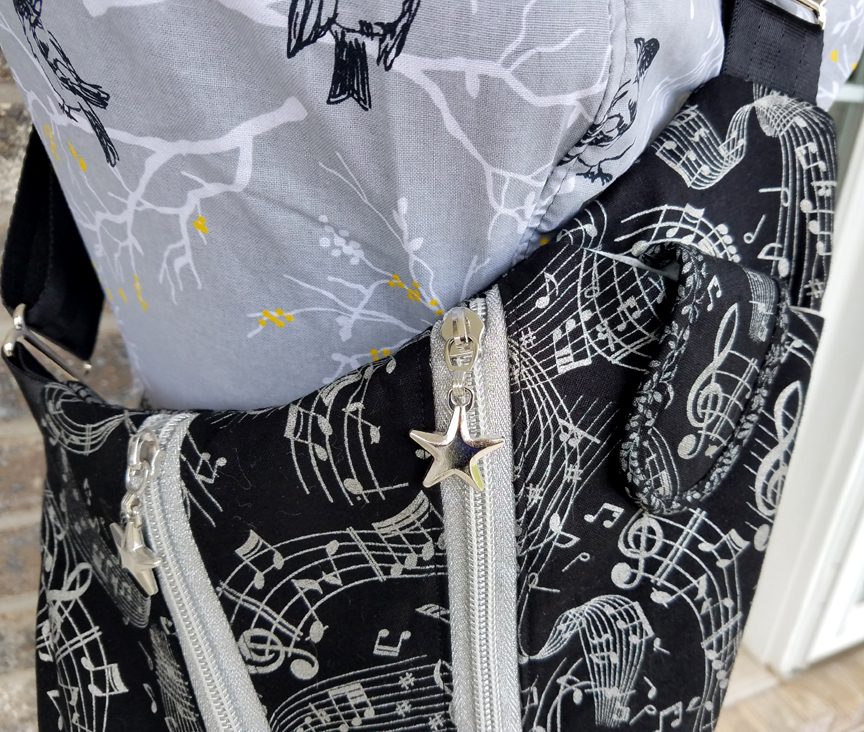 There's two zippered pockets on the front side of the Bag. These are generously sized pockets so I think you'll be pleased with what you can carry in this bag!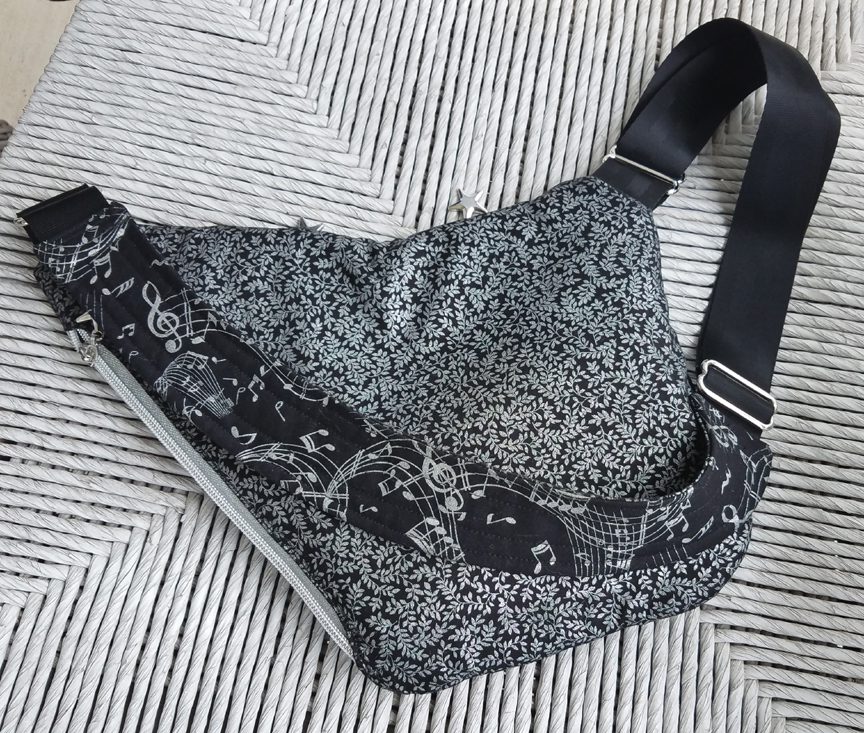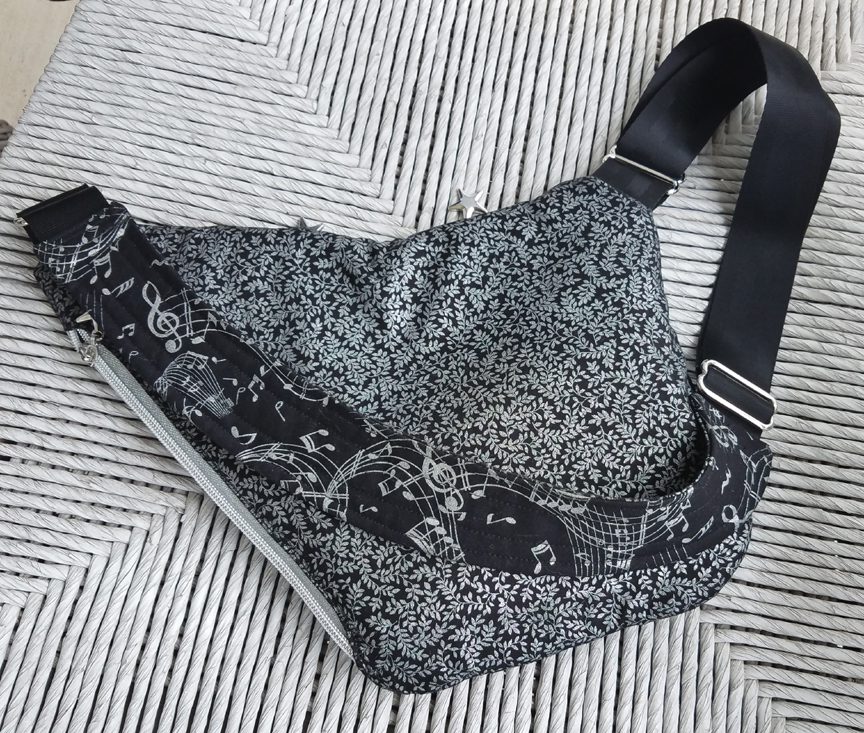 And there's one more zippered pocket located at the back side seam and this pocket is a full-width, full-height pocket!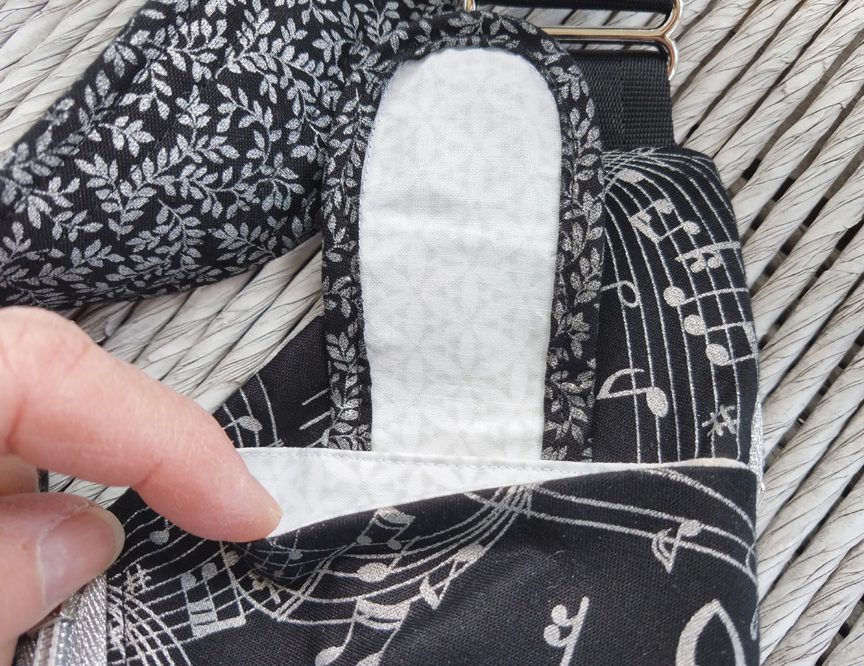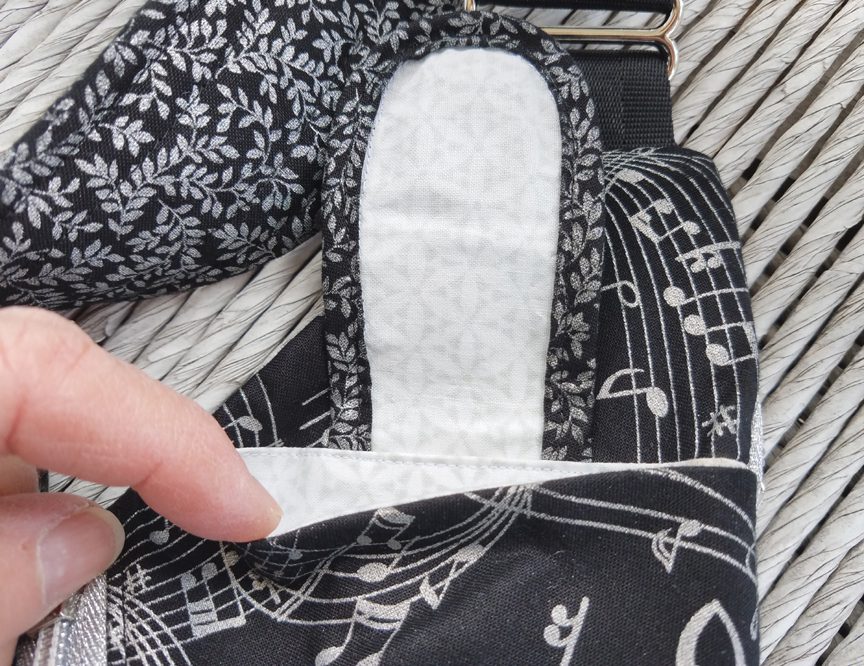 And here's a closeup of the phone pocket area. I've tried & tested every phone I can find in this pocket and so far every one of them have fit in there just fine! I really enjoy having my phone so easy to hear AND easy to reach!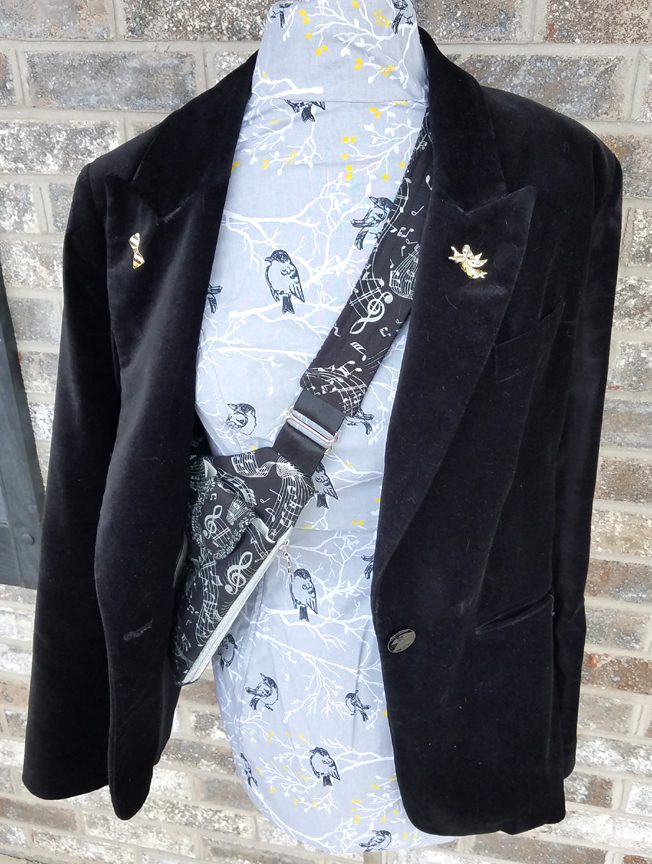 And here's a good shot of our mannequin wearing this sample under her coat. Lucky for me the wind was cooperating in just the "right way" this day as it was gently blowing her coat open to reveal the hidden bag. I've gotta say, I have really enjoyed carrying this bag. It's so lightweight and it fits so easily into my side that I tend to actually forget that I'm wearing it. I can't tell you how many times I've come back into the house thinking I'd forgotten something only to realize that "empty-handed" feeling did NOT mean that I had forgotten my handbag.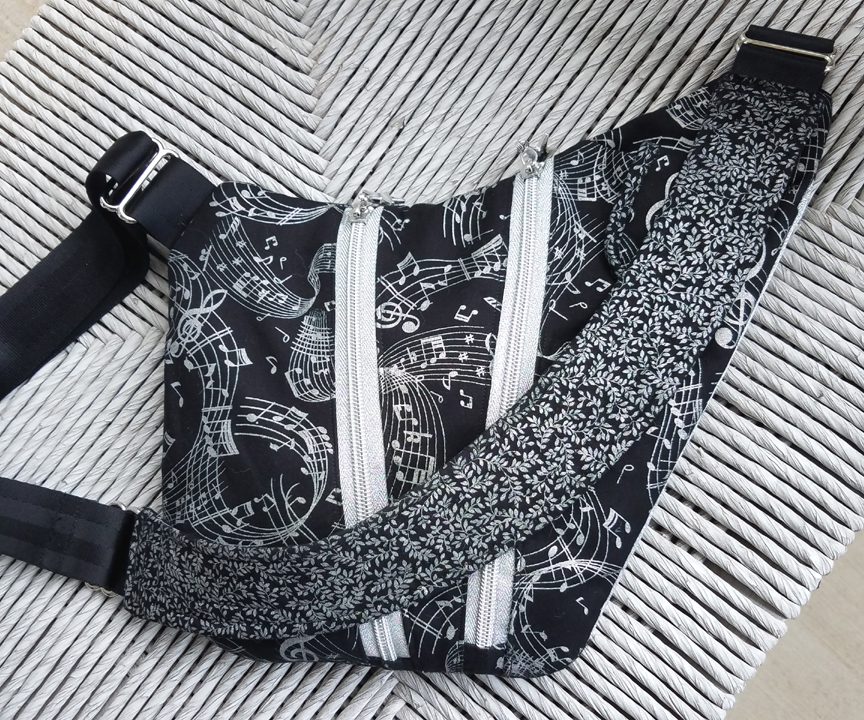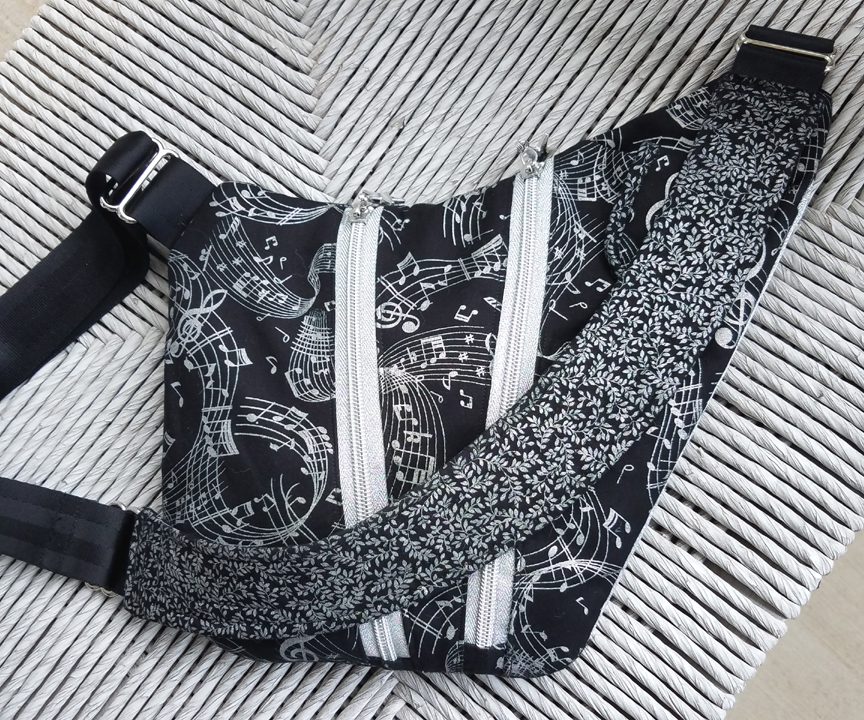 BUT— After carrying this sample for a while I quickly realized that there were two changes that STILL need to be made!
1) I had originally thought that fusible fleece would be the foundation material of choice for this bag, thinking it would allow the bag to conform to my side comfortably which it does, but I don't like the way it sags in the middle under the weight of the contents. So… I'll be switching over to my old stand-by on the next sample, Soft & Stable! and…
2) Within the first few hours of carrying this sample I realized there was a fatal design flaw in both front pockets! And that would be that the zippers are allowed to open all they way to the bottom of the bag. I honestly thought this would be good, but what I didn't anticipate was that in so doing, it would easily allow the pocket contents to "escape". (Unfortunately I lost a brand new lipstick due to this flaw, but then this is the primary reason that I carry a sample for a while before finalizing the design, so I'm glad I found out about this problem now rather than later!)
So… with these two changes in mind, I'm ready now to start creating a few show samples and in so doing, draw the step illustrations, finalize the text and then get started on combining everything into what will be the sewing instructions for this new pattern! So do stay tuned for our next post in this series which will feature a new sample in some yummy new fabric! (Spoiler Alert– I have some wonderful fabrics in store for the show samples this time and my plans are to actually try making at least one sample in cork!)
And now… it's YOUR turn!
I'd love to know what you think of this design so far! Do you think this design would work for YOUR lifestyle? And remember, we love reading your comments and answering your questions too, so please feel free to leave either or both in the space provided below.
---
Check out the best sewing pins with me on Pinterest, join our Facebook discussions, get your daily sewing fix on our Facebook Business Page or get behind the scenes scoops on Instagram, and be the 1st to know about new patterns, discount codes and sample sales by signing up for our monthly newsletter.