So…
if you were with us for our last post in this series, then you know that for the most part we've solidified the features we'll be including in our new pattern design. Oh it's possible that somewhere along the way we'll have a "EUREKA" moment or an overwhelming compulsion to change a feature, but unless or until that happens we're pretty happy with it this design the way it is! So here's the latest sample for your consideration!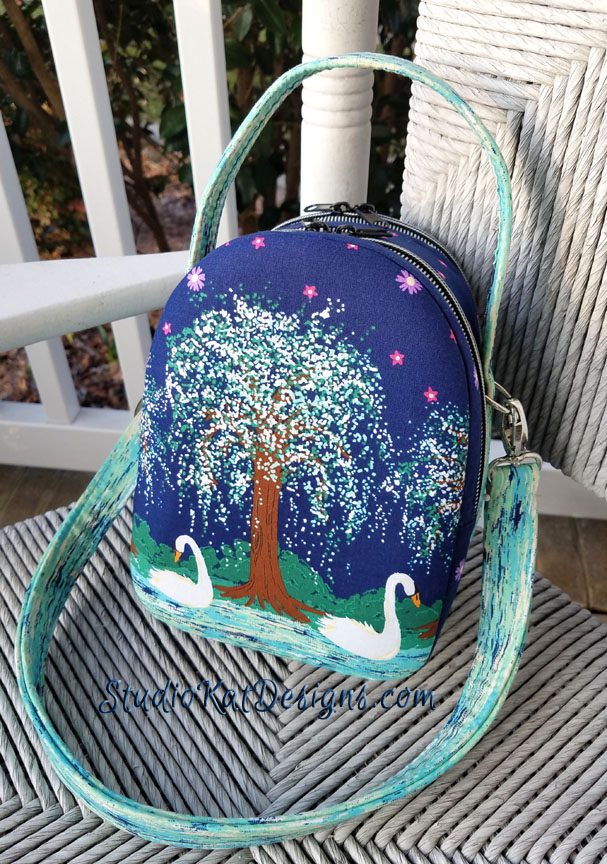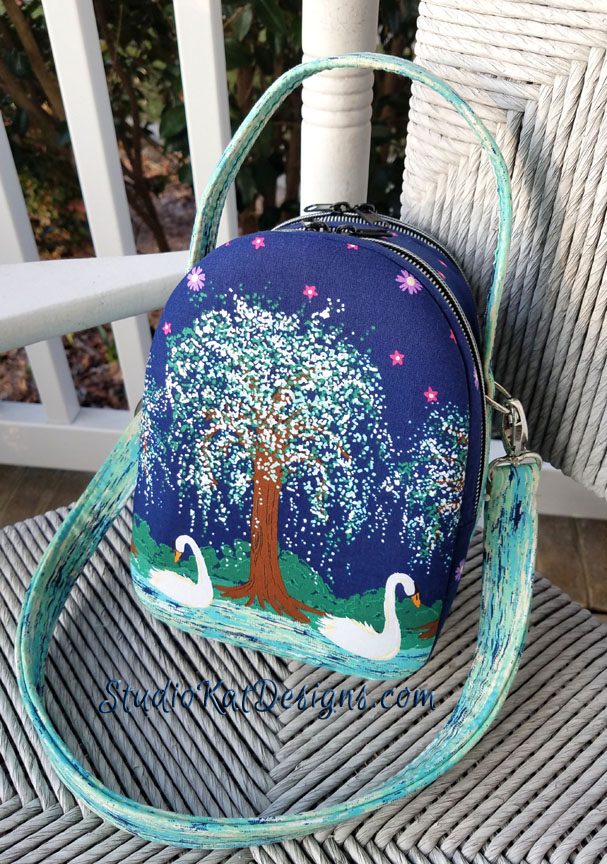 Here's the Bag Front. It's always my preference if possible to leave the front area wide open to accommodate a fun focal print, some special embroidery or creative fussy-cutting! We get a lot of requests for front pockets for phones and the like, but pockets are pretty easy for folks to add on their own, so I prefer to leave it to the individual to change that up if they like and to leave an "open pallet" area so our customers can "play" with fabric!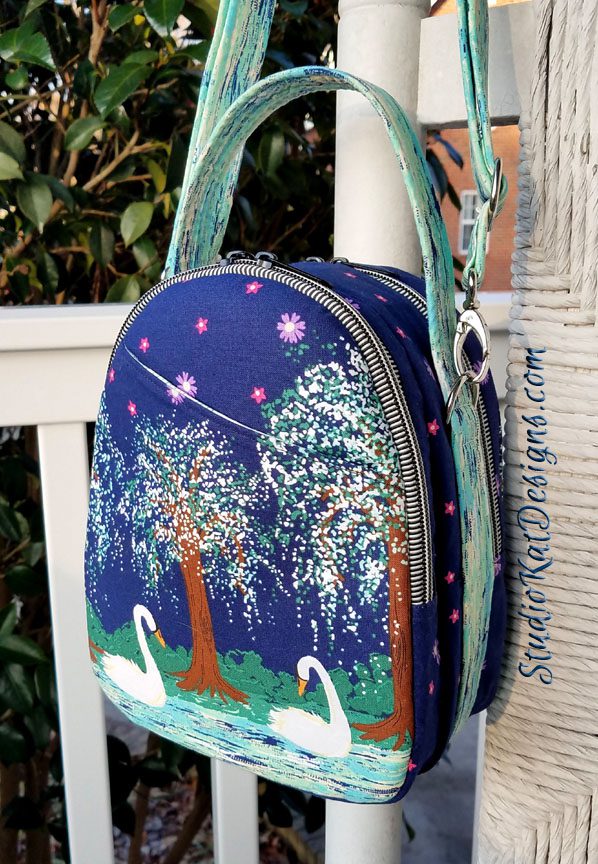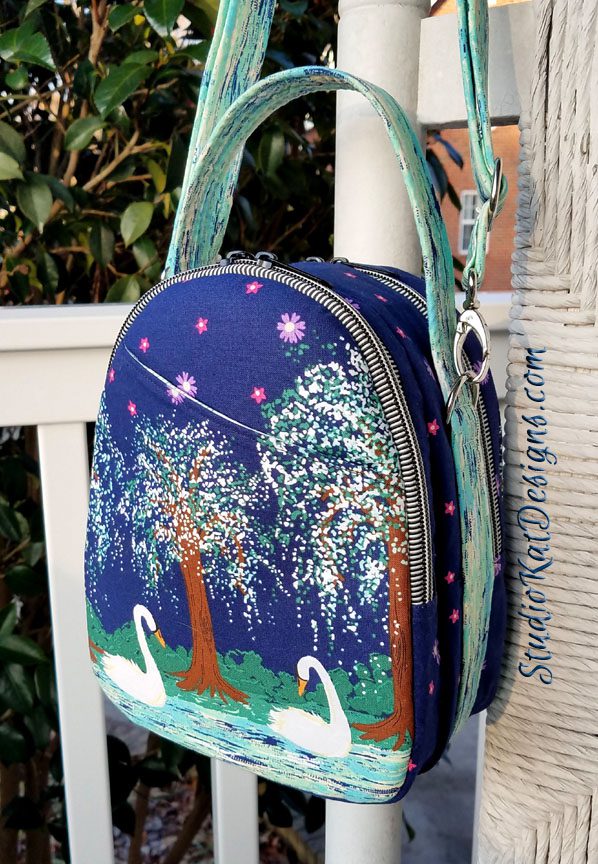 Here's the Bag Back. I'm pretty satisfied with the diagonal slip pocket I've added here. It's a great place to store a smart phone and I've actually tried to shake the phone out of this area and its really not so easy to do so I don't think one will have to worry too awful much about a phone falling out accidentally. And as you can see, I chose to fussy-cut this area and I tend to think this rather disguises this pocket which is always a good thing, right?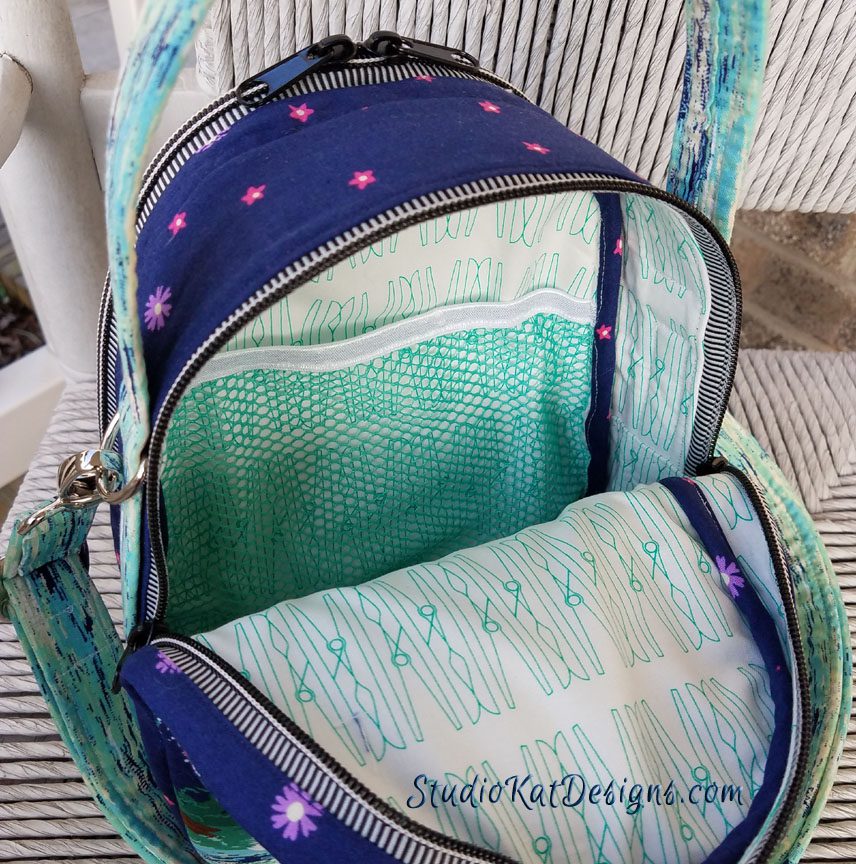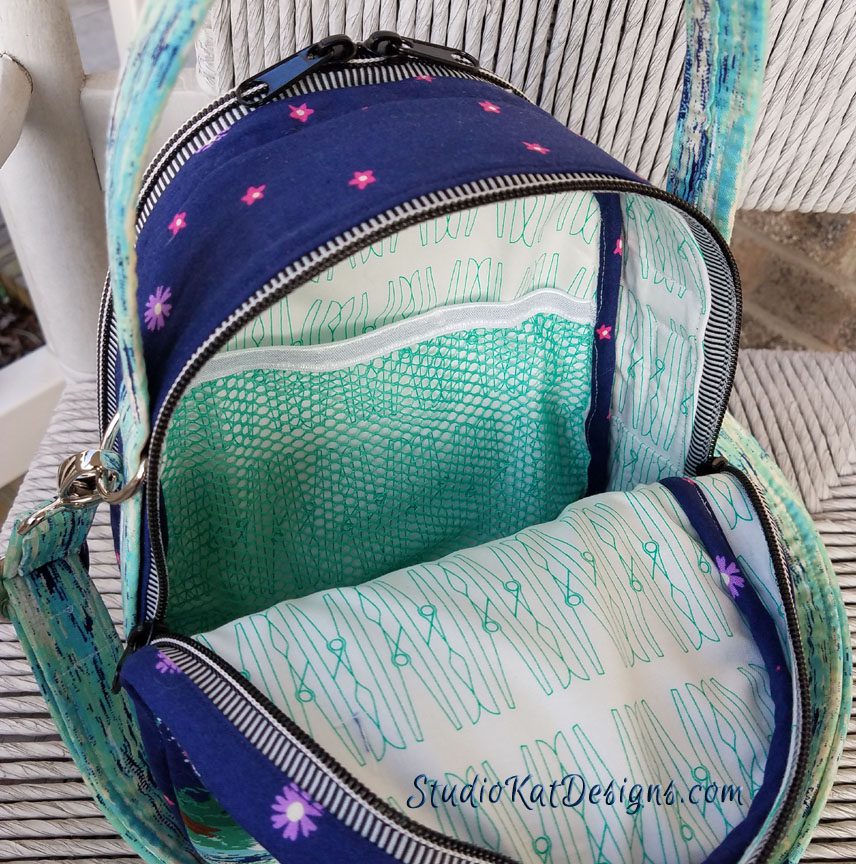 Here's the interior Mesh Pocket which is a great place to keep smaller items organized and easy-to-find. You might notice that I made this pocket taller this time. When I was carrying the "Gorilla" sample, I noticed that when I placed my wallet in this area, it tended to get hung up in the shorter version of the Mesh Pocket which is annoying, so I'm much happier with these new dimensions!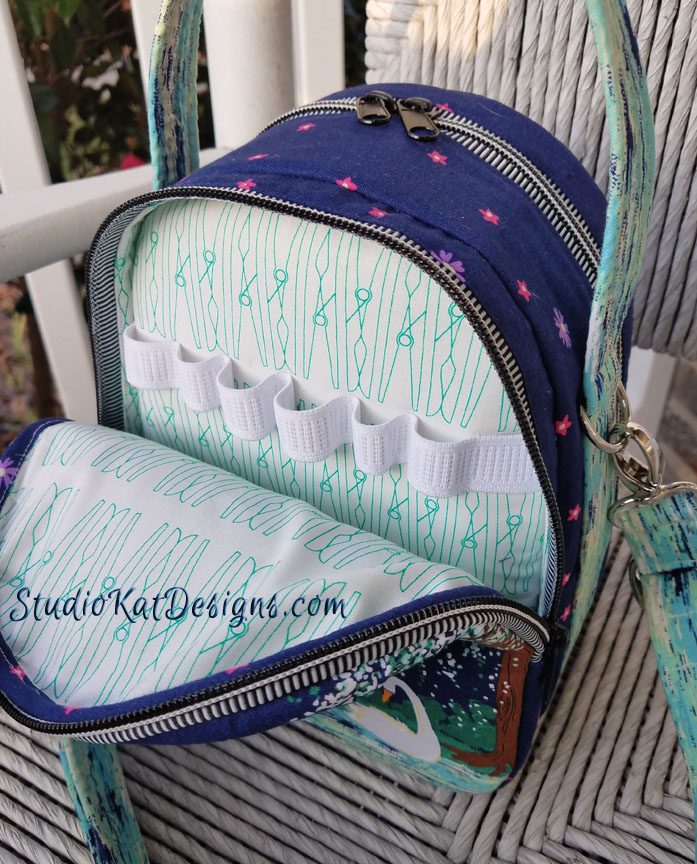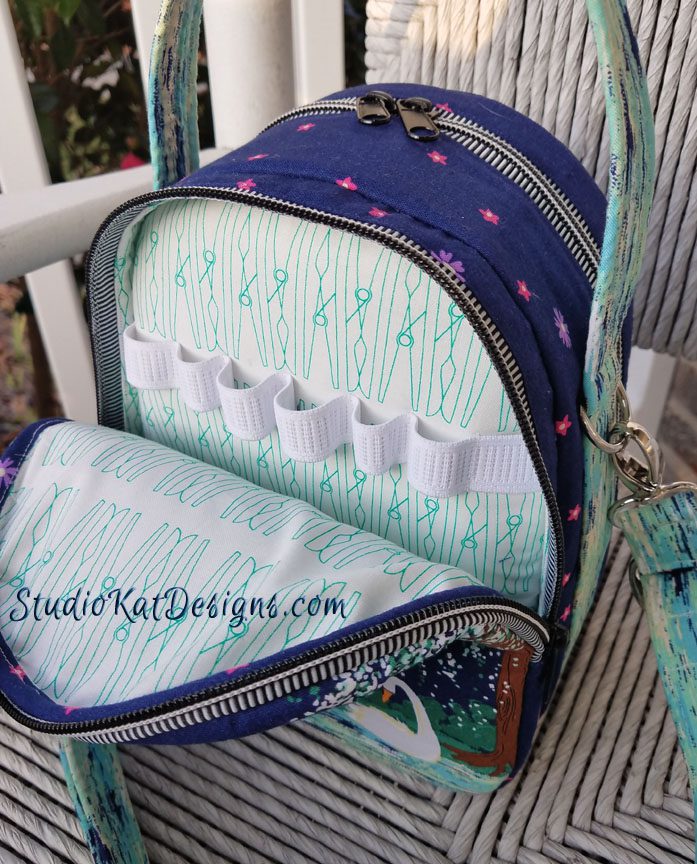 The Elastic slots option for pens and the like
is a feature I personally enjoy and I like to add it every chance I can!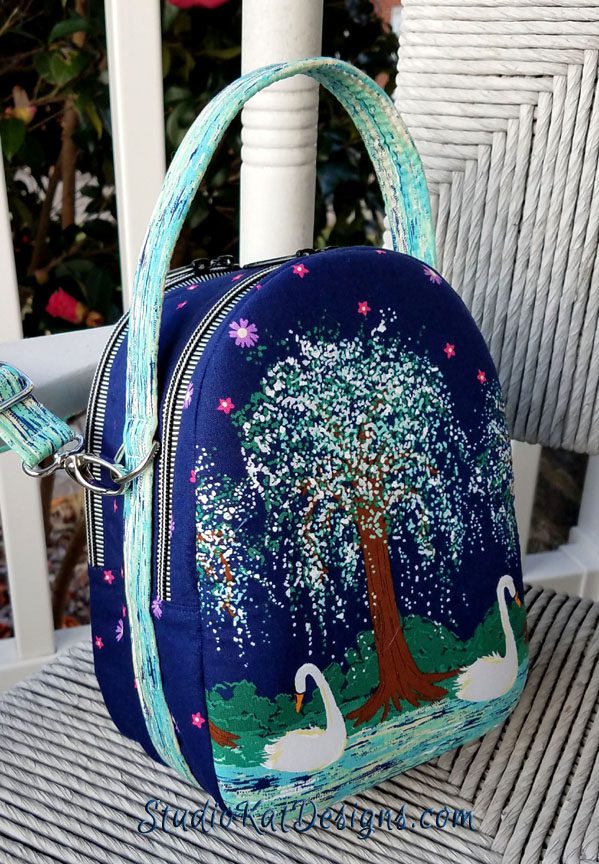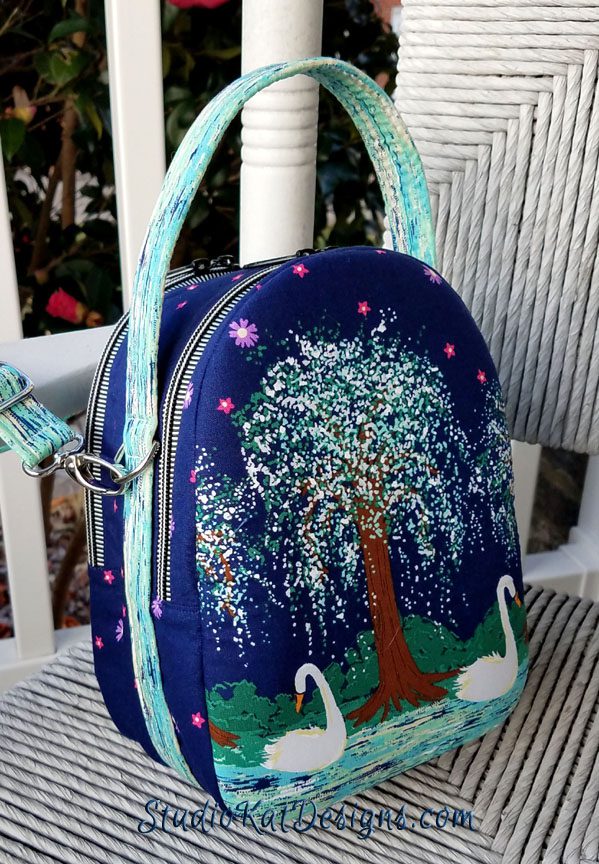 And finally, here's a somewhat side view showing that the design is much more balanced "weight-wise" now. I changed the location of the grab n' go as well and also the width of the zippered compartments and I'm satisfed with the size and balance now.
So there you have it for now!
I still have some really incredible fabric to showcase for this new design PLUS… I'm in dire need of a name for this beauty! So do stay tuned for our next post in this series and if you have any bright ideas as per a name we can use for our new design, please don't hesitate to let me know!
In the meantime…. here's some info about this totally yummy fabric!
It's called Swan Lake Border Midnight and it's from "Michael Miller Fabrics" and guess what? We're carrying it on our website NOW! Just click HERE to find out more information and to pick up some yardage for YOUR next project or to duplicate this look when the pattern is released!!
And now…. it's YOUR turn!
I'd love to know what you think of this, our latest sample of our new design and I'd value your comments about it, both pro and con so please please feel free to leave either or both in the space provided below.
******************************************************************************************

Check out the best sewing pins with me on Pinterest, join in on discussions or show off your work in our FaceBook Group, or get your daily sewing fix on our Facebook Business Page or get behind the scenes scoops on Instagram, and be the 1st to know about new patterns, discount codes and sample sales by signing up for our monthly newsletter.