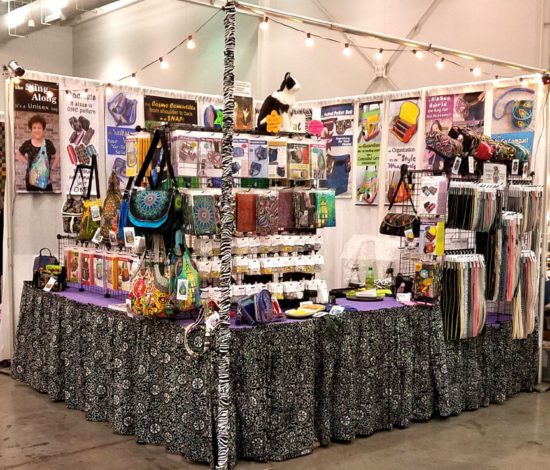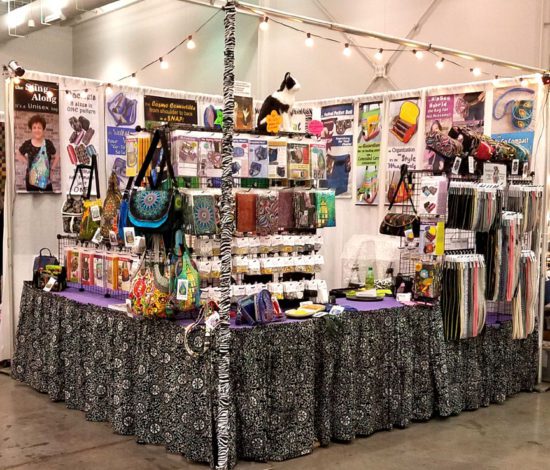 So…
considering how happy we were with the way our new booth setup looked AND functioned at Road to California in January, you might be wondering why we would even consider changing it up? And you know what? You'd be SO RIGHT because we absolutely didn't want to change ANYTHING about our Road2Ca booth setup!
BUT, here's the deal…
just because we kept our actual booth layout & setup the same doesn't mean we didn't plan on adding something new and perhaps a bit unexpected to this year's MAQF presentation!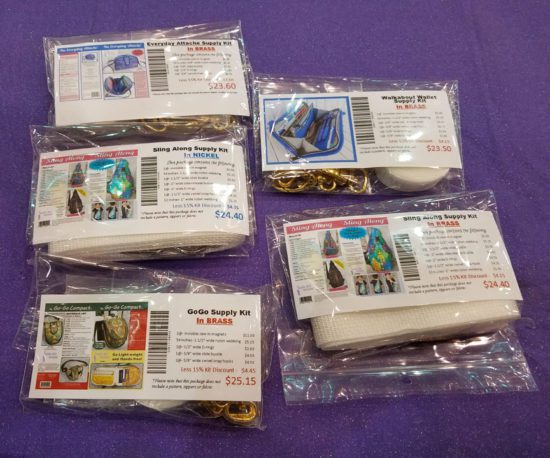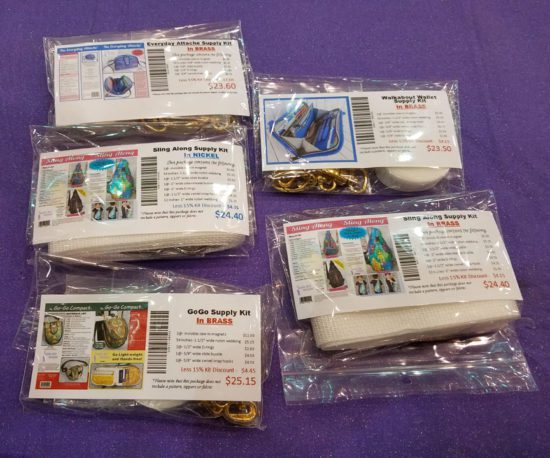 First of all, folks have been asking us for years to sell our pattern notions & supplies in a "Kit" format, but until now I haven't been able to imagine how I could reasonably do that! With 9 zipper prints and two different hardware colors that would potentially mean EIGHTEEN different kit combinations PER DESIGN and a much larger booth. But then I had a "Eureka" moment during the 'Road' Show"!
Why not offer a kit with everything BUT zippers? Why in the world hadn't I thought of that before? So… for the 1st time EVER we unveiled "Notion & Hardware" KITS for four of our patterns, the Sling Along, the Go-Go Compact, the Everyday Attache & the Walkabout Wallet and here's the deal… I honestly wasn't sure how they would go over with our customers so I was totally surprised that they were a solid hit! We actually were sold out of our Sling Along Kits for Day 3 & 4 of the show! So obviously we'll be keeping this option for future shows and maybe expanding our offerings to include a few more patterns!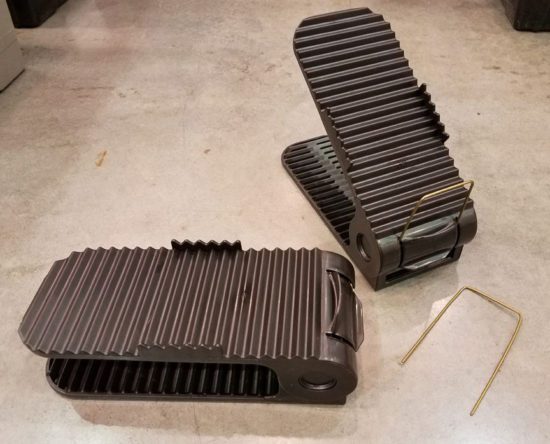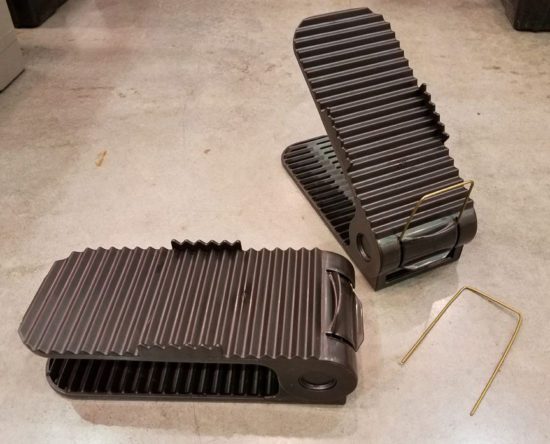 And you might remember from our Road2Ca video that we were determined to find a more effective way of displaying our Packlets samples. I wanted to display them in such a way that it would be more obvious that they were all part of the same pattern. And since the best place to do this would be on top of the zipper stand, my goal was to find a way to display them "on end".
And here's what I came up with!
I wracked my brain trying to come up with a something I could use that would tilt the Packlets on end but not so much that they'd be falling all over the place, and I had just about given up when I saw these shoe organizers on Amazon (quite by accident I might add)!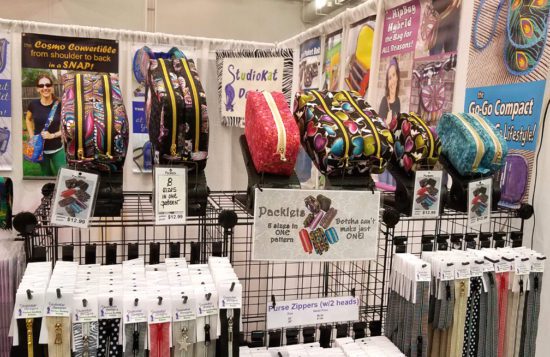 See how they can be pulled up on an angle for better visibility? The only problem was that little ledge at the bottom really didn't hold them reliably in place… not till my neighbor (the engineer) came up with this cool idea of cutting and bending a clothes hanger into the perfect shape to accomplish that! (Thanks John Attinello!)
And guess what? The level of interest and our sales for the Packlets design was MUCH improved during this show, which leads me to believe that the changes we made paid off! YIPPEE!!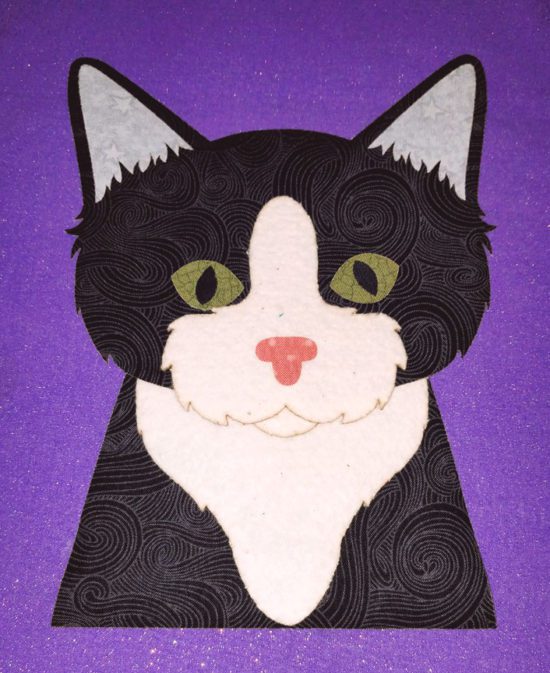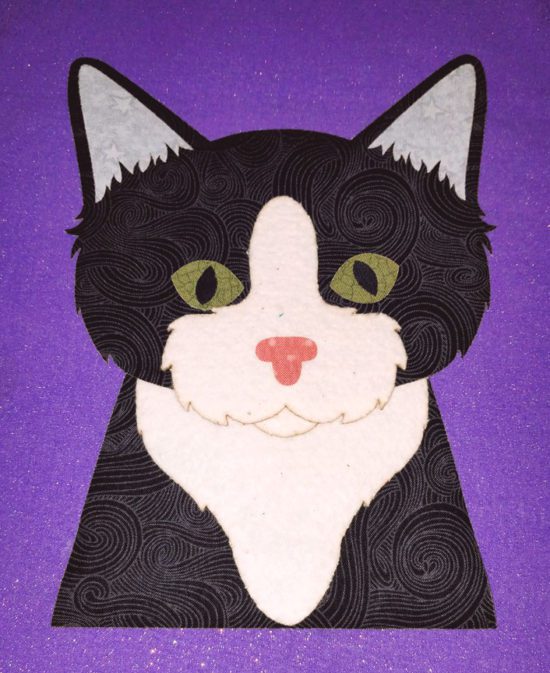 And finally…
does the handsome guy at left remind you of someone I know and love?
So it turned out that our booth at MAQF was caddy-corner from the Whole Country Caboodle, who I knew specialized in laser-cut applique designs of MANY different breeds of dogs. But here's the deal… I found that many of their patters actually feature CATS!!!
And from the moment I saw this little guy I've been mulling over which of my designs would provide the best pallet for featuring him! Which one would YOU suggest I use?
SO…these were our major takeaways from this year's Mid-Atlantic Quilt Festival. If you were one of the many who stopped by to talk with us, check out our products or made a purchase from us, thank you SO much!
And now…. it's YOUR turn!
And remember, we love reading your comments and answering your questions too, so please feel free to leave either or both in the space provided below.
*******************************************************************
Check out the best sewing pins with me on Pinterest, join in on discussions or show off your work in our FaceBook Group, or get your daily sewing fix on our Facebook Business Page or get behind the scenes scoops on Instagram, and be the 1st to know about new patterns, discount codes and sample sales by signing up for our monthly newsletter.