So…
in our last post in this series I told you we were pretty much done with the design aspect of this new pattern and it was time to get serious about cover-worthy samples and most importantly ––– A NAME!!! And FINALLY… we've named this little bag. We'll do the big reveal at the end of this post! 🙂
So here's our latest sample!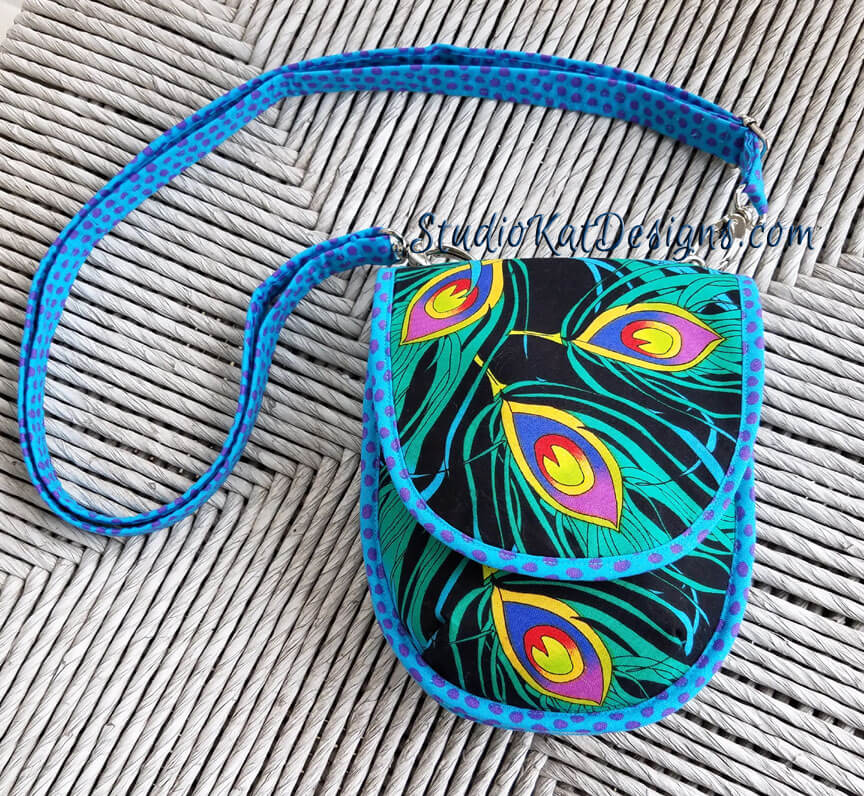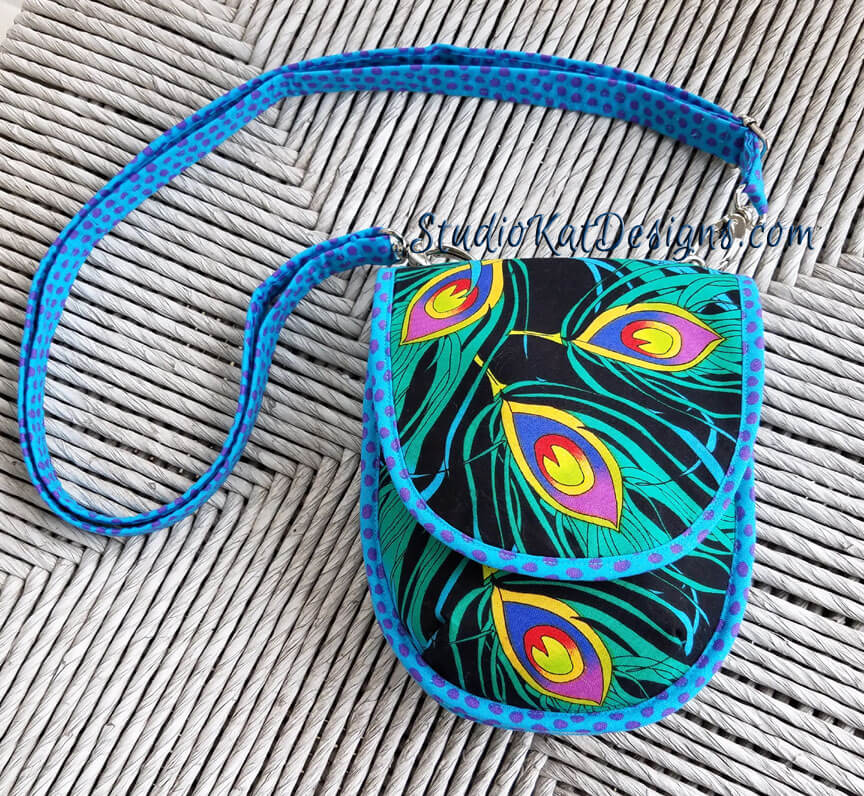 Did I mention that peacocks seemed to be one of the trends at Quilt Market this year? It just so happens that a good friend of mine (Dianne Springer) designed this fabric, debuting it at Quilt Market. So when she asked me if I'd be willing to work up a sample or two, of course I said YES!
(For more info about this yummy fabric, scroll to the end of the post!)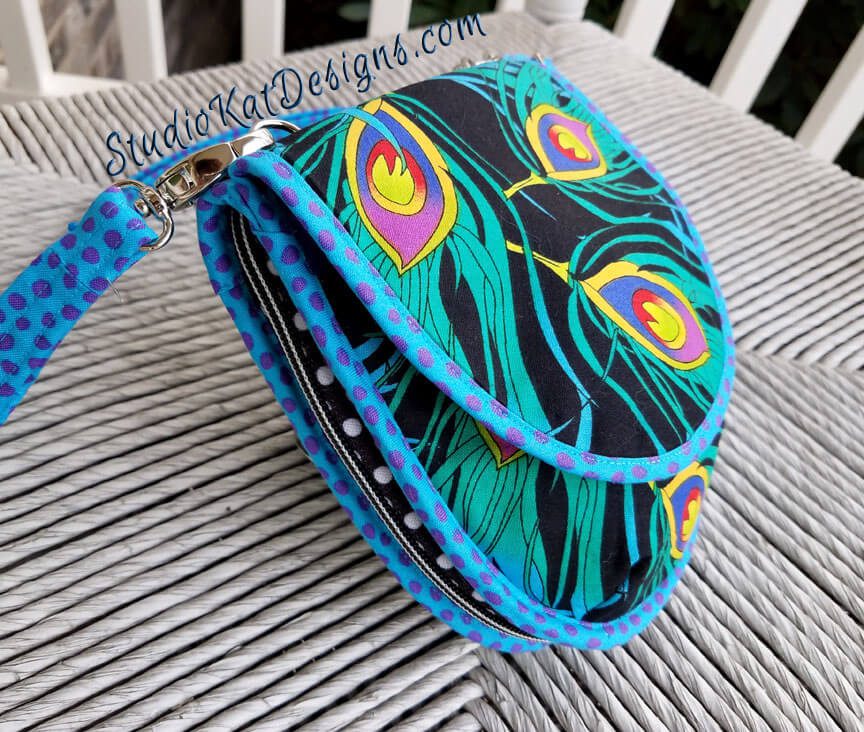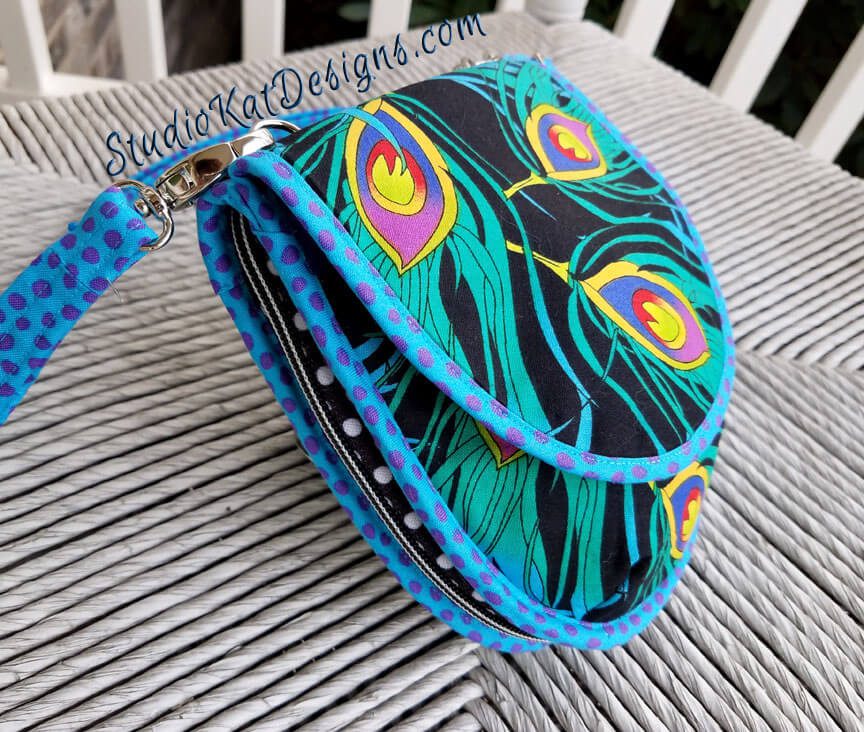 Dianne actually gave me 3 colorways of the focal fabric as well as the dotted contrast and though it was hard to choose, I settled on the black background and the blue/purple dot. I deliberately chose the black background in part so I could use our black & white polka-dotted zips.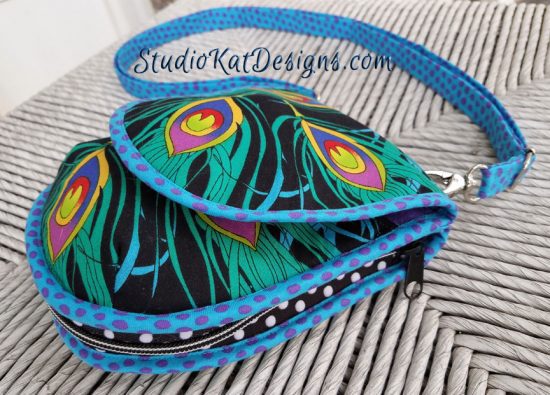 I generally do not even consider a black bag for our cover sample because the design elements tend to get a bit lost due to the lack of contrast. But since this fabric is anything but a flat black, this sample can absolutely be in the running for the cover.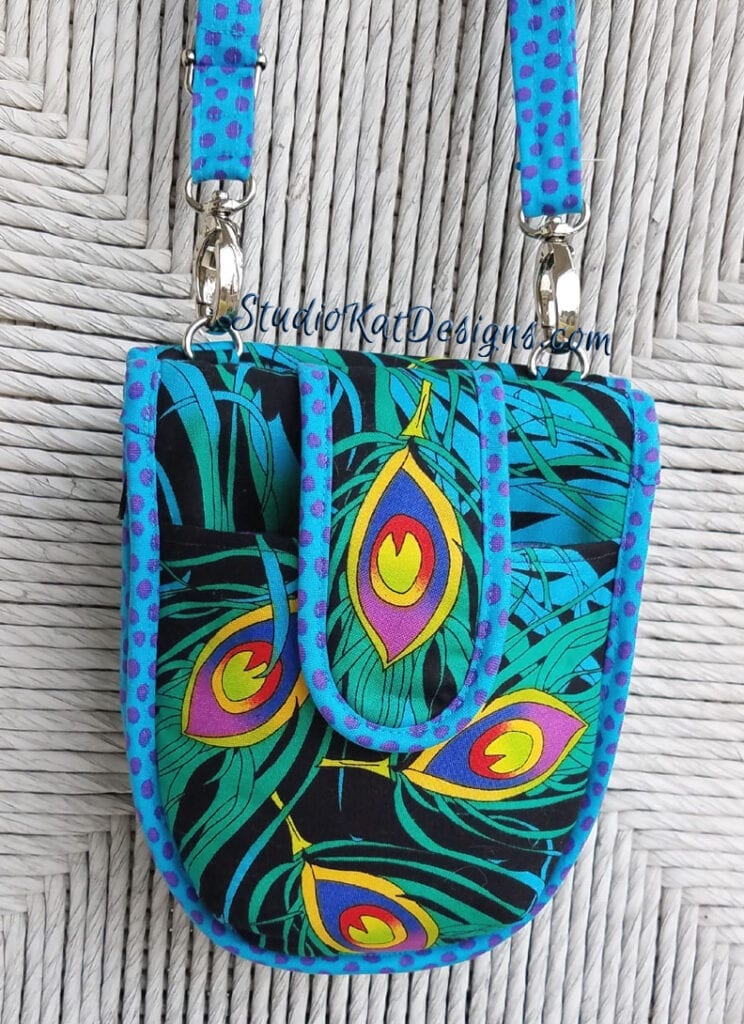 Here's a view of the Bag Back. Scroll to the picture below to see the pocket interior.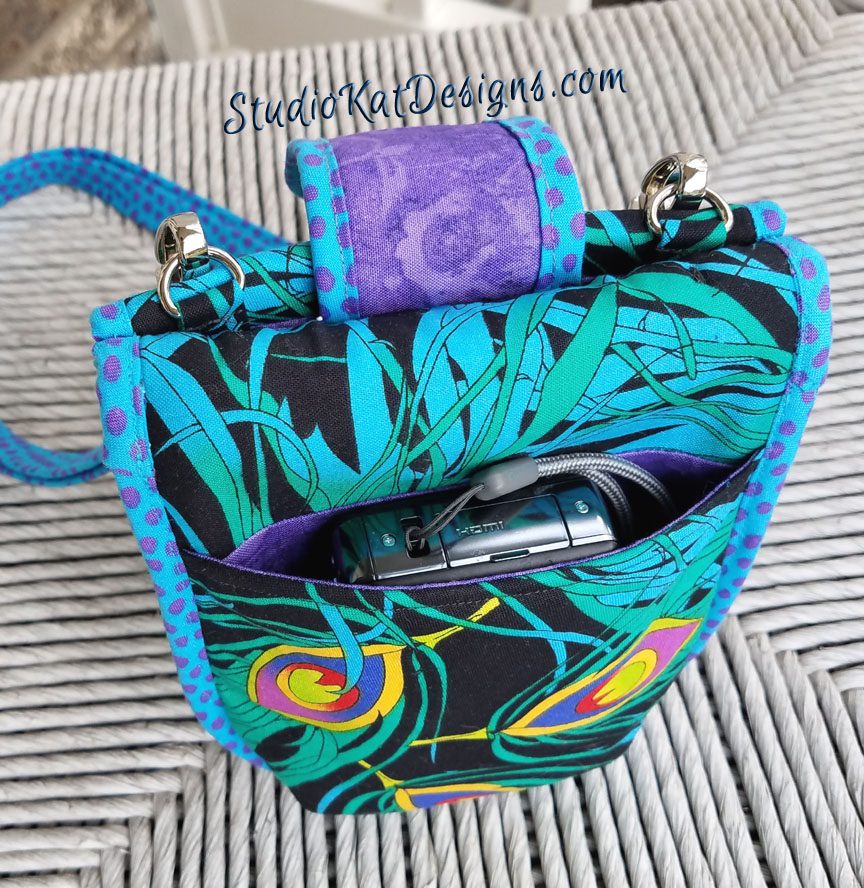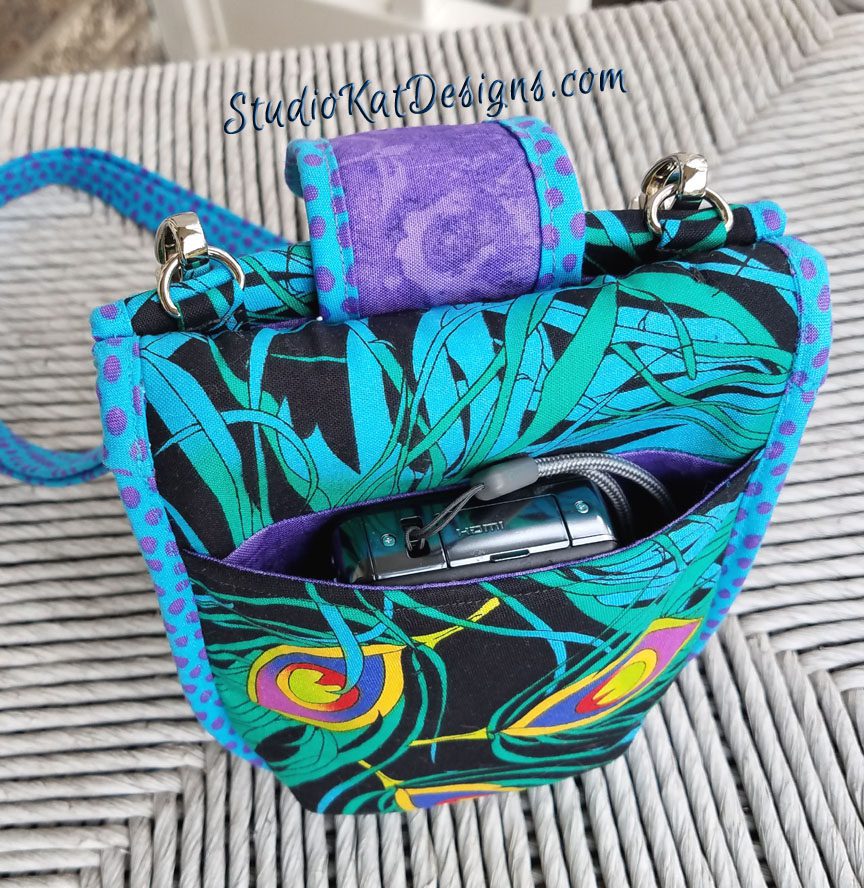 This back slip pocket is the perfect size and depth for a camera, sunglasses and much MORE.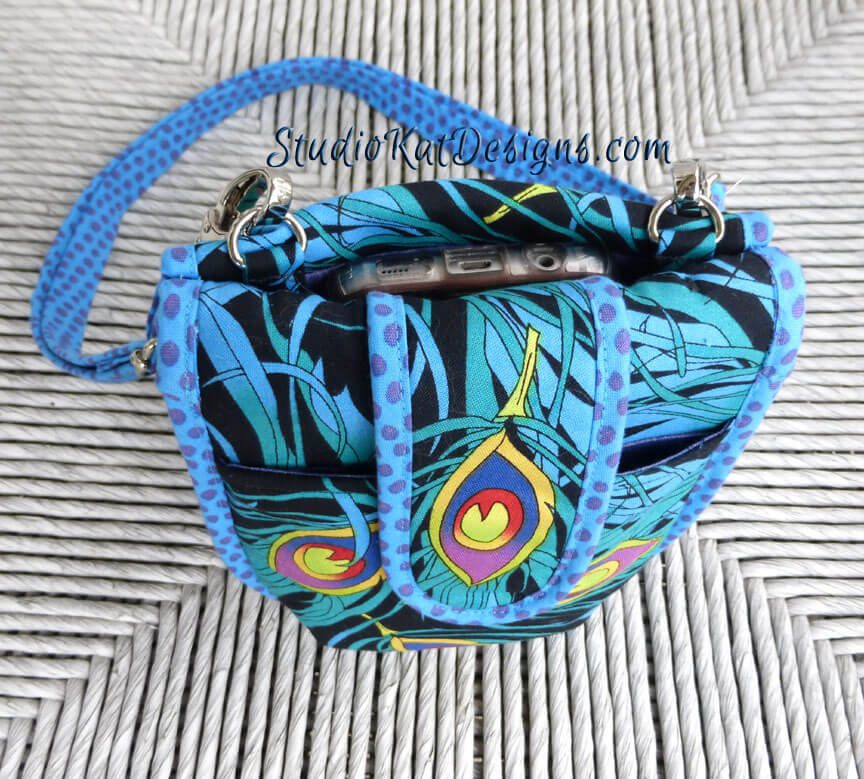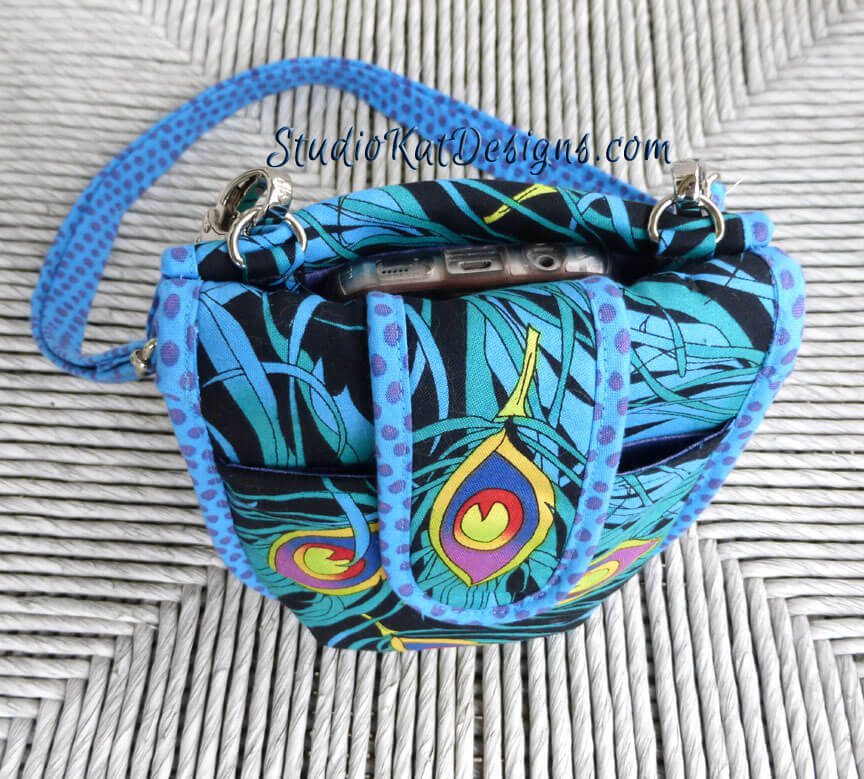 And here's a good look at the "secret" storage area in the middle of this bag.
I like placing my phone here because first of all I can hear it, and second, it's easy to access!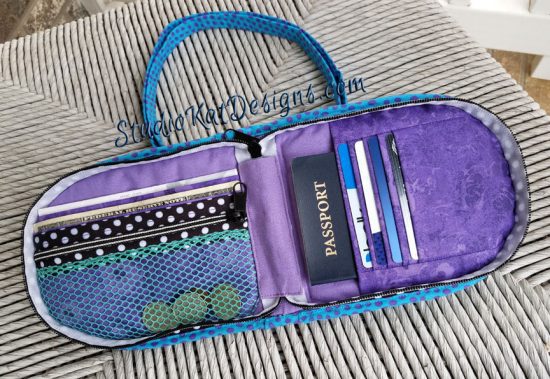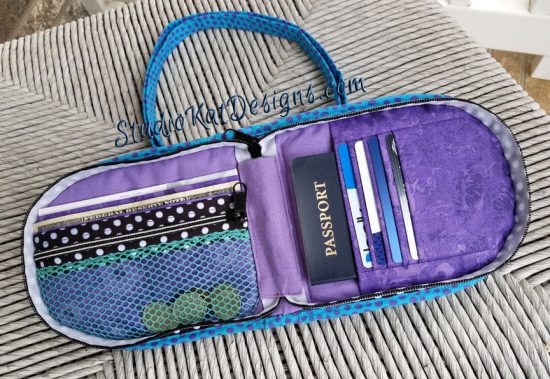 And of course the interior of this bag is a full-fledged wallet, complete with a zippered coin area, a slot for paper money, an additional slot for a checkbook or some foreign currency on one side and slot storage for four credit cards as well as your Passport.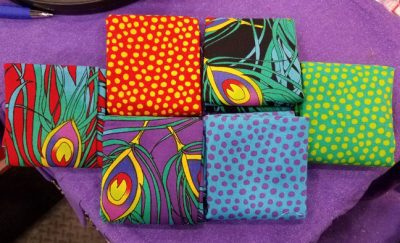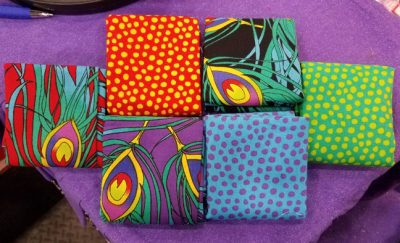 And now, here's some info about this fabulous fabric by Dianne Springer Designs.
the print– "Nature's Glory"(I chose the black colorway)
the dots– "Forever Dots" (I chose the blue colorway)
And now…. a drumroll please!
The name we have chosen after a long arduous search is as follows:
And now…. it's YOUR turn!
I'd love to know what you think of our new design at this point in the process, and in specific what you think of the name we chose? If all goes as planned, we only have a couple more samples to show you before its time to choose our cover model and finalize the design for printing! So stay tuned for that!
Check out the best sewing pins with me on Pinterest, join in on discussions or show off your work in our FaceBook Group, or get your daily sewing fix on our Facebook Business Page or get behind the scenes scoops on Instagram, and be the 1st to know about new patterns, discount codes and sample sales by signing up for our monthly newsletter.