So…
in our last post I showed you the "Gorilla" sample I made for this cycle of Purse Pattern Chronicles and I've got to say, this was one of the better Gorilla samples I've ever made. I enjoyed carrying it… I can envision myself using it in many applications…I showed it to a couple of close friends and they loved it… and while there are a couple of issues I need to correct on this design, there's really nothing serious! So here's the next sample I made up in this series. I'm not totally ready to start cranking our show samples or thinking about a potential cover sample, but I am ready to make some NICE samples that perhaps could be given as gifts. 🙂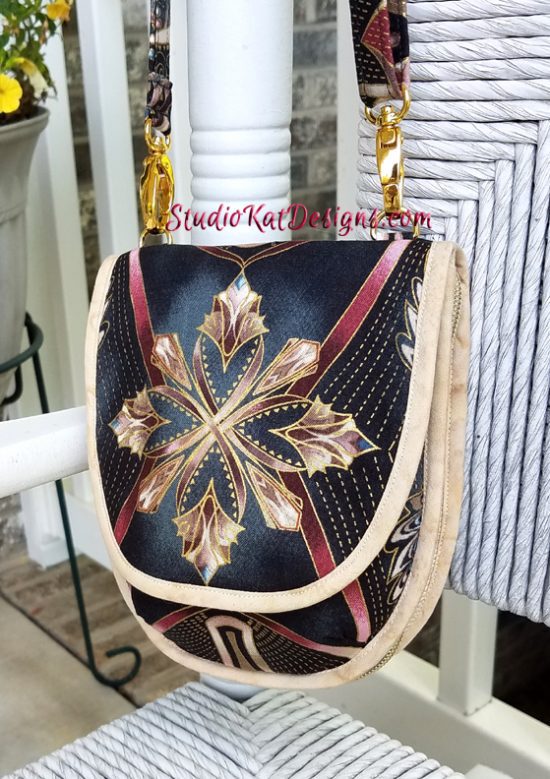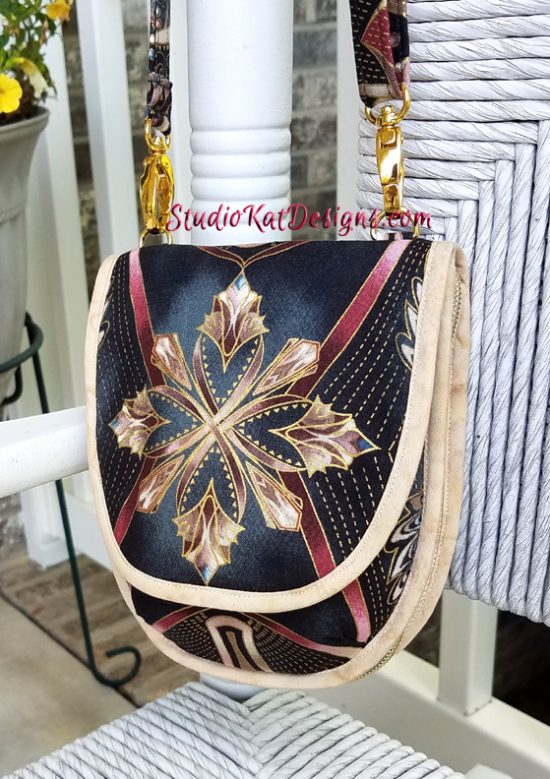 I've used this Peggy Toole fabric before (for the HipBag Hybrid) but this time I used one of the smaller print items (more suitable for a bag of this size) for the focal point of this bag and I like the look.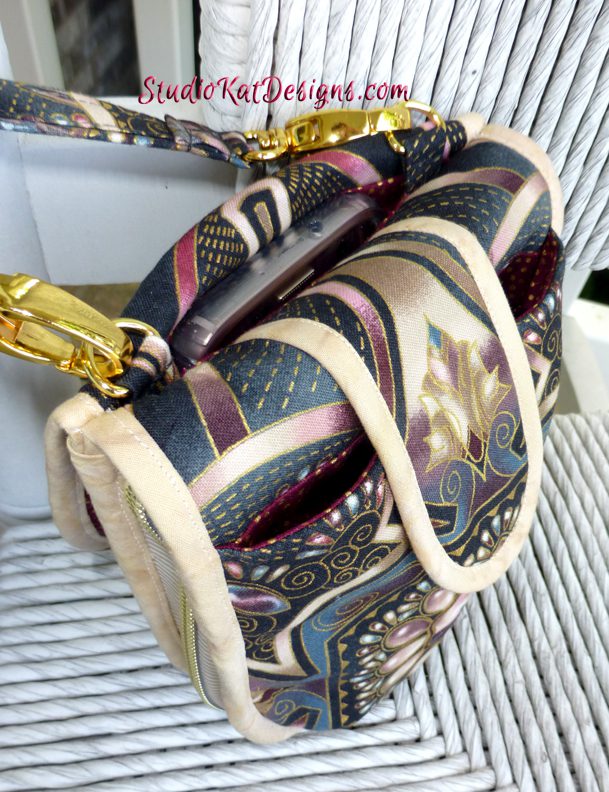 Here's the back of the bag and as you can see, this time I added a tab closure with an invisible magnetic snap for extra security. This will prevent items stored in this back slot pocket from falling out when you're accessing items on the interior of this bag.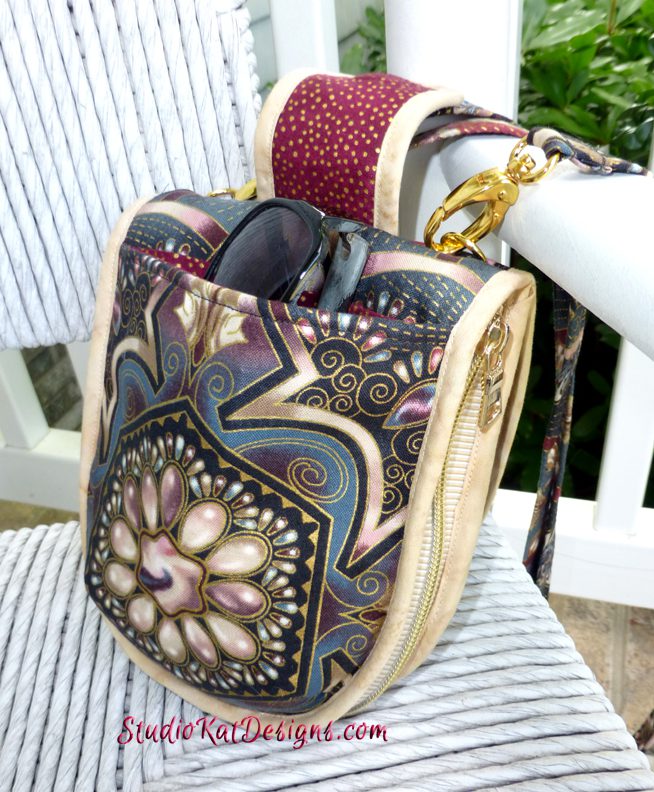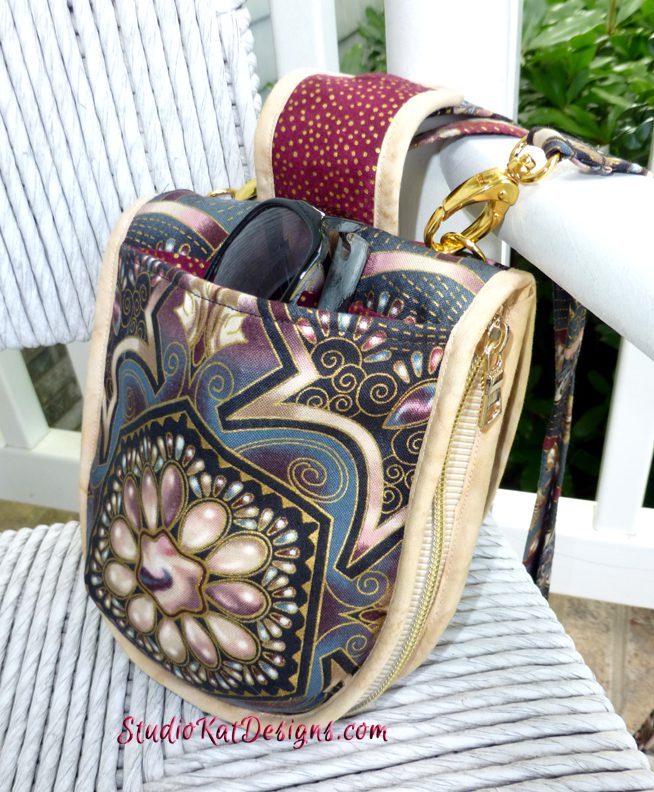 This back pocket is a great place to store a key fob or sunglasses (or reading glasses). Everything in this pocket will be secure (because of the new wide magnet tab)but very easy to access. I also like how our beige & white striped zips look with this bag!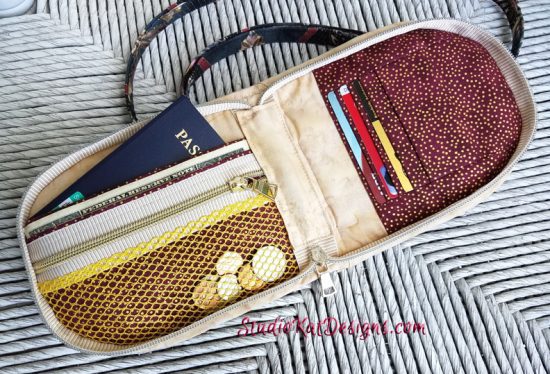 And now for the inside. On the left side I actually raised this whole section up, making it about 1/2″ taller than it's been heretofore, and as you can see, this allows the dollar bills to fit into the bill slot much better. This makes for a deeper slot pocket behind the wallet section and also a deeper coin purse, and that's good as well.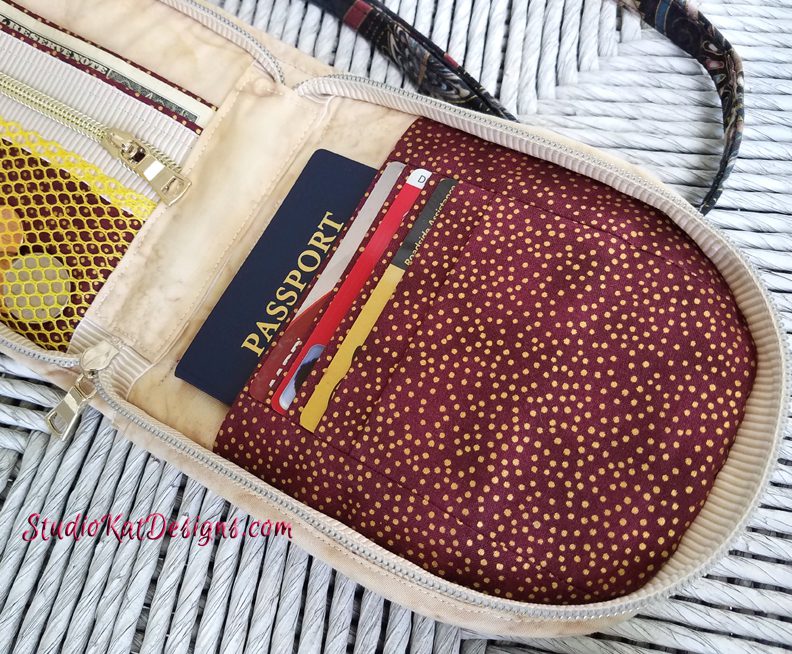 And here's the card slot section of the interior and as you can see, I still didn't get the bottom slot cut correctly so that I can get a card ALL the way in without covering the card in the slot above it. That's kinda ticks me off and you can best believe it'll be right next time! 🙂
So there you have it—
With this sample complete, I pretty much have the design set for this bag (assuming I can manage to get the card slots right next time). There's still a couple notch placements I need to update, and there's some changes I may make in the "order" in which the various components of this bag are assembled, but other than that I think I'm ready to break into my new stash of dedicated fabric for this cycle! Can't wait to get started on making these up so stay tuned!
And now…. it's YOUR turn!
Check out the best sewing pins with me on Pinterest, join in on discussions or show off your work in our FaceBook Group, or get your daily sewing fix on our Facebook Business Page or get behind the scenes scoops on Instagram, and be the 1st to know about new patterns, discount codes and sample sales by signing up for our monthly newsletter.