So…
in our last post I showed you the 1st prototype for our new design for Spring 2017 and in today's post I'm ready to start carrying the "Gorilla" sample for this new design to ascertain how it actually functions and serves my needs!
And by the way, can you even believe that here we are… in the middle of September… and we're already talking about the "Gorilla" sample for our Spring release? More about this later on in this post but for now, let me give you a quick tour of this sample!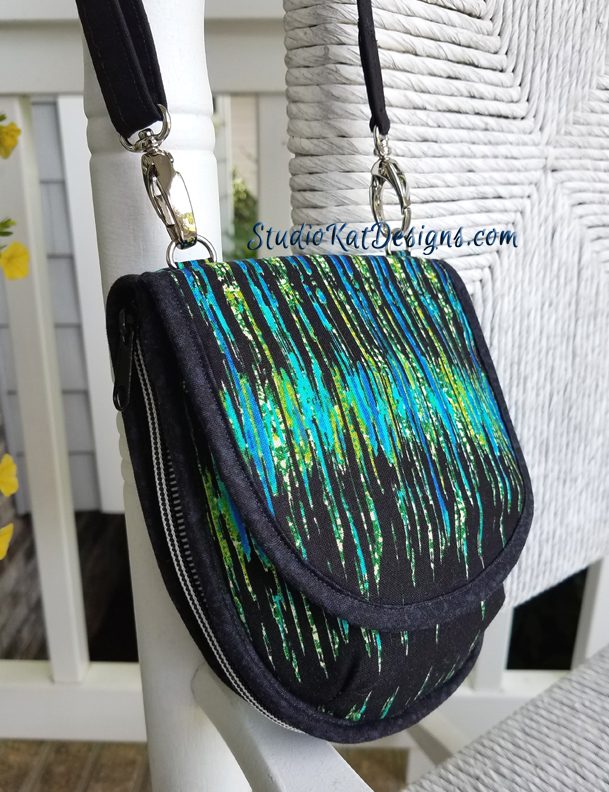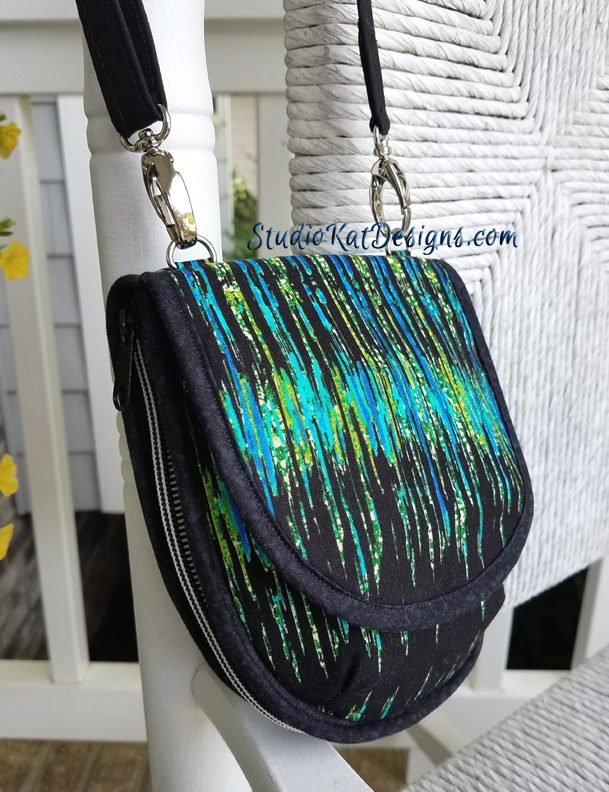 First of all, if you're thinking that maybe we've used this fabric before you'd be right! We used it for one of our Festival Pocket Belt incarnations earlier this year but I decided to use it again since I still like this print and since I'm not ready to break into the new fabrics I've set apart for this design, and since I might as well LIKE this bag since I'll be carrying it for awhile, right? But I digress.
So here's the bag front and I actually really like this overall look. I like the compactness, the puffiness and the in-general cuteness of it. It also doesn't hurt that it has a totally unique silhouette than anything I've ever done or seen! 🙂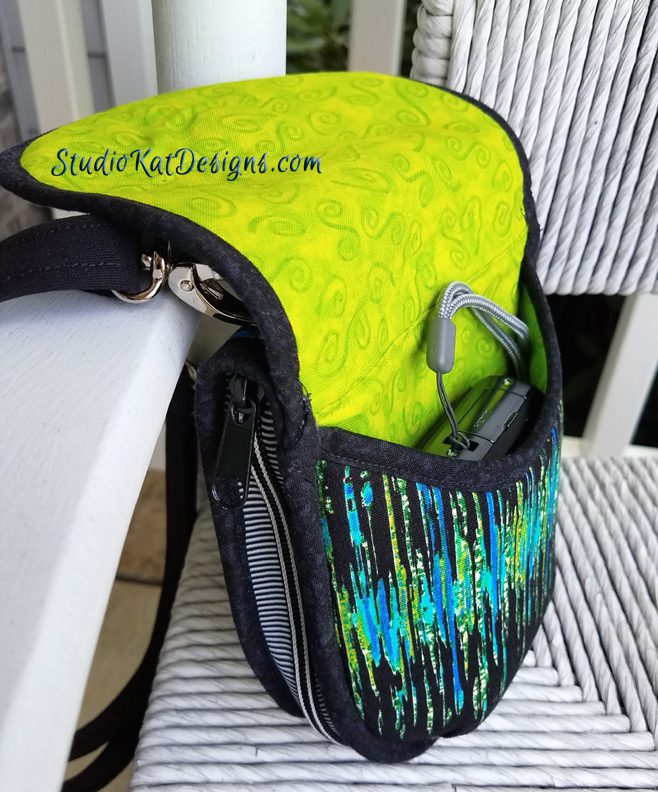 This flap has an invisible sew-in magnet in it and it's really quite roomy as you can see. In this photo you can see it easily holds my camera with room to spare for a few other incidentals.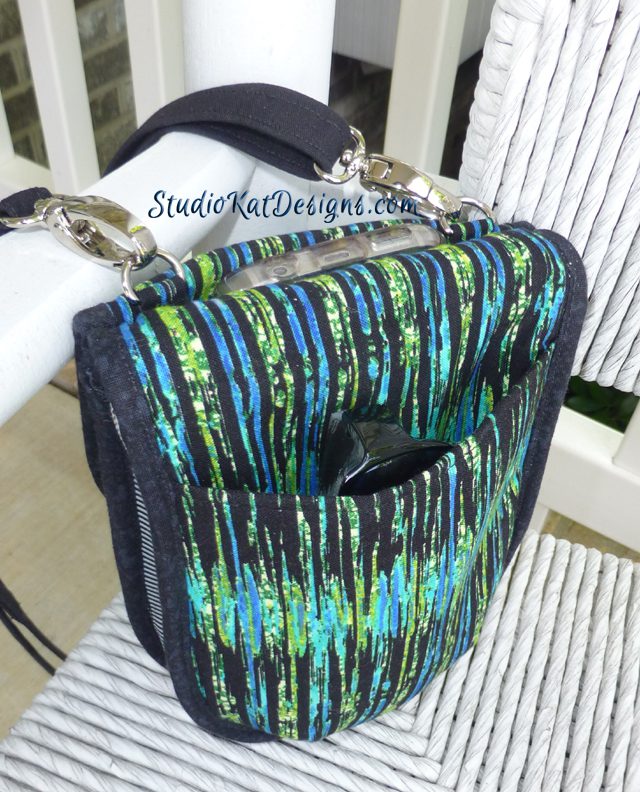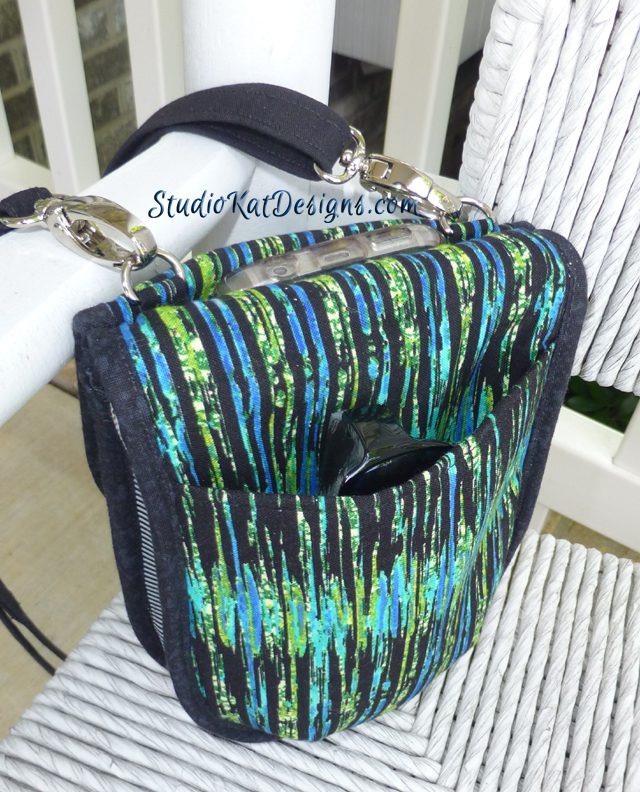 And there's two things to look at in this photo of the Bag back. First there's a slip pocket large enough to accommodate glasses (for sun or for reading) and if you look closely there's actually a hidden storage area in between which turns out to be a near-ideal place to carry a smart phone. Overall I like this look but I think there should be a tab or something similar to hold items in place within the slip pocket. I noticed that sometimes things fell out of this pocket (when I opened up the wallet area) unless they were a pretty tight fit, so I'll add that in the next installment.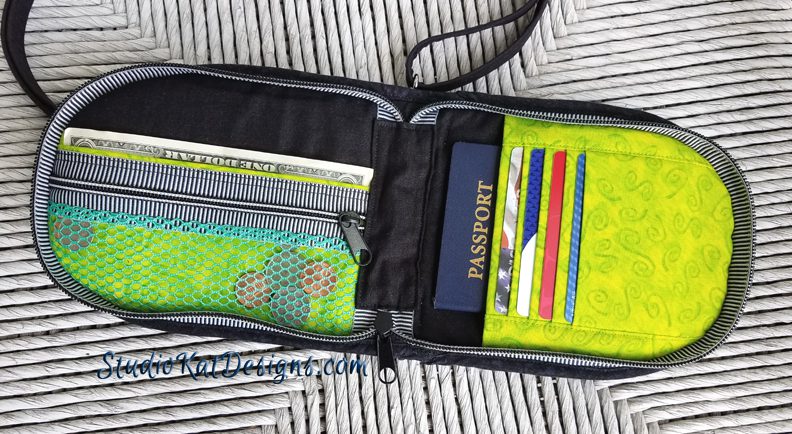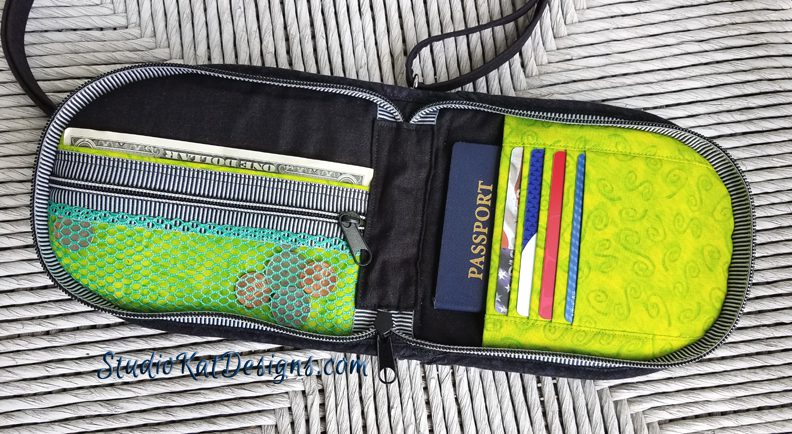 So now let's turn our attention to the interior. There's a full-service wallet on the left with a zippered mesh coin pocket and a slot for paper money. I'm not too happy with the paper money slot because you might note that the dollar bill will not slide ALL the way into the slot (because the curve of the bag is STILL interfering). I'll raise this area up a bit to remedy this next time.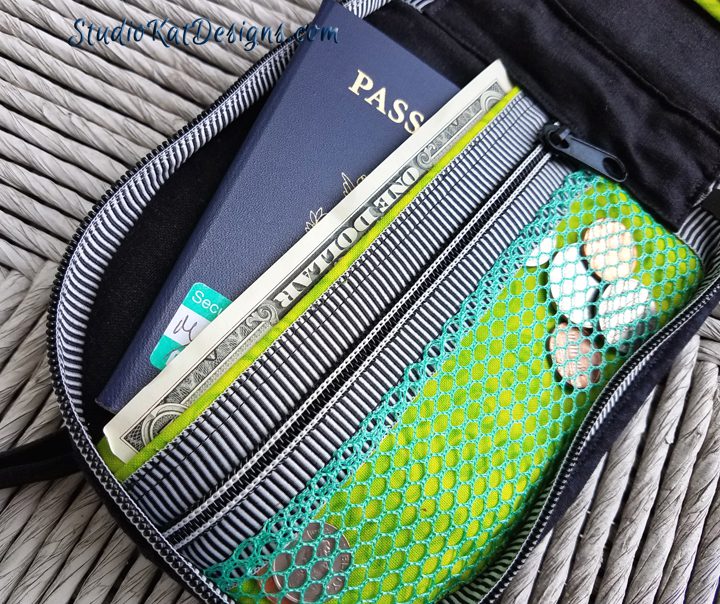 The dollar bill is also obscuring the additional slot pocket behind it which is large enough for a passport or other valuable paperwork.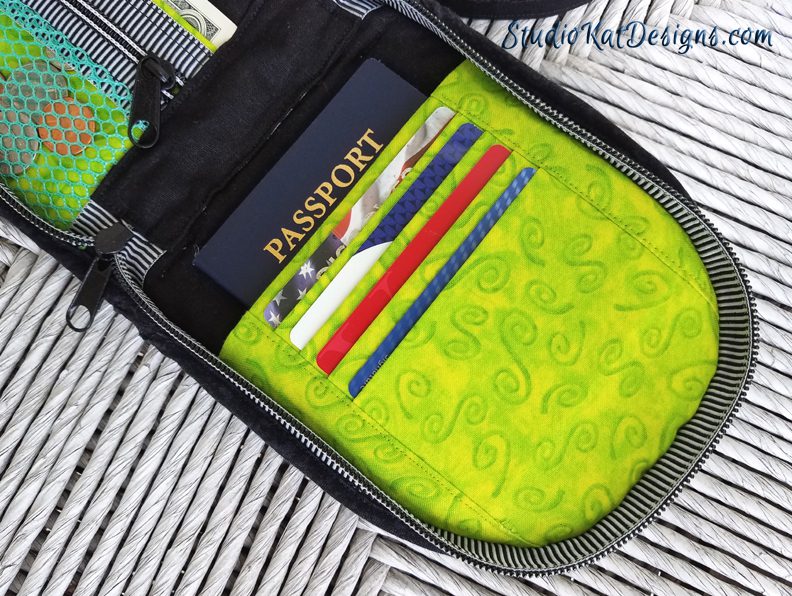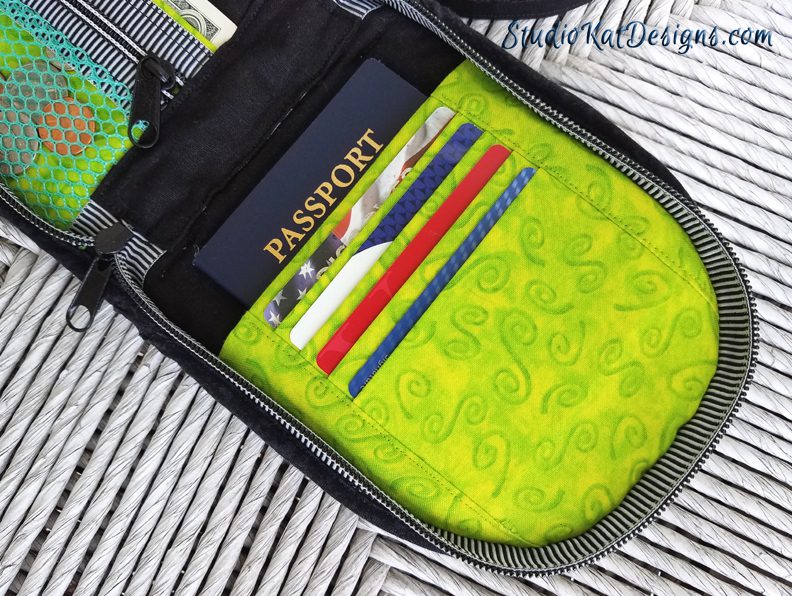 The right side of the interior has 4 slots for credit/loyalty cards and a nice deep slot pocket behind them. This would be a good place to store tickets or boarding passes and a short pen could even be clipped here.
On another note, I used a 20″ closed bottom zipper for the bag closure this time (as opposed to the 22″ 2-headed purse zipper I used in the last sample) and it went into place without a hitch.
And now…. it's YOUR turn!
Check out the best sewing pins with me on Pinterest, join in on discussions or show off your work in our FaceBook Group, or get your daily sewing fix on our Facebook Business Page or get behind the scenes scoops on Instagram, and be the 1st to know about new patterns, discount codes and sample sales by signing up for our monthly newsletter.