So…
in our last post we had a little fun letting YOU be the designer and choosing which of our bag samples YOU would choose to grace the pattern cover for our new design for Fall 2017, the Flaptastic Bag. Thanks to everyone who participated! I always enjoy hearing about which bag my customers would choose and I especially enjoy reading about why you chose the bag that you did and while it appears that this time the overwhelming customer pick for the cover was Kaleidoscopes Galore, that is NOT the bag we chose to use. We have really good reasons for the choice we made and I'll go into details below, but now…
it's time for the big reveal!
Pictured below is the actual pattern cover for the Flaptastic Bag!
And now…
let me tell you why I chose THIS sample!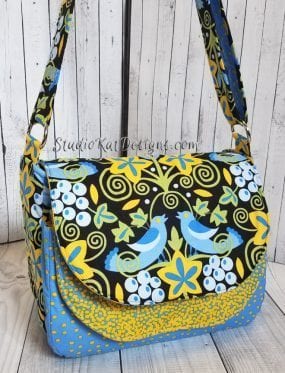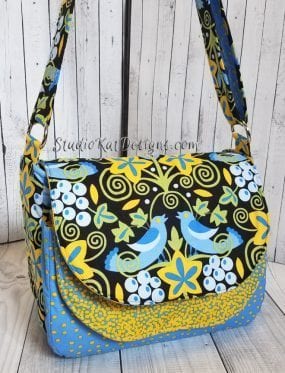 Since this was our "Gorilla" sample for this edition of Purse Pattern Chronicles, I figured it would pretty much be a throw-away as per usual, but since I generally carry it for a week or two to troubleshoot it, I decided this time to make it up in some decent fabric, which is my norm at this stage of the game.
But to my chagrin, the exterior of this bag actually turned out quite beautiful, (it's hard to beat Jane Sassaman, right)… but unfortunately it bears little resemblance to the final version (no zippered pockets amongst many other features).
So for that reason, it was OUT!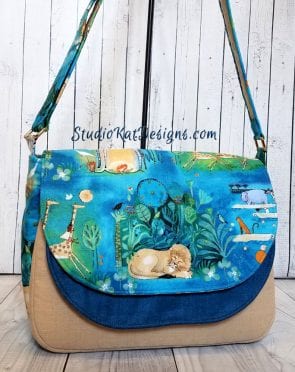 Even though a good deal of the "bugs" were worked out with this sample, I'm STILL disappointed in how the exterior of this bag came out. It's not at ALL how I had it pictured in my head, but it just goes to show you… even after all of this time, things don't always turn out as planned, right?
So for that reason, it was most emphatically OUT!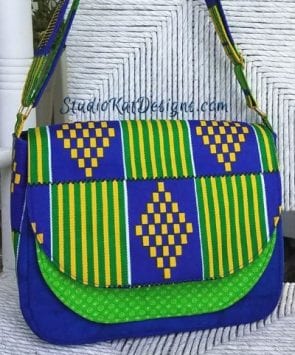 And in contrast, this sample all done up in blue & green actually turned out WAY better than I had anticipated. The various components are all clearly visible, it photographed well and it definitely makes an immediate impression… but not always the intended impression because here's the deal…. My SIL and loyal assistant didn't care for it at ALL!
And since I've learned thru bitter experience to value to opinions of those I trust… it was OUT!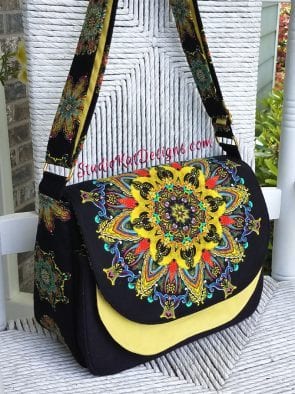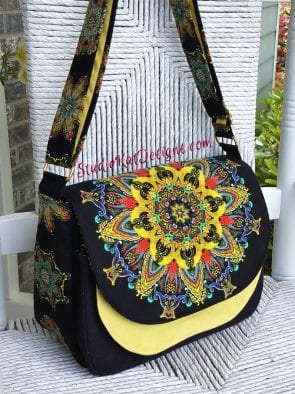 For this sample I broke one of my own cardinal rules & used some favorite fabric from one of my private stashes. But here's the reality, the fabrication of this bag is a clear violation of one of my cardinal rules (since it's black, see my rules below). The black on black exterior renders the most important feature (the full-width front pocket) impossible to detect.
I know many of you have indicated you could in fact "see" this pocket, but that may be due to the fact that you already knew it was there. I have examined the HD version of this picture, (because believe me, I love this bag), but even at that enhanced clarity, the front pocket is truly undetectable, so regrettably and without a doubt… it's unequivocally OUT…
But that was actually OK with me since I was harboring a not-so-secret desire to claim this bag for my OWN! But the results were SO fabulous, that it's going to be pretty hard to justify taking it off the show circuit where I know it will be a big hit, so I guess I'll play a reluctant waiting game.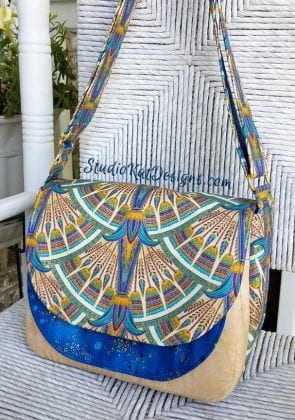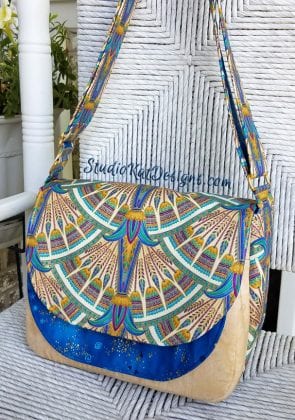 The Egyptian Bag
And here's a bag that actually turned out infinitely more amazing than I had even dared to hope! Having gone to school on the "Migration" bag (above), I chose fabric for the front pocket that BLENDED with the majority background color of the bag exterior & this time I LOVED the result.
As a matter of fact, I came very close to choosing this bag for our cover model, but decided against it in the end. I decided that as lovely as this bag was, it just wasn't as impactful as our eventual choice was, so with a bit of trepidation… it was OUT!
It will however be a standout Show Bag!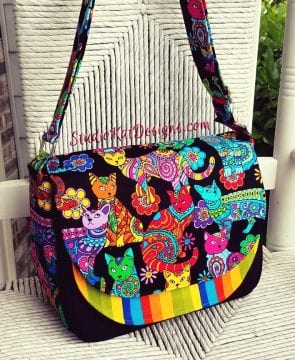 Color Me Seuss Bag
I made this bag pretty much for "funsies" since I knew I already had 2 excellent choices for our cover "in the bag" (pun fully intended!).
Once again it violates the black on black rule but who cares since this bag will also be a great show bag knowing already that so many of our customers love cats!
This bag therefore was OUT… even before I started it!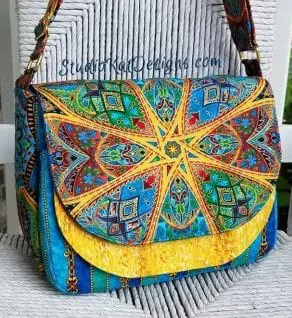 Which leads us to the bag you already know we chose for our pattern cover. This beauty hit all the right notes and is an excellent representative for the Flaptastic design!
1) It showcases the design components and in fact draws attention to them.
2) It's compelling & will standout in crowded display or on a "loud" Market floor.
3) It looks like our brand. Customers who know us would automatically know it was ours!
4) Even though there were no specialty piecing techniques involved, this bag's exterior has a lux, one-of-a-kind feel that's reminiscent of specialty piecing.
5) The color scheme is fun, bold and a bit different than any we've used before!
So… in the final analysis, I felt that this bag best represented this design!
But you know what?
Call me crazy but I'd love to know if you agree with our selection or if you think we totally blew it! So please feel free to leave your comments and/or questions in the space provided below! And stay tuned because we'll be announcing the release of this pattern in our monthly Newsletter on July 13th, with a special discount offer exclusive to our subscribers. YIKES! That's Thursday! And if you're not currently on our newsletter mailing list, you still have time to get in on the fun (and pick up a nifty discount coupon too!) by clicking here!
***********************************************
Check out the best sewing pins with me on Pinterest, join in on discussions or show off your work in our FaceBook Group, or get your daily sewing fix on our Facebook Business Page or get behind the scenes scoops on Instagram, and be the 1st to know about new patterns, discount codes and sample sales by signing up for our monthly newsletter.