So…
in our last post in this series we showed you our new Flaptastic Bag all dressed up in some eye-popping Peggy Toole fabric and for this sample I chose a quieter, more neutral palette to play with. (I'll tell you much more about this fabric at the bottom of the post.)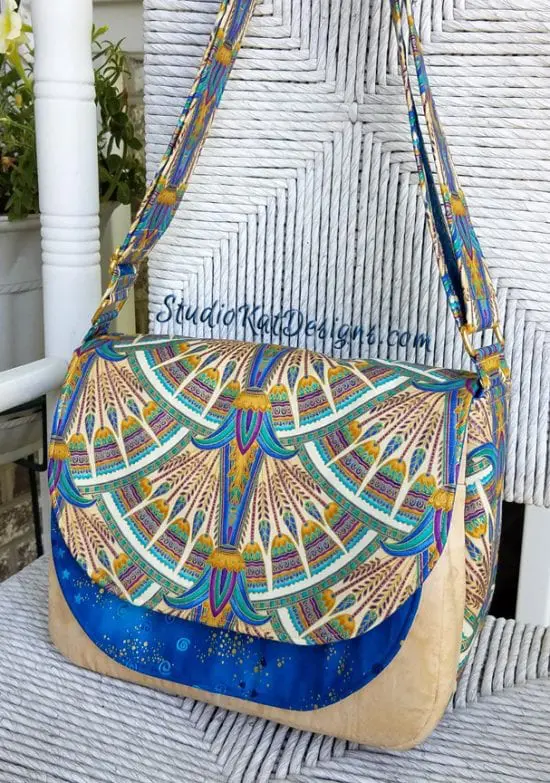 The reason that this fabric intrigued me so is that the curve in the print was quite similar to the curve of the Flap and as you can see, I fussy-cut it to take advantage of this similarity.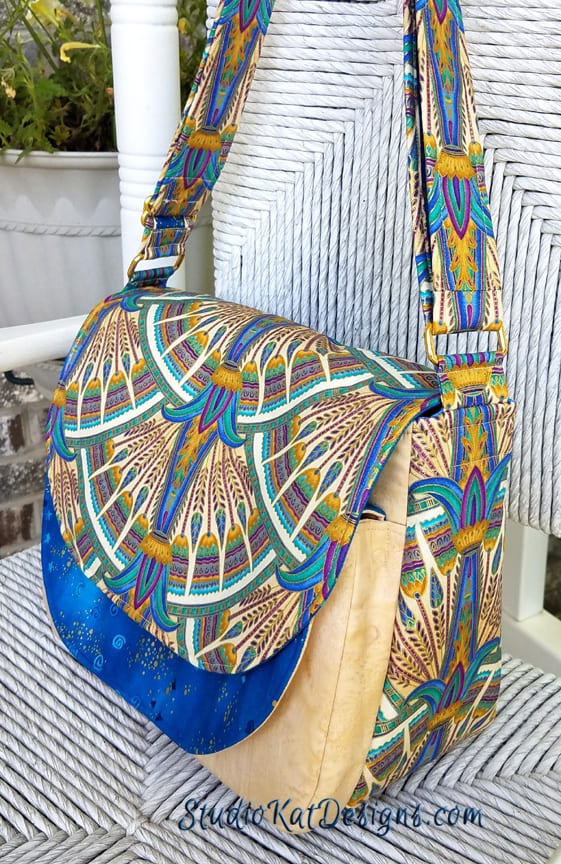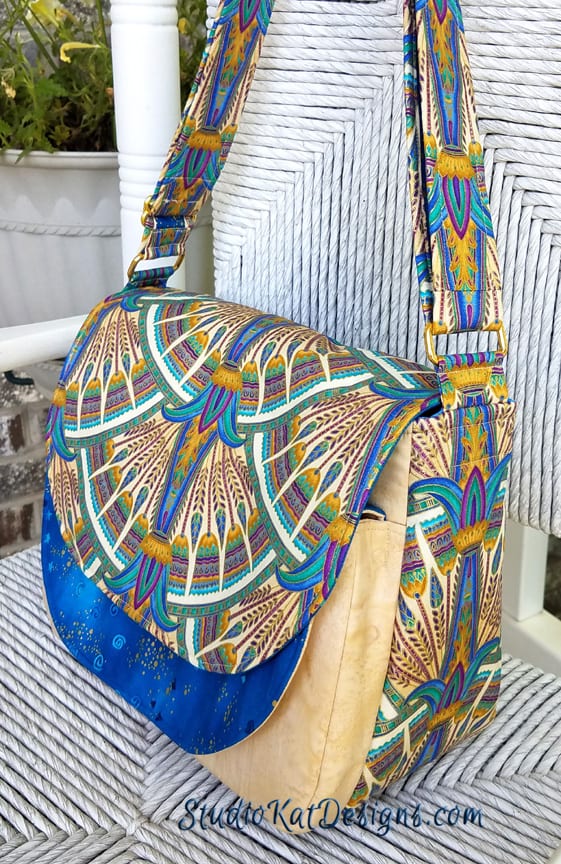 I like this shot for two reasons. First, it gives you a good look at the height & width of this front pocket and second, it gives you a good look at how the print "climbs up" the side of the bag and into the 1 1/2″ strap and I like this look!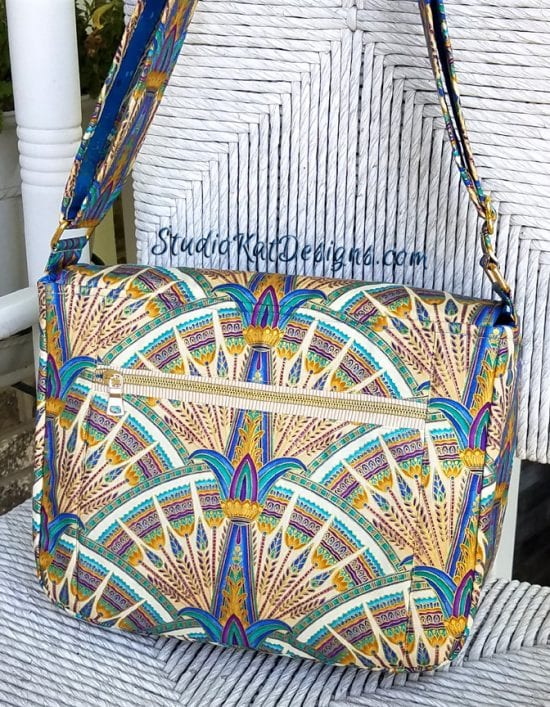 Here's the bag of the bag and yes, I worked a good while fussy-cutting this print to line up this way! But seriously, there's a roomy zippered pocket on the back of the bag (AND ALSO on the inside back lining). AND by the way, how do you like the way the gold hardware on our beige & white mini-striped zippers sets off the gold highlights in this fabric!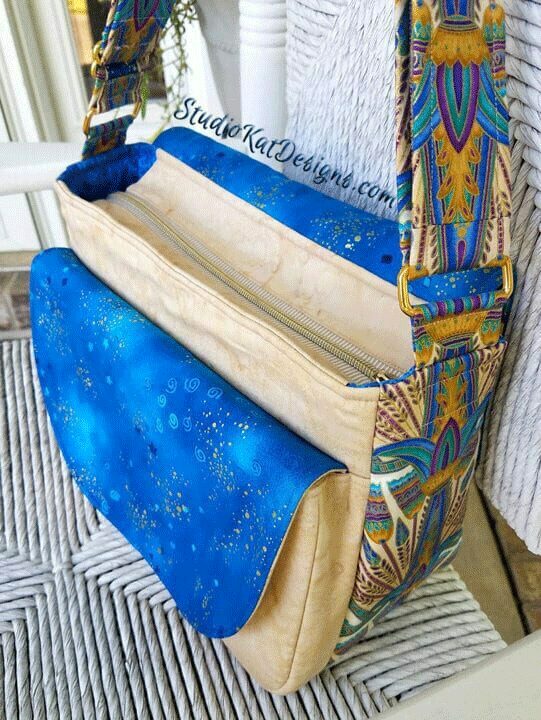 In this shot you can see the zippered opening to the main storage area of this Bag. And once the Flap is up, you also get a good look at the flapped pocket area. As you can see, this pocket spans the entire width of this bag and is held in place securely with an invisible sew-in magnetic snap.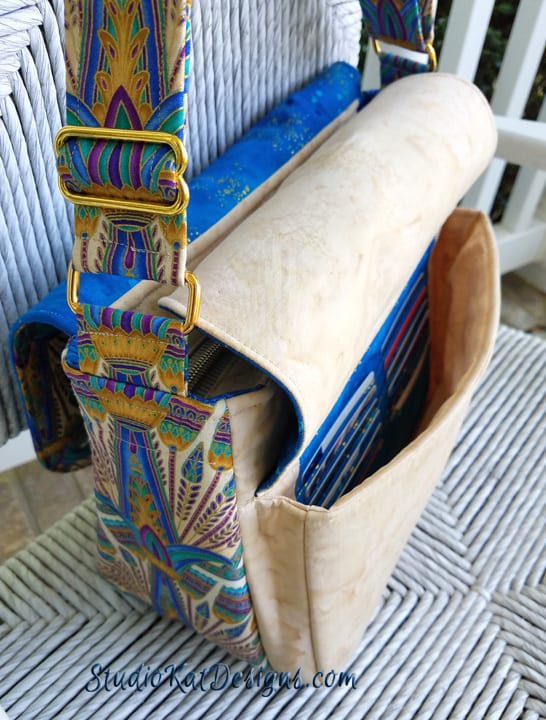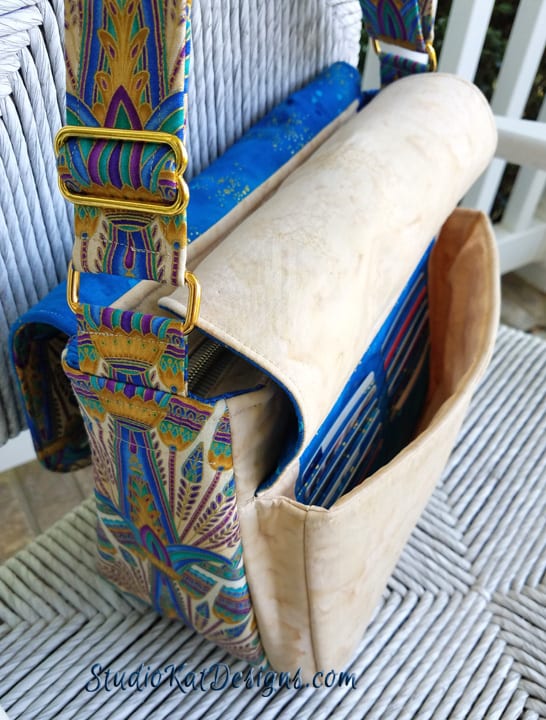 And if we lift up the Pocket Flap you can see how roomy this Pocket actually is! First of all, there's room for 12 credit or loyalty cards in the slotted card holder, but it's also the perfect place to store items you want quick access to, like your phone, keys or maybe even your sunglasses!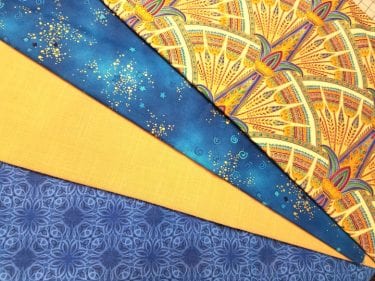 And with that, there's only one more thing to talk about, and that would be this fantastical exterior fabric, so here goes!
Exterior– "Valley of the Kings" by Studio RK for Robert Kaufman
Contrast– ""LB Basic Glitter" by Laurel Burch for Clothworks
Blender– Hoffman Tonal Hand-Dye by Hoffman Fabrics
Lining– "Spherical Float" Dusk Blue by Texture Spectrum for Robert Kaufman
(Bag dimensions= 12″ wide X 9.5″ tall X 4.5″ side width)
And here's some GREAT news! It's starting to look like we'll be able to release this pattern in mid-July!
**********************************************************************************************
And now…. it's YOUR turn!
I'd love to know what you think of our new design in general and this sample in particular? Please feel free to post your comments and/or questions in the space provided below.
Check out the best sewing pins with me on Pinterest, join in on discussions or show off your work in our FaceBook Group, or get your daily sewing fix on our Facebook Business Page or get behind the scenes scoops on Instagram, and be the 1st to know about new patterns, discount codes and sample sales by signing up for our monthly newsletter.