So…
upon completion of our last sample & post in this series, it quickly became apparent that we were finished with the pattern-tweeking & making portion of this new design, which means its time to make some official "show samples" from which we can eventually choose our cover model! So let me show you my latest!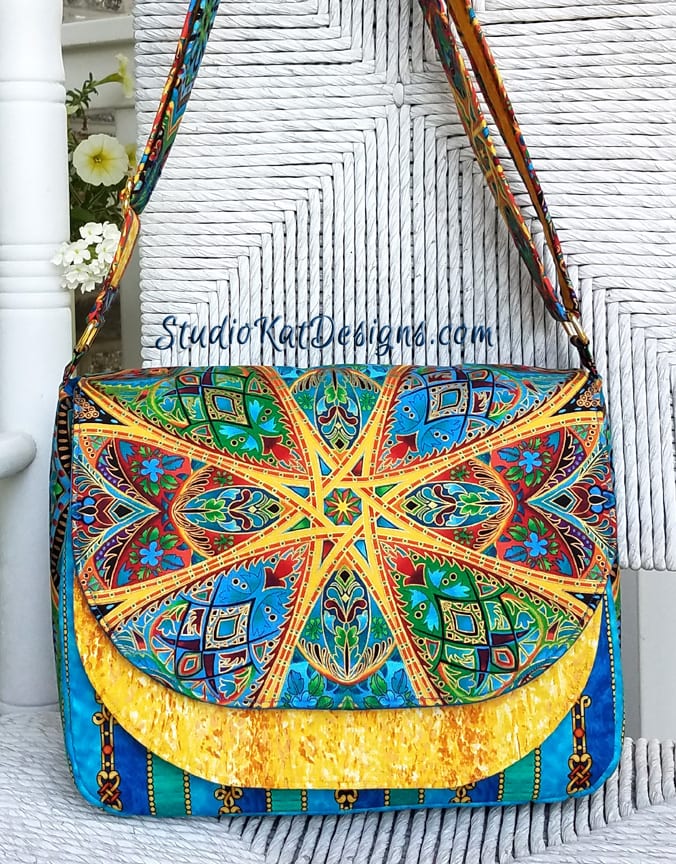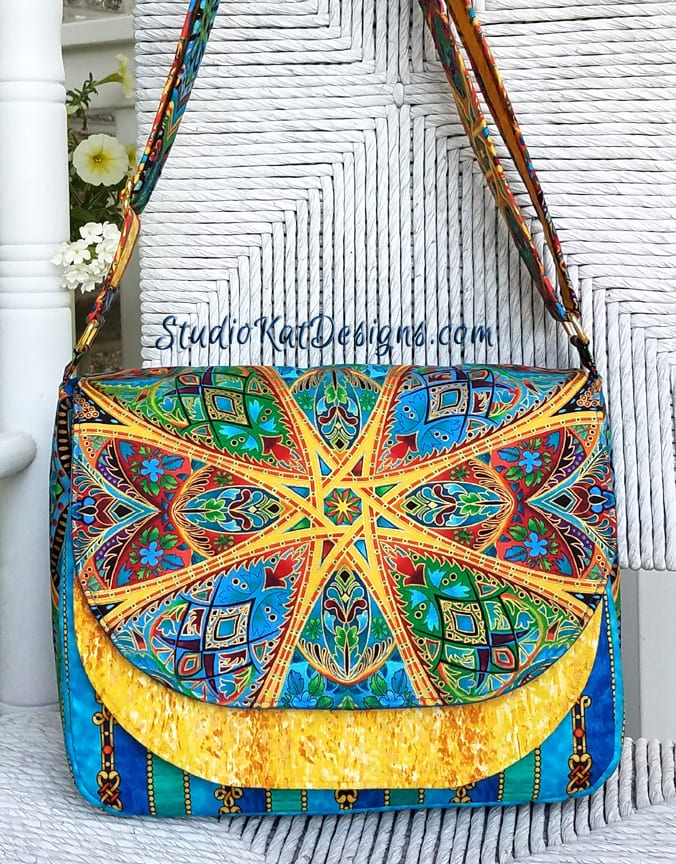 I came across this unbelievable kaleidoscope fabric by Peggy Toole (one of my perennial designer favorites) and was instantly smitten. The thing is though… I actually found it last year and had every intention of using it on the Everyday Attache but didn't, for two reasons. First of all, the size of the focal print was much too large for that bag and secondly, I had absolutely NO luck coming up with an appropriate complimentary print… but more about this fabric at the bottom of this post!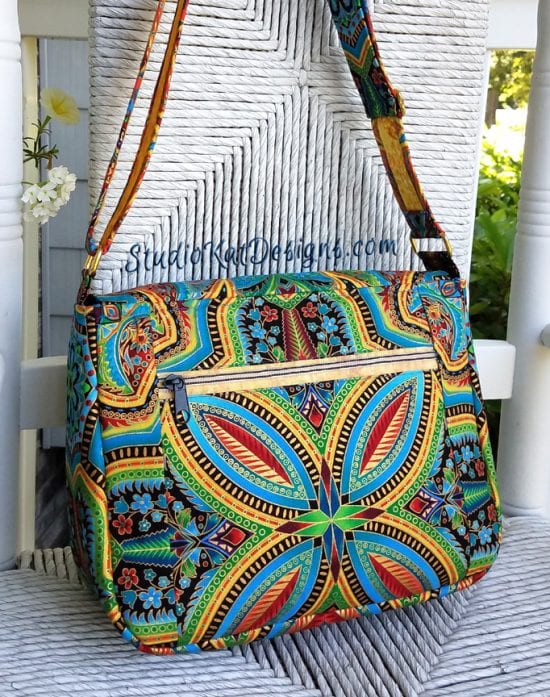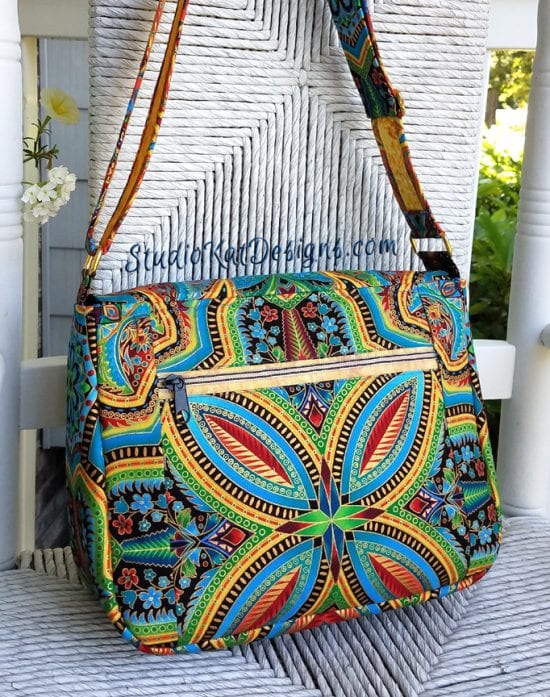 Here's a good shot of the Bag back. For this sample I chose to use our translucent zippers which allow just a splash of the lining color show thru.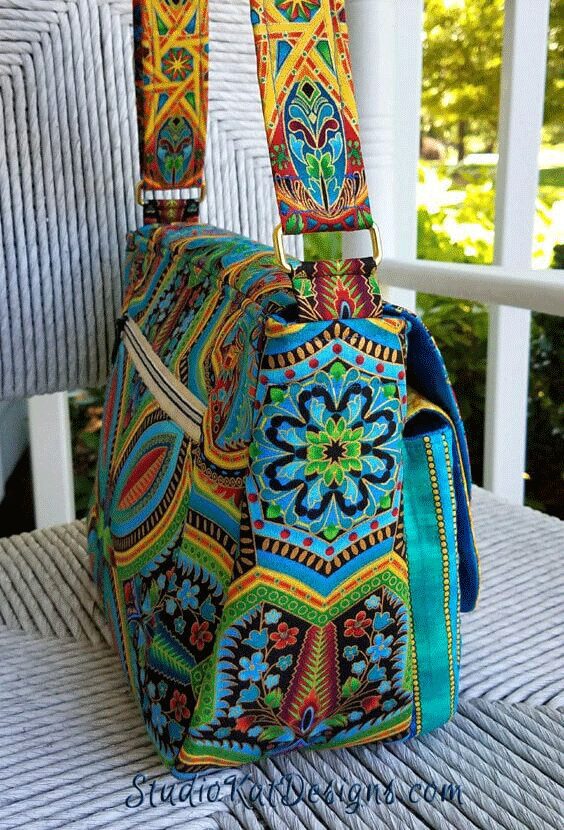 And here's a good look at the side/back of this bag, which is wide enough to store pretty much everything you need to carry INCLUDING a full-sized iPad.
And here's a side/front view. This front pocket of this bag is the same width as the bag itself and this picture gives you a good look at the depth and width of this pocket. As you can see, it will easily accomodate your cell phone, your key fob, a small paperback and….
if you look inside, you'll see that there's also slot storage for TWELVE credit or loyalty cards. And don't worry, the flap on this packet is equipped with a magnet closure to keep these valuable items secure.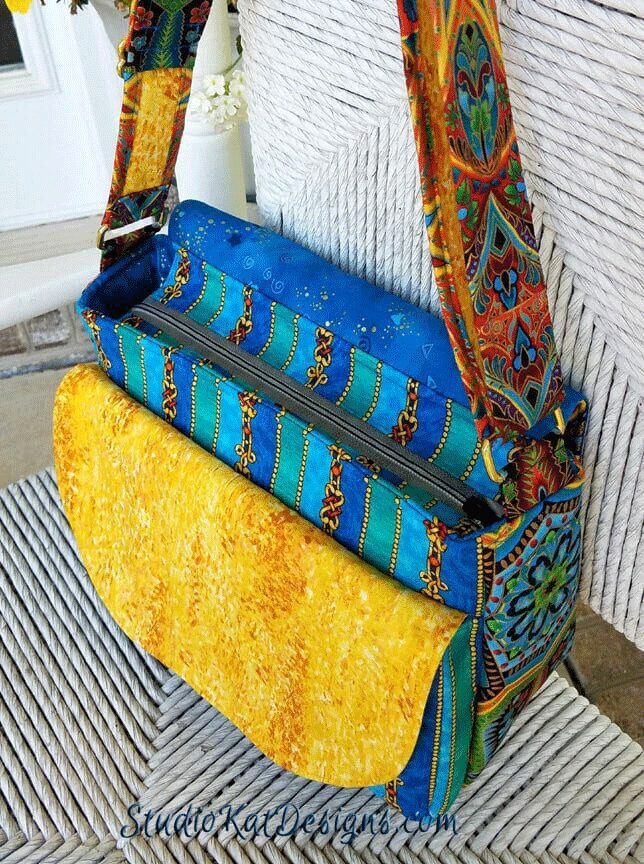 And as you can see in this photo, we've included a zippered entry to the main storage compartment, which is covered by the larger bag Flap. And just so you know, the zippered entry could technically be omitted if one preferred, since I know from experience that our customers either love or hate zippers on their main compartments.
So now let's talk about this yummy fabric!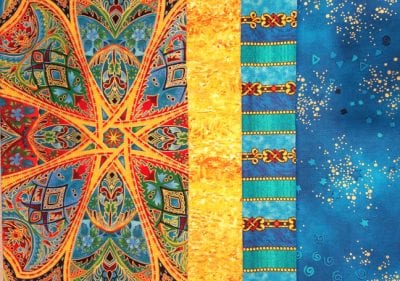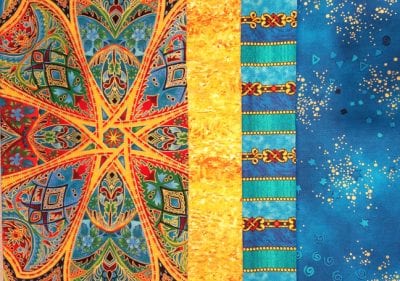 The exterior– "Palace Kaleidoscope" (in multi), from Peggy Toole's Lumina 2 collection for Robert Kaufman
The striped blender– "Ten Commandments" (in jade green) by Ivy Lane for Quilting Treasures
(and just so you know, I picked this fabric out online on the offhand chance it might go with this crazy exterior fabric. It looked pretty good on the website desgin wall so i took a chance, and I'm SO glad I did!)
The lining– "Basic Glitter" (in turquoise/gold) by Laurel Burch for Clothworks
The contrast– I used a gold batik I had in my stash
(Bag dimensions= 12″ wide X 9.5″ tall X 4.5″ side width)
Our goal is to release this pattern in early August!

And here's our really BIG news! We've finally settled on a name for this new design! We're calling it…
The Flaptastic Bag
(and thanks to Mary B for the name)
**********************************************************************************************
And now…. it's YOUR turn!
I'd love to know what you think of our new design at this point in the process and in particular the name we've chosen? And remember, we love reading your comments and answering your questions too, so please feel free to leave either or both in the space provided below.
Check out the best sewing pins with me on Pinterest, join in on discussions or show off your work in our FaceBook Group, or get your daily sewing fix on our Facebook Business Page or get behind the scenes scoops on Instagram, and be the 1st to know about new patterns, discount codes and sample sales by signing up for our monthly newsletter.