So…
in our last post in this series I showed you the prototype sample for our new design for Fall 2017! And you know what? Here's something I've noticed in the past year or so…. it takes me SO much less time to get from the "prototype stage" to the gorilla sample than it used to, and that's a good thing! I can't exactly say that the process of publishing a pattern has gotten easier, because every pattern I've ever worked on has had its own individual challenges, but there IS something to be said for the experience that comes with having taken 35 patterns to completion. At any rate, now that the process is more streamlined, I'm actually surprised myself to be ready to show you a "gorilla sample" that I'm actually quite pleased with!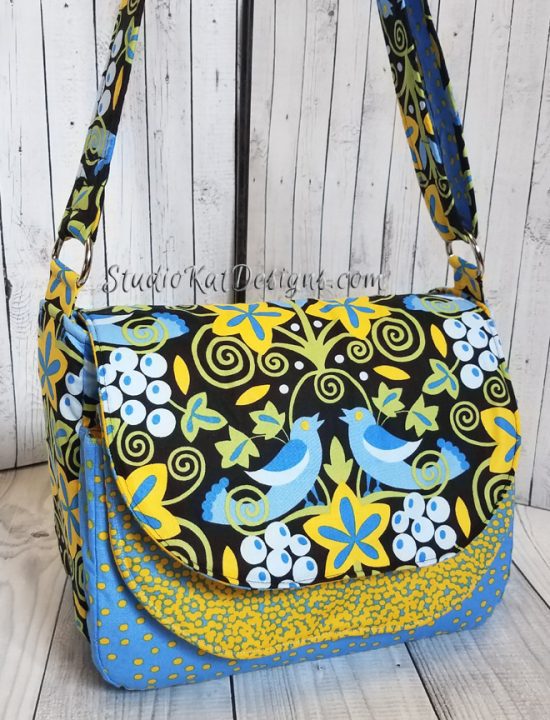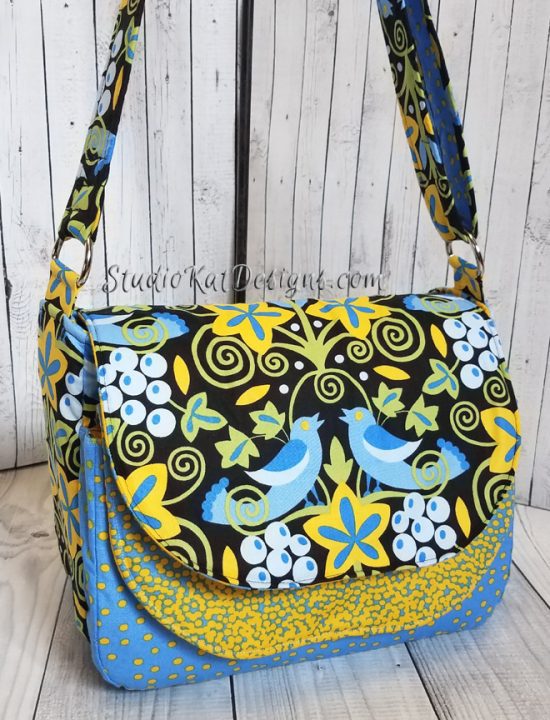 Here's the bag front and overall I'm pretty happy with this look. I'm really excited by the fabric combination opportunities it affords. There's actually TWO flaps; one that covers the main compartment and one that mag snaps in place over the exterior pouch area, which you might notice is about 1.5″ taller than it was in the prototype in our last post (and I like these dimensions better).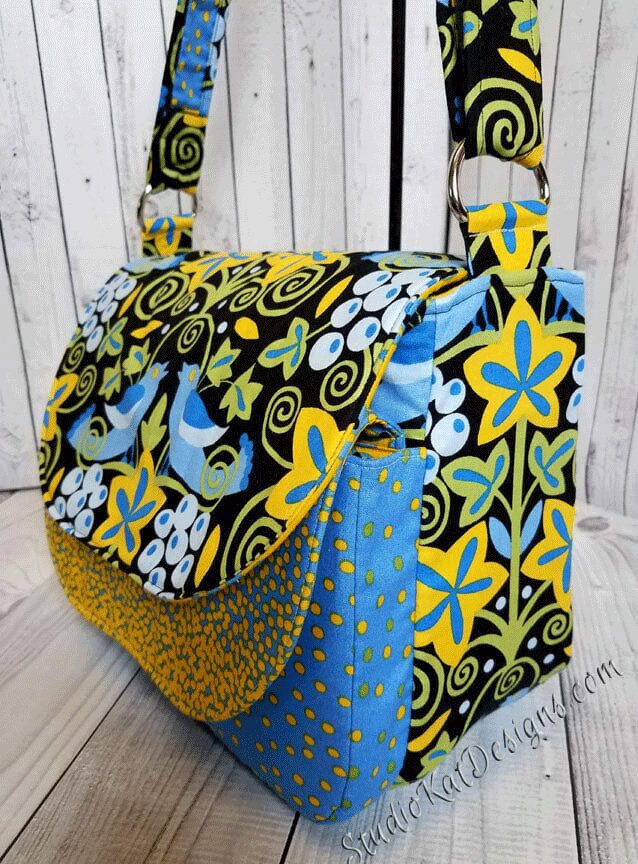 I used Soft & Stable in the bag flap for this sample, but I'm thinking that I'll go with fleece in this area next time because I'd like for the flap to lay flatter against the bag than it does now. I'm also thinking that I might go with a slightly longer & wider main Bag flap next time.
As for the exterior pouch area, I was pleasantly surprised by how much stuff I can carry in there. I can store my smart phone and keys with plenty of room to spare!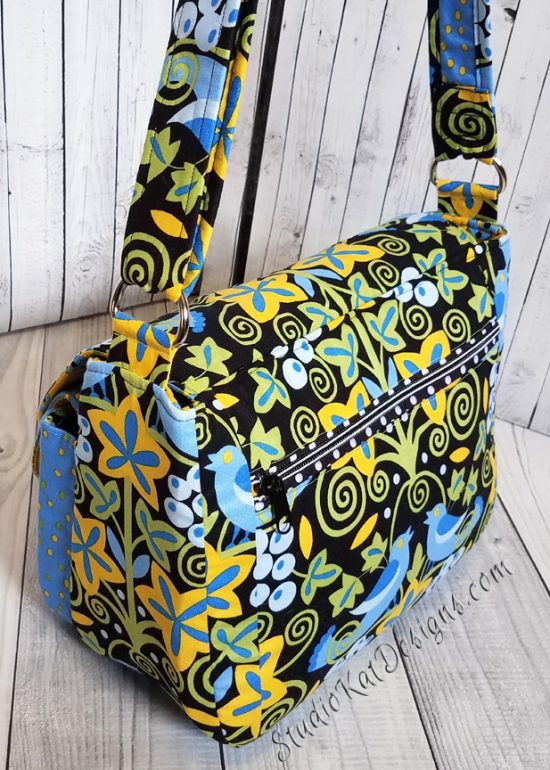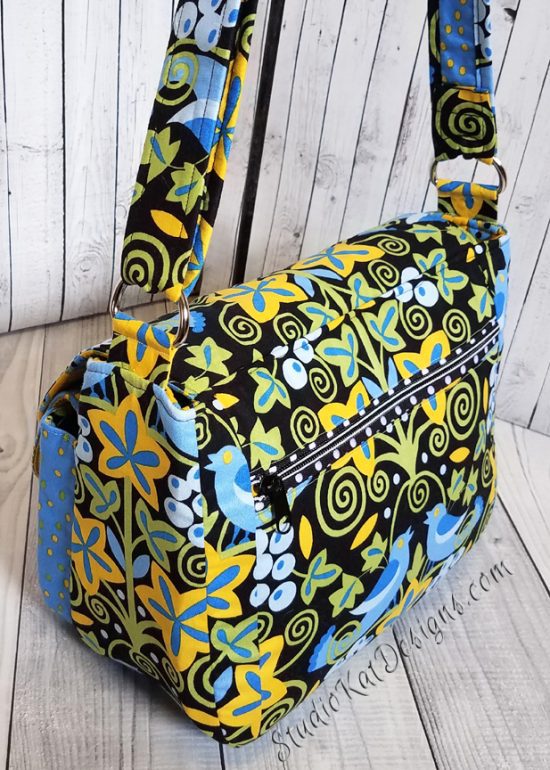 I like placing a zippered pocket on the Bag Back if possible because I like having a safe and secure area for a passpost, important receipts and tickets. And you might notice that I used D-rings for the straps but I have to say that I'm not crazy about how the strap wrinkles up a bit in the curve of the D-ring, so for that reason I think I'll try to source out a 1.5″ wide rectangle ring to use for my next sample.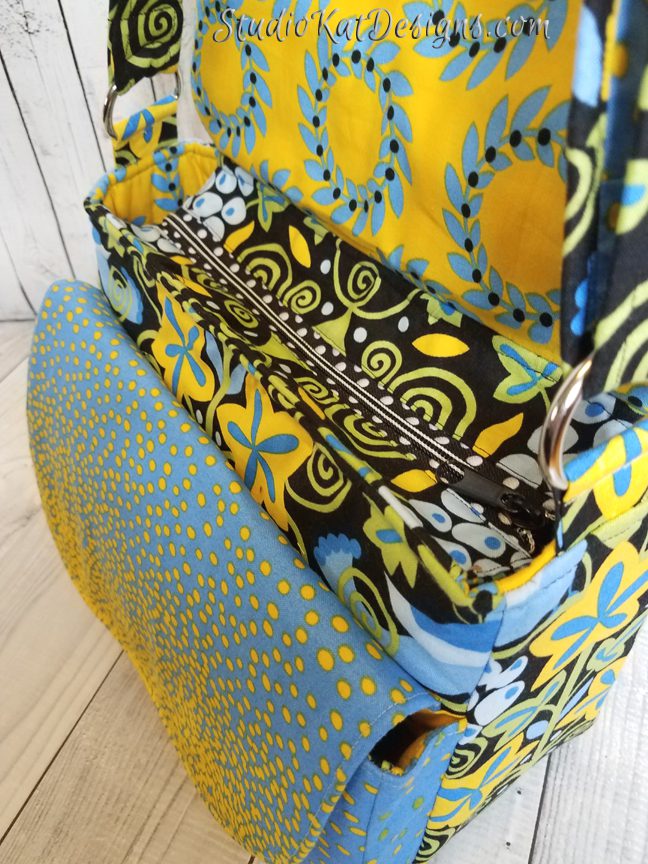 And here you can see the zippered entry to the main compartment of this bag which is actually an optional feature since the bag already has a flap. If it were me, I know I would add the zipper since the flap is primarily there to add visual interest.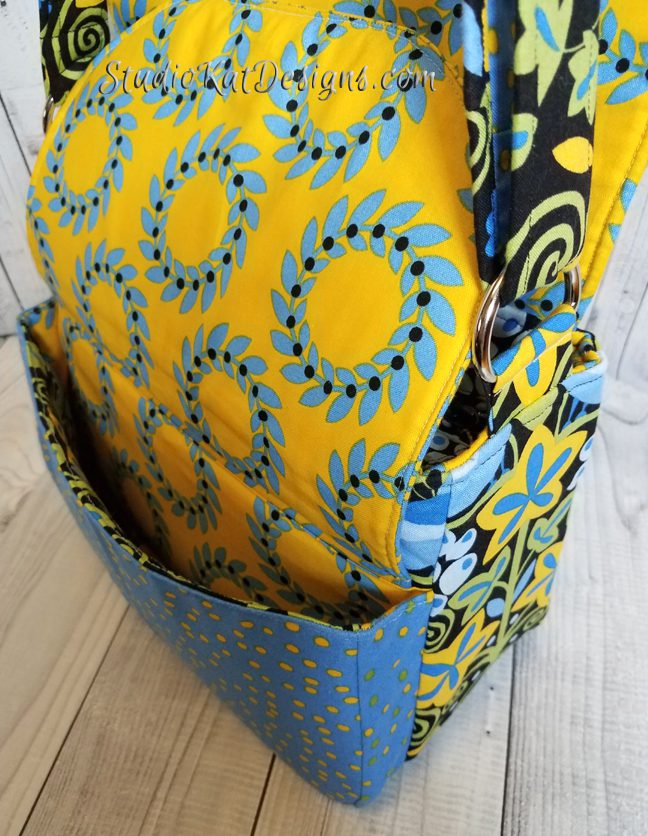 And here's a good look at the interior of the front pocket area which you can see is VERY roomy. As mentioned, this flap will be secured with a mag-snap closure. I thought adding an additional mag-snap to the main Bag Flap, but I decided against this idea because during a preliminary test I found that it was quite difficult to disengage one magsnap without disengaging BOTH magsnaps, so I canned that idea. I don't like the idea of fighting these two flaps in order to get to the area I want to be in!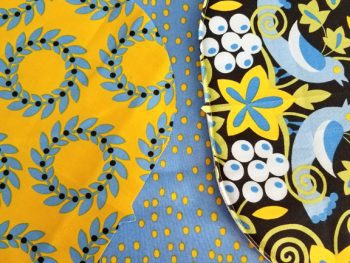 So there you have it.
After carrying this bag for a couple of weeks, there's still a few small tweeks I want to make but I'm amazingly pleased with this sample, which brings us to the fabrics I used which were all provided by Free Spirit and were designed by the incomparable Jane Sassaman. They're all from her recent "Scandia" collection and are as follows:
Main Fabric– "Vineyard" PWJS091
Front Pocket & Flap– "Over the Top Dots" PWJS089
Lining– "Garland" PWJS095
**********************************************************************************************
And now…. it's YOUR turn!
Do you like what you see so far? I'd love to know your thoughts and if you have questions, comments or suggestions, please feel free to leave them in the space provided below.
***********************************************************************
Check out the best sewing pins with me on Pinterest, join in on discussions or show off your work in our FaceBook Group, or get your daily sewing fix on our Facebook Business Page or get behind the scenes scoops on Instagram, and be the 1st to know about new patterns, discount codes and sample sales by signing up for our monthly newsletter.