So…
here's a question we get asked on a somewhat regular basis, especially when we're vending at retail shows….
"Will you ever add another color option to your hardware line, besides just gold or nickel?"

The most common color requests? Based on what we hear, the most popular colors that we do NOT carry at the moment are black nickel (of course), antique brass, and that new pinkish brass that I'm starting to see in a few spots!
Personally, I'm very drawn to the black nickel option (no surprise there, right?), and I'd love to add that black option to our line, but there's actually some very good reasons why we've yet to do that!
First off- the alternative metal colors are not universally available. It's pretty easy to source D-rings or O-rings in pretty much any color option, but not quite so simple to locate matching snap hooks, slide buckles.
Second- it would require a significant capital outlay. Our notions line currently consists of 16 different hardware items in 2 different color metals. If we were to add another color option for all 16 of these items, it would require a significant outlay of capital just for the initial inventory, not counting the preprinted & barcoded hang tags.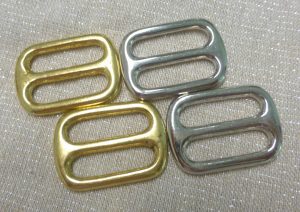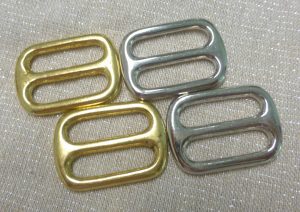 And Lastly- there's the issue of space. And by space I mean BOTH the amount of additional space it would take to store these items in our studio AND the amount of extra area that would be needed to properly display and sell these additional SKU's at retail shows.
So does all this mean that we'll NEVER add another color to our hardware line? Well… I don't like to say never, but the odds say that you're not likely to see us add a new color option across our entire notions line in one fell swoop. If we were ever so inclined, it would be far more likely that we'd float the new color option on a trial basis for one design at at time to "test the waters".
*******************************************************************
And now…. it's YOUR turn!
Are you one of those folks that would love to see us take on a new hardware color? If so, I'd love to know which color YOU would favor! (Just for future reference.) And remember, we love reading your comments and answering your questions too, so please feel free to leave either or both in the space provided below.
*****************************************************************

Check out the best sewing pins with me on Pinterest, join in on discussions or show off your work in our FaceBook Group, or get your daily sewing fix on our Facebook Business Page or get behind the scenes scoops on Instagram, and be the 1st to know about new patterns, discount codes and sample sales by signing up for our monthly newsletter.