So…
it's time once again to start "talking" about what's on our design table, because I'm excited about our new pattern for Fall 2017 and I'm ready to begin the slow reveal process! And actually, this time around I started asking myself the "What's Next" question WEEKS before our Spring pattern was released!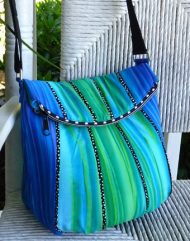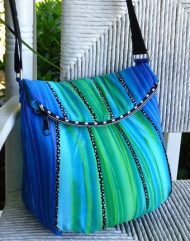 Festival Pocket Belt– not a bag at all, but a utility belt!
Everyday Attache– not really a bag, more like a very large, well organized wallet with perks
Walkabout Wallet– not a bag but a wallet you can also carry as a shoulder bag or wristlet
Triple Play– kind of a handbag but its REALLY about the large centercut hidden zipped storage area
Card Cozy– a storage unit for credit/loyalty cards
HipBag Hybrid– a convertible hipbag that can be also worn as a shoulder bag
Wrapsody– organized & sectioned to the max, but a tad small to be considered a handbag
Cosmo Covertible– a backpack that can be converted to a shoulder or crossbody bag
First– I took a long, hard look at our pattern line & here's what I saw… Our last ten pattern releases have been as follows (shown here in chronological order starting with the most recent)–
Guardian– a good-sized bag, but its REALLY all about the concealed carry for this one
Uptown SaddleBag– an ample-sized bag with two useful storage areas
And once I came to the realization (from the graphic above) that the last time we created a pattern for a good ol', regular, everyday handbag was TEN releases ago (with the Uptown Saddlebag), and once I remembered that our all-time best-selling pattern is in fact an everyday handbag pattern (the Quattro), then I KNEW what I had to do for this go-round!
So stay tuned for our next post in this our 15th cycle of Purse Pattern Chronicles when we'll reveal our original sketches for our new design for Fall 2017. And don't worry, we'll have a few surprises in store for you!
I promise this new bag will be anything but boring!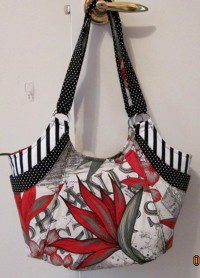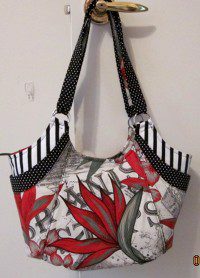 **********************************************************************************************
And now…. it's YOUR turn!
I'd love to know what you think of our plans! Got any suggestions for features you just can't live without? Now's the time to make them known and remember… We love reading your comments and answering your questions too, so please feel free to leave either or both in the space provided below.
**********************************************************************************************
Check out the best sewing pins with me on Pinterest, join our Facebook discussions, get your daily sewing fix and behind the scenes scoops on Instagram, and be the 1st to know about new patterns, discount codes and sample sales by signing up for our monthly newsletter.