So…
This is a question we're often asked.
A customer loves our bag design BUT, wishes it were smaller…larger… had more pockets… had a different closure… could be worn on the hip… had two straps instead of one… had one strap instead of two… you get the picture! And even though I prefer giving direct answers to questions,
There really is no easy answer to this question!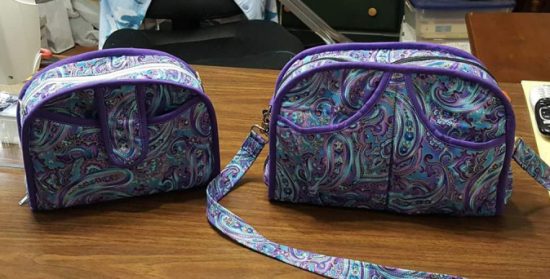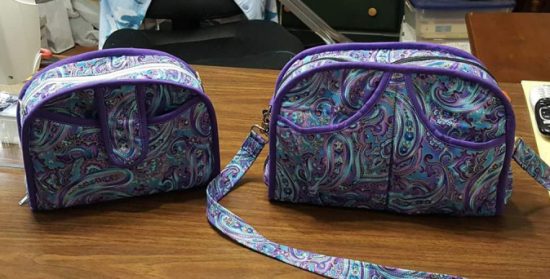 Betsy Bucsanyi made up our Everyday Attache in two different sizes.
That's because not ALL alterations and changes are created equal, just as no two sewists have equal ability or expertise. Altering a handbag pattern could be as basic as adding an extra storage pocket or as complex as converting a magnetic closure to a zippered closure.
For me to answer this question I would have to consider the following;
Your Sewing Experience. Not all sewing experience is equal. Whether an alteration is simple or difficult is entirely dependent on the level of experience of the person involved. And just so you know…. dress-making or quilt-making expertise doesn't necessarily translate to bag-making expertise (or vice versa).
Your Design Experience. Because making one change CAN totally change the functionality of a design. For example, a magnetic-snapped bag opening can be absolutely wide enough and be totally functional, but if one substitutes a zippered-closure for the magnet, that bag opening could now feel restricted and tight, due simply to the way zippers function.
Your Knowledge of Construction Materials. Just because a design change CAN be made, doesn't mean that it SHOULD be made. For example, whether a bag is designed with one shoulder-strap or two is often dependent on weight distribution. I'm sure we've ALL seen bad examples of commercially-made bags that looked so cute in the store, but then sagged in the middle and totally lost their shape and profile once they were loaded with your "stuff". This problem is almost always the fault of poor design and improper knowledge & use of the construction materials.
For this reason, here's how we routinely answer this question;
We take the process of designing patterns very seriously and we thoroughly test our pattern instructions, templates, and materials until we're 100% satisfied with any finished product prior to the first sale. Our advice therefore, is that you use the construction materials we've recommended along with the templates & instructions provided in the pattern envelope to complete your project. We do not feel comfortable offering advice concerning pattern changes that we have not attempted ourselves, nor can we predict or guarantee the outcome if you use alternate materials from what is recommended in our instructions. It's possible that you are absolutely qualified to make design changes yourself, but we're simply incapable of making that determination for you. Good luck as you proceed. ☺
**********************************************************************************************
And now…. it's YOUR turn!
I'd love to know if you've ever been tempted to alter a pattern you've used and how that went for you? And remember, we love reading your comments and answering your questions too, so please feel free to leave either or both in the space provided below.
***********************************************************************
Check out the best sewing pins with me on Pinterest, join in on discussions or show off your work in our FaceBook Group, or get your daily sewing fix on our Facebook Business Page or get behind the scenes scoops on Instagram, and be the 1st to know about new patterns, discount codes and sample sales by signing up for our monthly newsletter.