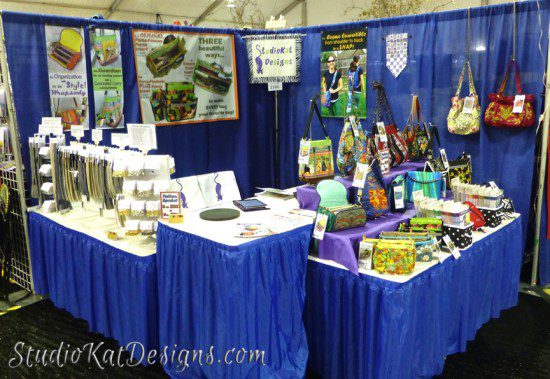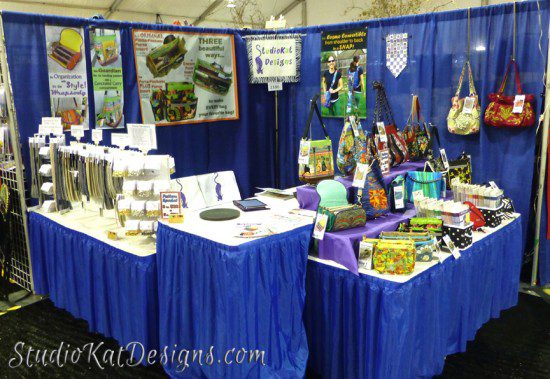 So…
we've had a nice long respite from traveling. Our last show was over 4 months ago at the Spring Quilt Market in Minneapolis, MN and while I've gotten a whole LOT done and I've enjoyed my time at home, its time to start thinking about our upcoming shows, in particular, the Fall Quilt Market and Festival, both of which are in Houston (in just in a couple of weeks, YIKES!).
And here's the thing, the last time we made a major change in our booth layout was in January at Road2Ca (see picture above), because this configuration has worked SO well for us.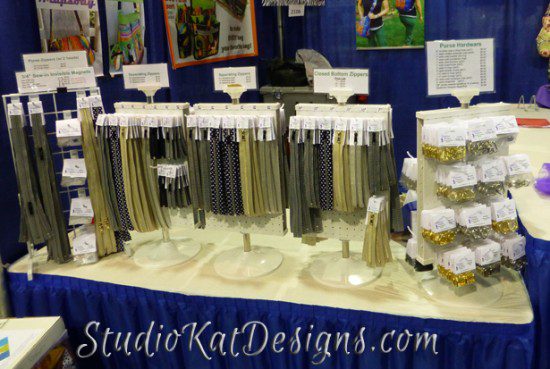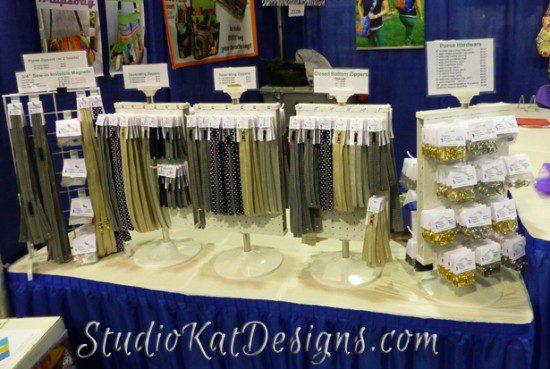 Almost perfectly in fact, except for one thing! The way our table is placed, our customers can only see ONE side of our carousel displays (see picture at right) and when the booth is really crowded, this means customers often don't see all of our products. This has grown into a bigger and bigger problem as we've added more new notions and zippers to our product line.
So what's the remedy?
Well, I guess the obvious solution is for us to expand from a single to a double booth. But not only is that solution expensive, but it's an expense that will carryover to every single show we do. In other words, it'll permanently cut into our bottom line, so for that reason alone I have resisted it, considering it to be a last resort. Instead I started searching for an alternative to the carousels we've been using, and here's what I've got in mind!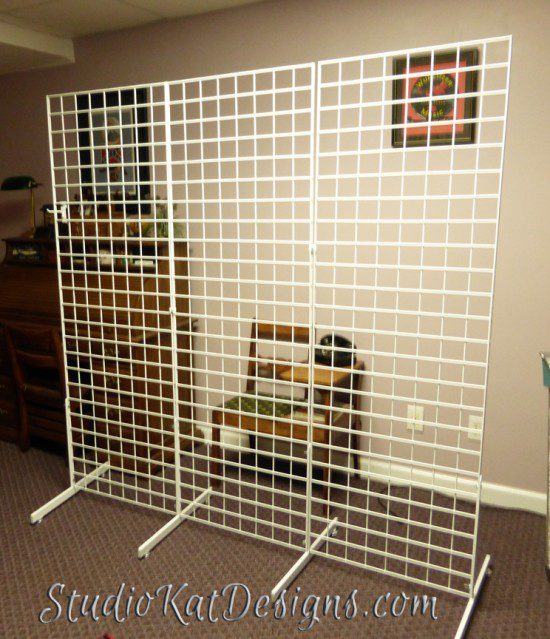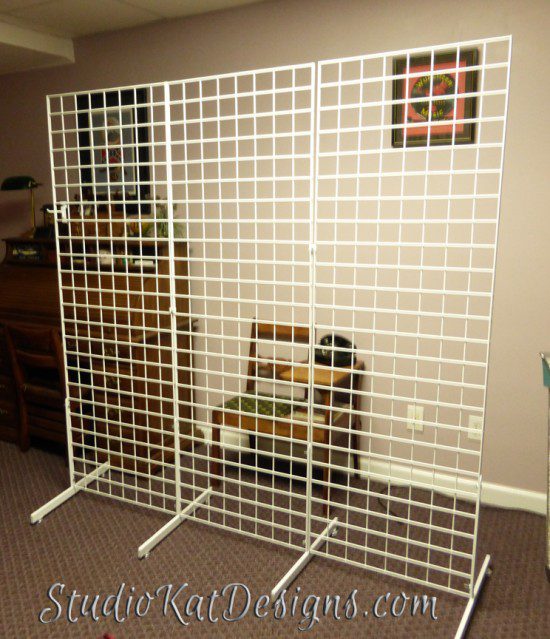 As you can see, our basic booth layout will not change. Our bag samples will still be shown similarly to the way we did at the Road2Ca and subsequent shows, but instead of our notions and zippers being hung on 4 different carousels, they'll be displayed together on one continuous grid wall.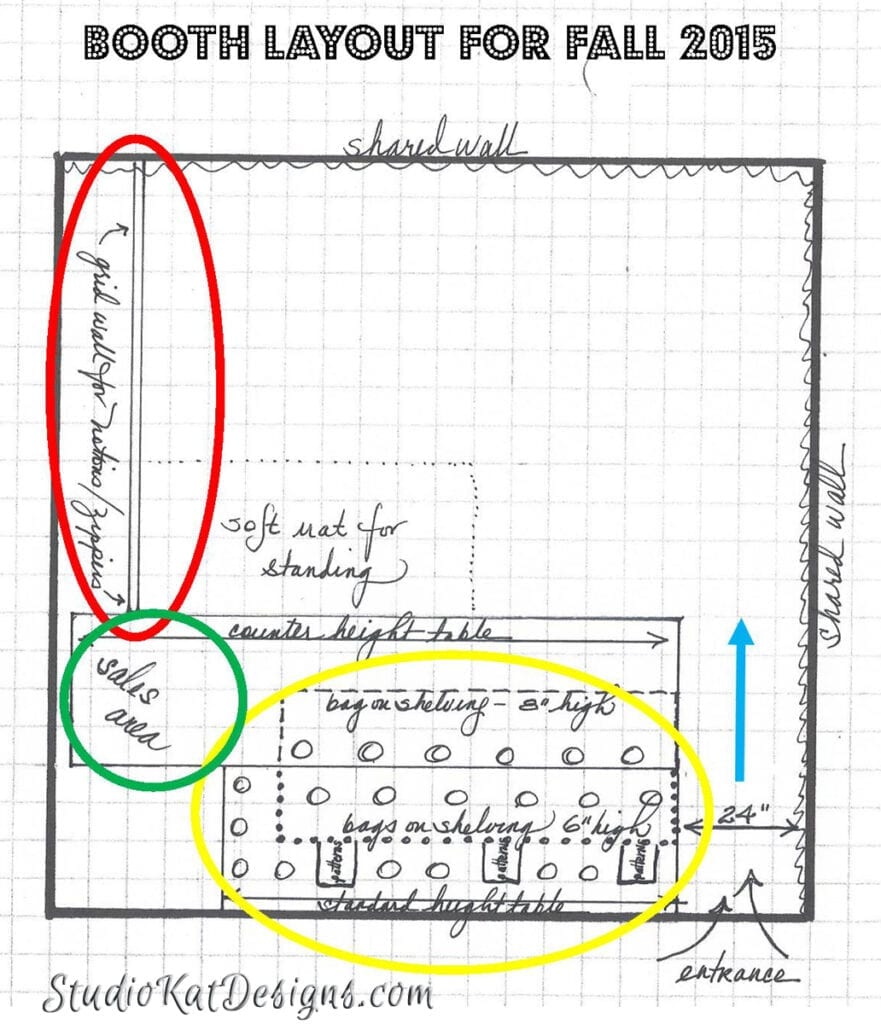 Here's the grid wall I'm referring to. Shown here, it's 6ft wide and just a shade over 6 ft tall. I should EASILY be able to get ALL of our notions and zippers on here AND I think I'll even have room to hang our patterns here.
Time will tell. I'll test it out by loading up this wall with our notions and zippers and then seeing how much space is leftover. You might remember that we typically put our patterns in bin boxes which are situated amongst out bag samples. This system has worked OK. I really have no serious complaints about this system, but our patterns would be far more accessible for our customers if we could hang them on the grid wall, AND, this would free up some much needed space on the sample tables.
I do have one BIG concern about these grid walls and that would be how they will hold up during shipment to Texas in October and then to California in January. We load all of our supplies and product on a pallet for shipment via UPS Freight to both of these locations.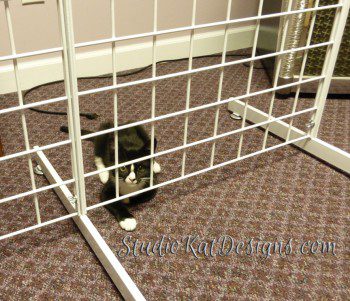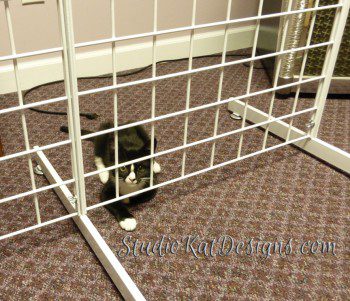 We can easily surround them with our other supplies, and we can stretch wrap them in place so that they will absolutely NOT move an inch…but experience tells me that since our shipping crates are never stacked 6ft tall on the pallet, that means that ~18 inches will be sticking out above the crates and therefore somewhat vulnerable… and that makes me a little…shall we say, nervous. They should be fine… but suppose they aren't?
But, in the meantime…
It appears that someone in my household thinks they're just GREAT! (He's had a BLAST playing on what he apparently thinks is his own personal jungle gym!)
So… stay tuned for a future post when we'll show you how this grid wall looks when it's loaded up with our notions, zipper and patterns. In the meantime I'd love to know what you think of this grid wall? In particular, do you think it's an improvement over the carousels we've been using?
And remember, we love reading your comments and answering your questions too, so please feel free to leave them in the space provided below.
************************************************************************
Check out the best sewing pins with me on Pinterest, join our Facebook discussions, get your daily sewing fix and behind the scenes scoops on Instagram, and be the 1st to know about new patterns, discount codes and sample sales by signing up for our monthly newsletter.