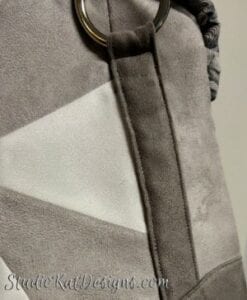 So…
in our last post we showed you the gorgeous Triple Play handbag (at left) we created with an all-Cuddle Suede exterior! I was SO pleased with how it came out, but you also might recall that I had serious concerns about what problems I might encounter during the construction process.
But here's the deal…
making that bag completely out of Cuddle Suede wasn't anywhere near as difficult as I feared. Quite to the contrary, as long as one observes just a few particulars, Cuddle Suede is "easy schmeasy" to work with!
1- Watch the Nap!
Cuddle Suede is a woven polyester and therefore it's easy to sew with and to care for. I was very pleasantly surprised to find that unlike working with vinyls and leathers, I didn't have to worry about leaving pinholes in this fabric. You can use standard sewing pins and you do NOT have to place them out in the seams areas. Like real suede however, Cuddle Suede DOES have "nap", and you would be wise to observe it while
So what exactly is "nap"?
Fabrics with "nap", (or pile), can typically be described as being 'fuzzy'. Fabrics such as velvet, corduroy and of course real suede all have nap. This means that when you run your hand across the fabric in one direction, the nap will appear to be a different color or sheen than if you wipe your hand across it the other way. This happens because your hand is either smoothing down or pushing up the tiny 'hairs' of the nap.
This is important to consider as you cut out your pattern pieces. Make sure that you've turned all of the pattern pieces so that the nap will "run" the same way on your finished item.
2- Pressing Matters
It's important to use a pressing cloth with Cuddle Suede. A press cloth can be a very thin dishtowel if you like but I use a fat quarter of white cotton muslin.
If you want to, you can press the seams open on the wrong side without using the pressing cloth… but whenever, (and I do mean WHENEVER) you press on the right side of the fabric, use the pressing cloth.
3- Facing it
I honestly didn't have any bulking issues in the seams, BUT please know that I purposefully did NOT use the Cuddle Suede in any "facing" issue, opting instead to use a cotton fabric in a close color match. It probably would have been OK to use the Cuddle Suede for the Facing but using the cotton ALSO allowed me to press this area flat with more confidence. Having said this however, I absolutely did not use the Cuddle Suede for the ruched edging and I also would NOT recommend it for use in any type of ruffling application or for use as a lining).
In summary- I found it a delightful product to work with and near ideal for use in bags and purses. I wholeheartedly recommend it! Cuddle Suede will fray just a tad, but I didn't find that it caused any problems at all. And as far as care goes, it can be machine washed in cold water and tumble dried on low, or if you prefer, Cuddle Suede can be drycleaned.
And now… these were the winners in our Cuddle Suede Raffle!
Winner of 1/2 yard of Lt. Beige —Michelle Ahlgren
Winner of 1 yard of Lt. Silver Grey—Kim White
Winner of 3/4 yard of Medium Grey—Mary Ann Hebert
Winner of 1/2 yard of Cinnamon Brown—Shirley Westveer
***************************************************
And now…. it's YOUR turn!
Do you think you might be inclined to give Cuddle Suede a try sometime in the future?
And remember, we love reading your comments and answering your questions too, so please feel free to leave your them in the space provided below.
**********************************************************************************
Check out the best sewing pins with me on Pinterest, join our Facebook discussions, get your daily sewing fix and behind the scenes scoops on Instagram, and be the 1st to know about new patterns, discount codes and sample sales by signing up for our monthly newsletter.