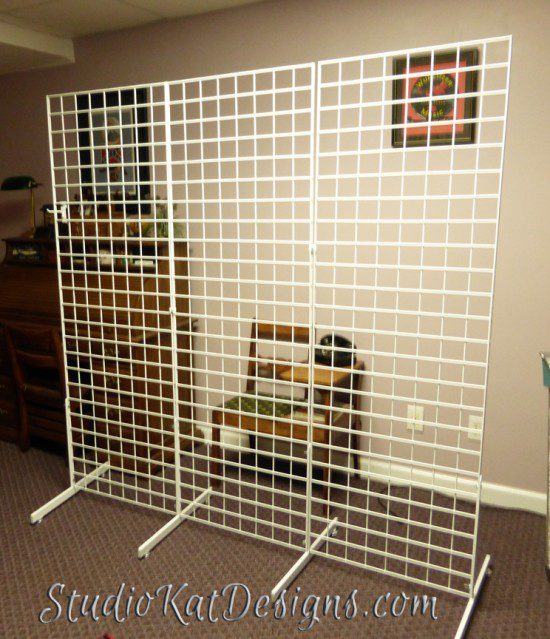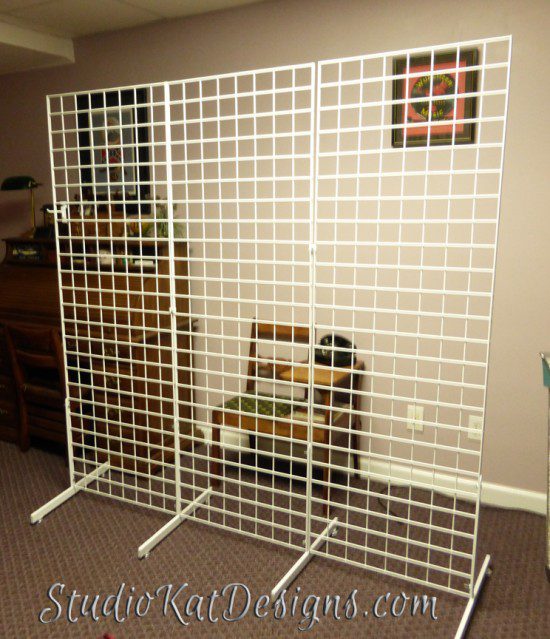 So…
in a recent post we detailed for you the BIG change we're making to our booth layout for the Fall Quilt Market and Festival.
Our plans are to rid ourselves of our five notions carousels in favor of three 2 ft by 6 ft tall grid walls (at left), which when connected in this way gives us a solid 6′ by 6′ area to display our zippers and notions.
This system will keep ALL of our products facing forward and I'm thinking this will make shopping a little easier experience for our customers.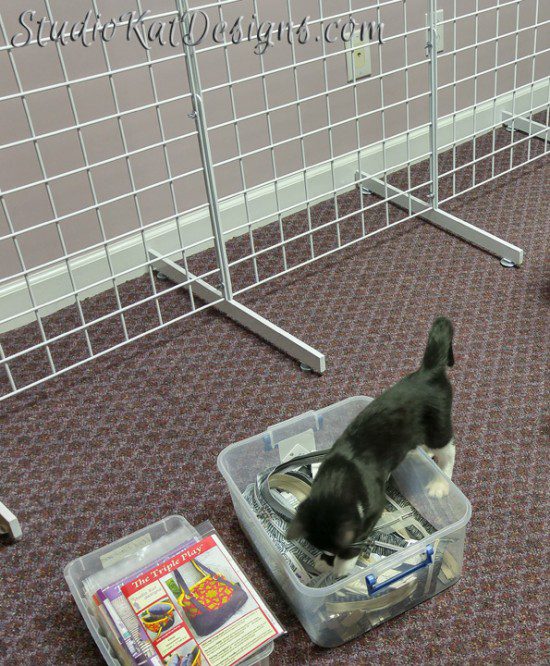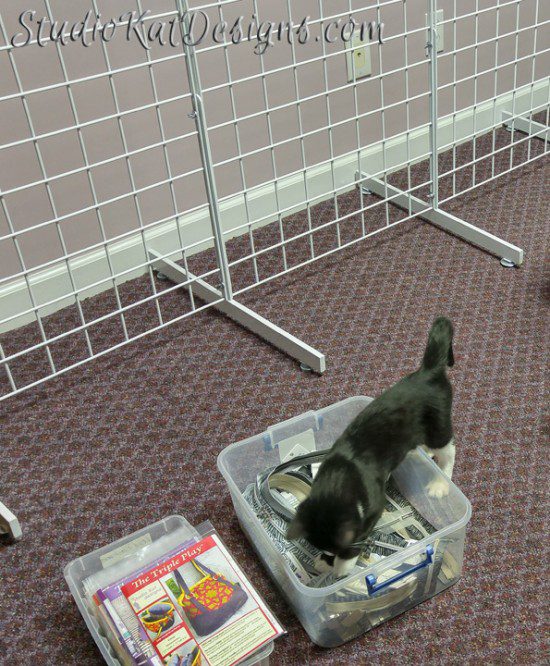 And if you've been following our escapades for any length of time, then you know that I generally plan out and practice my product presentations at home, long before we ever get to the convention center.
I've found that doing this really speeds up and simplifies our Set Up day which is generally a long, hot, grueling affair in Houston.
So as you can see in this photo at right, I've got a sample of each one of our products… (and a volunteer who's making sure I haven't forgotten anything!) 🙂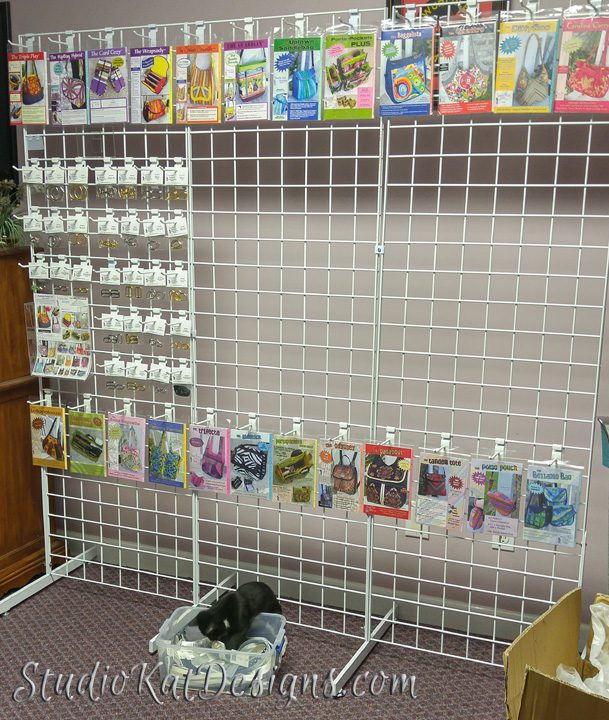 Of course the hardest part is deciding how best to display our items. As you know, we have patterns, zippers and bag hardware to arrange and literally a gazillion ways to arrange them. So since the patterns are the "main event" for us, I started by placing them on the top row.
Next, I placed the hardware along one side, closest to where I'll be standing (so I can restock the faster-moving items from INSIDE the booth. 🙂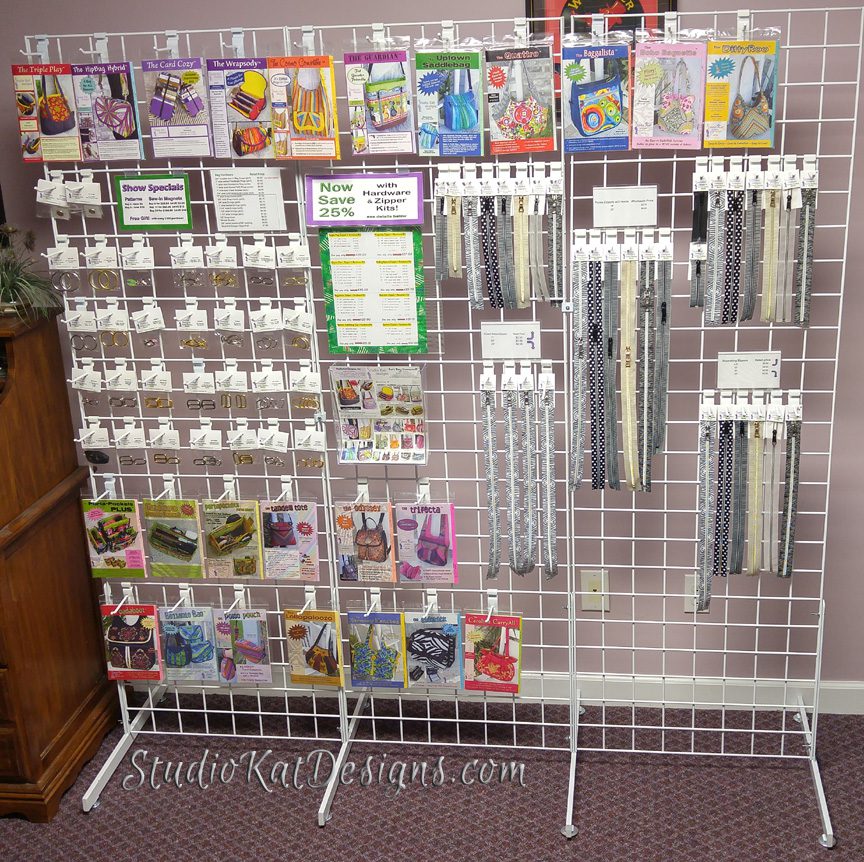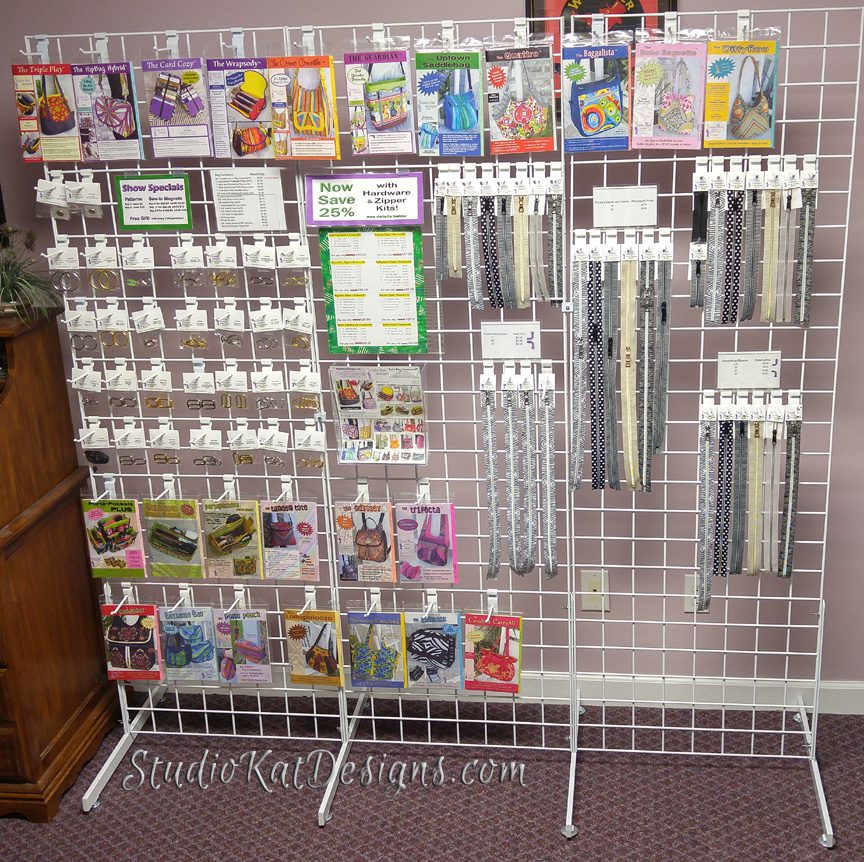 And this might be hard to believe, but it actually took me the better part of 4 hours to decide on a functional arrangement that was both pleasing to the eye AND left room for our specials and pricing signage (which you can see above). I think the shopping will be MUCH easier for our customers and an added side benefit for us will be one less table to rent and dress AND some extra leg-room on the inside of our booth for us! 🙂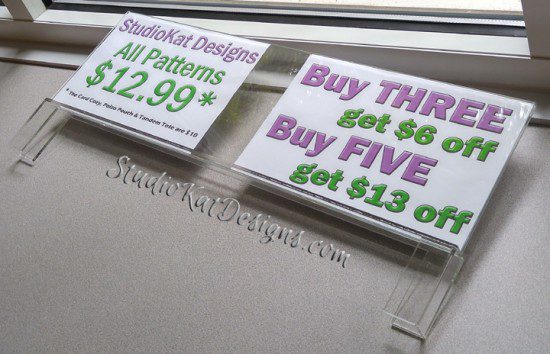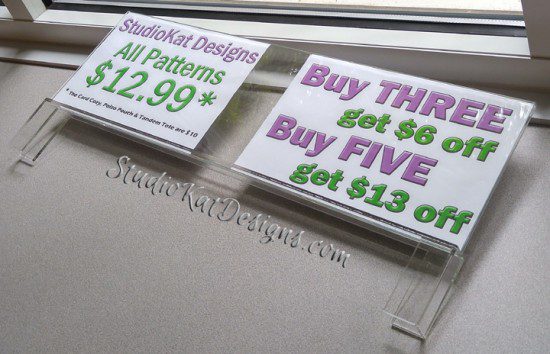 And here's something fun I found online. This grid wall topper sign will fit perfectly over the top edge of one of our grids. It'll be just perfect place for displaying our pattern signage, and this should be visible from a good distance down the aisle!
So… there you have it!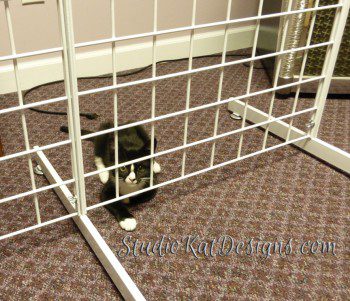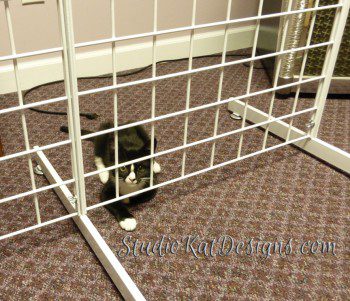 Now all that's left is to pack crate it up with everything else and ship it to Houston! Too bad I can't bring this little guy with me. I'm sure going to miss him while we're in Houston for a couple of weeks! 🙁
And now it's YOUR turn!
I'd love to know what you think of our new grid wall? I'd love to hear any comments or suggestions you might have for us, so please feel free to leave your them in the space provided below.
**************************************
Check out the best sewing pins with me on Pinterest, join our Facebook discussions, get your daily sewing fix and behind the scenes scoops on Instagram, and be the 1st to know about new patterns, discount codes and sample sales by signing up for our monthly newsletter.