So…here's the way it usually goes…
I've been working on a new bag design for few weeks. I've tweeked the design here, and adjusted the fit there, and at last all the pieces are going together just the way I want them to. And the best part is, I FINALLY have a completed sample which looks and functions just the way I want it to.
Which means I'm ready to release the pattern, right?
WRONG!!!
What it REALLY means is… That's when the real work starts! And by real work, I mean the tedious stuff… the behind-the-scenes stuff that can be time-consuming, and laborious… but oh-so-important to a smooth, problem-free pattern release. How much stuff can there be, you might ask?
Here's my design checklist…
Check it out below!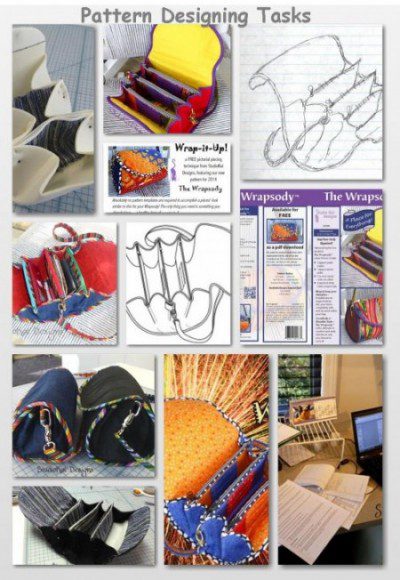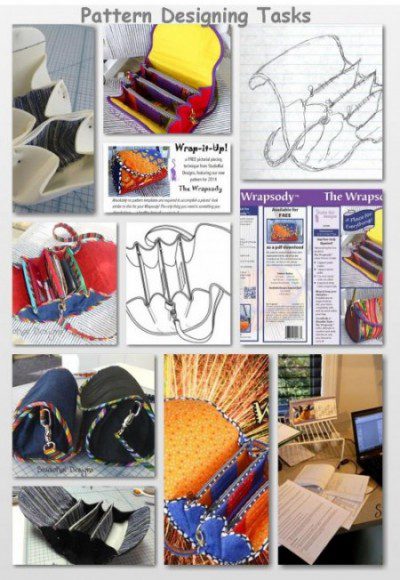 (shown pretty much in order)
1. create the original sketch
2. create templates for basic shell of bag
3. make bag shell (make adjustments as necessary)
4. hunt for and procure fabrics for four – seven show-worthy bags
5. create templates for all features of bag
6. make samples until satisfied with design and pattern fit
7. create 4-6 good show samples (one cover-worthy)
8. start blogging about new design
9. write 1st draft of instructions (in Word)
10. take pictures of each sample (in high def)
11. take pictures for the step-by-step tutorial helps
12. make pencil sketches for each step
13. write 1st draft of instructions in Publisher (adding technical drawings in Corel)
14. send out testing packages to pattern testers
15. create 1st draft of pattern cover
16. shoot a video for cover QR code
17. redesign and print show flyer
18. get upc image for pattern
19. write pictorials for certain steps in instructions (convert them to pdf)
20. receive tester comments, incorporate them into final instructions
21. design the webpage
22. compile pattern templates into sheet format
23. work with graphic artist on pattern cover
24. locate a supplier for new notions required by design
25. get upc images for the new notions
26. update order forms and all affected pages of website
27. develop marketing plan, to include blogposts, FaceBook posts, newsletter mentions, print & online ads, and Quilt Market presence
28. are there embellishing tutorials to be written for this bag?
29. develop pattern release plan
30. alert distributors and retail store owners of pattern availability
31. upload all associated webpages & forms
32. release the new pattern
So… start to finish, how long should this take?
Depending on the complexity of the pattern, generally 4-6 months for us. I qualify it that way because the timeline for every designer can be very different. Some independent pattern companies employ the help of sample makers, photographers, freelance writers and others in the course of working up a new pattern, but not so for us. I pretty much wear ALL the hats. I do work with a professional graphics designer for the final pattern cover look, and I know better than to do my own income taxes, but other than that, it's just me (and my sister-in-law who packages our products and ships our online orders).
Why publish this post then?
First of all, I realize that most folks have absolutely no way of knowing how much behind-the-scenes work goes into self-publishing a new pattern, so I thought it might be a good idea to share this…
And secondly, because during the last cycle of Purse Pattern Chronicles, we were the recipients of several disparaging remarks (some in the comment section on this Blog, and others on our FaceBook page) concerning the length of time it took to bring the Wrapsody pattern to market. A couple of these individuals got a little… shall we say…. nasty? They implied that we were deliberately dragging our feet, or "playing a tease game". Of course I replied as politely as possible, resisting the almost overwhelming desire to say something along the lines of…
"REALLY?"
I mean, why would we do that?…. and what could I hope to accomplish by doing so???
And lastly, because at least once every couple of months, (and I promise I'm NOT making this up), I hear from aspiring designers who after having created a sketch of a handbag, are in the market for someone to make the pattern pieces, write the pattern instructions, and create the drawings for them. Now if you would please scroll back up to the list I provided for you and observe, (a) where on that list "creating a sketch" falls, and (b) how MUCH work comes after it, maybe you'll understand why I generally do not even dignify these inquiries with a reply, because quite simply, it's THAT insulting and I generally strive to ascribe to this mantra;
If you can't say something nice… say NOTHING!
But, now it's YOUR turn!
If you have any questions about our design process, I'd love for you to share them in the space provided below. I'll do my best to answer any and all of them.
******************************************************************************************************
We actually LOVE comments and questions too, so if you'd like to share yours, please feel free to do so the section provided below! And if you enjoyed this post, please feel free to share it via FaceBook or Twitter!