So…
I got an email today from a young gal trying to build her pattern business. She was considering leaving her printer for the one that I use and was given my name as a reference, but during the course of our "conversing" she mentioned that she's been attending Quilt Market for years but still didn't feel she could afford to set up her own booth. My reply to her was simple enough… I asked her,
"How can you afford NOT to?"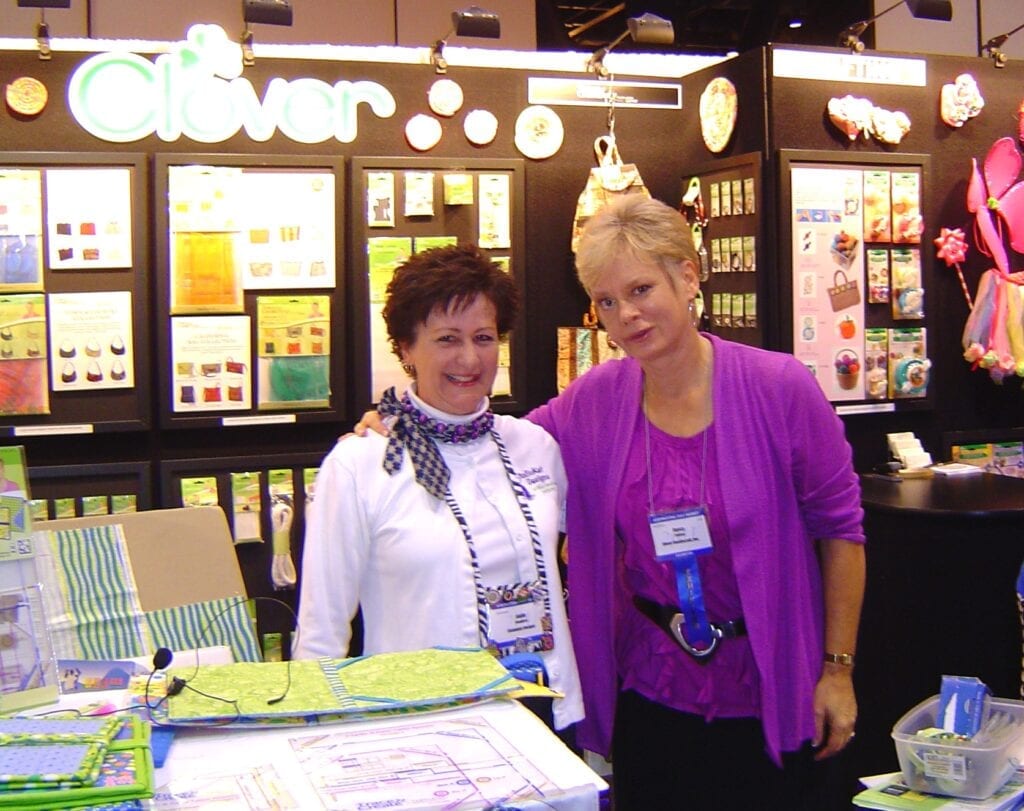 It's basically the same thing that a time-wisened distributor said to me several years ago. When I look back now, she was absolutely right and I am SO glad she thought enough of me and my pattern line to kick my butt in the right direction. Because here's what I've noticed since I've been exhibiting at Quilt Market…if you're serious about your business, then the answer to almost every business-related question is; "Host your OWN booth at Quilt Market!"
I'm serious! Do I detect skepticism? Well let's put my theory to the test! Here's a sampling of typical questions I've heard over the course of the past year, ALL of which can be answered this way! (with Nancy Zieman at left)
What's the best way to: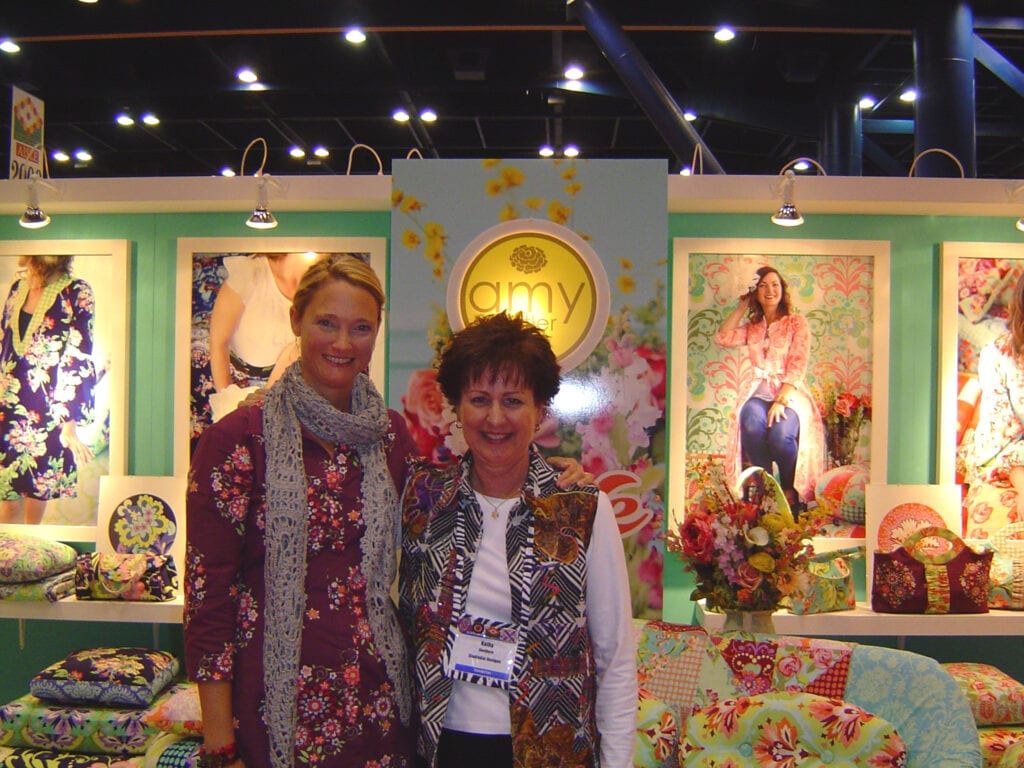 show folks what's special or unique about my products? This is my big chance to let everyone see my beautiful bags hung up in all their glory! When a customer is in my booth I can actually put one of my bags in their hands and show them the unique design features. They can open a pattern, see all the diagrams, and learn about the additional pictorial help that's available via download on my website. (with Amy Butler at left)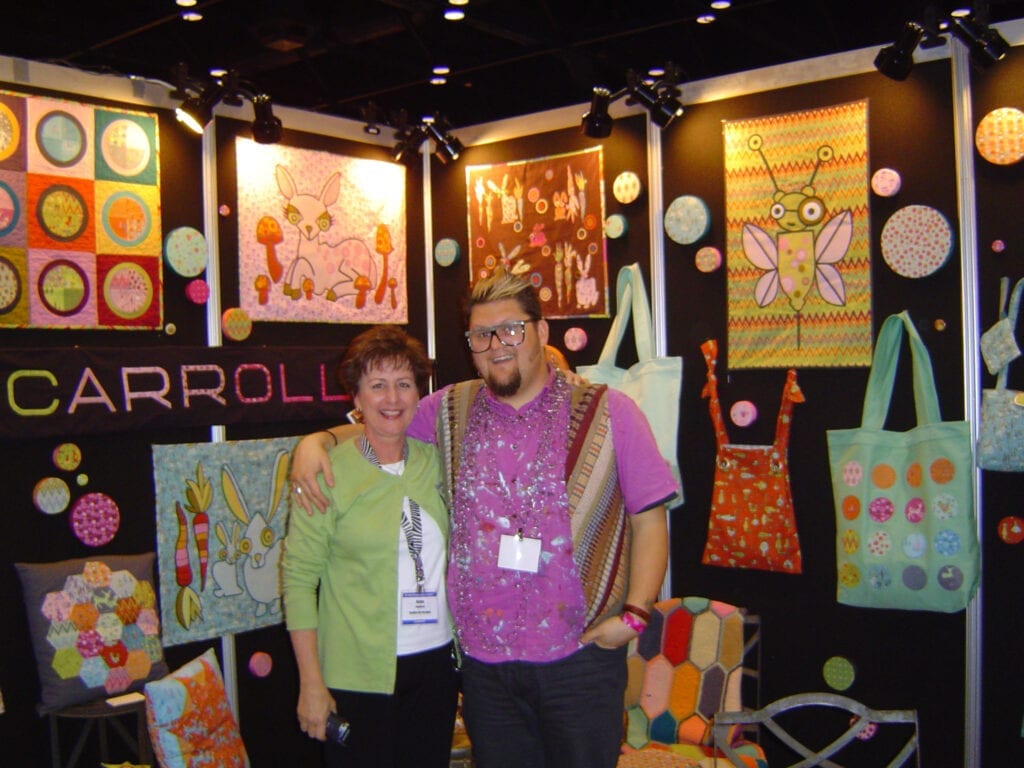 Develop collaborative relationships?
I LOVE a great collaboration and what better place to make a collaborative connection than at the Quilt Market, because there's all kinds of creatives circulating in that crowd! There's embroiderers, quilters, and independent fabric designers, just to mention a few, and I can't tell you how many times someone has ambled into my booth and mentioned how great my designs would look in their fabric, or with their embroidery, or in their hardware, etc. And here's another great benefit… CROSS PROMOTION! We're BOTH talking up each other's products on our Facebook page, our Blogs, on Pinterest and in our Newsletters. (with Jay McCarroll at left)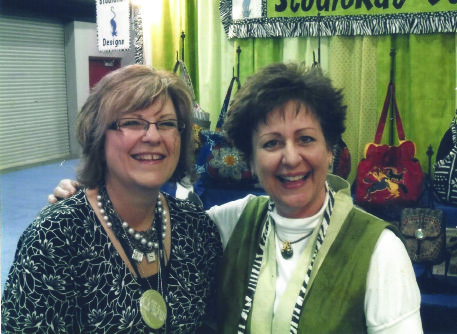 to get picked up by distribution houses? I love selling direct to customers and store owners, but let's face it, distributors are who REALLY get your products out to the masses. It's no coincidence that it takes pretty much the same amount of time to ship off 100 patterns to a distributor as it does to ship one pattern to in internet customer, so you do the math! Even though I'm getting a smaller piece of the pie, it's a MUCH bigger pie to begin with!
get some fresh inspiration? Nothing is more inspirational to me than walking up and down aisles and seeing new products, fabrics and patterns that are making their debuts. I'm basically a competitive person by nature & Quilt Market is the absolute best place to for me to feel the pulse of the industry & to stay on point. For me, to stay at home would be to risk the worst thing possible: complacency. (with Pat Sloan at left)
expand my business? It's true. I have simply lost track of the number of times that customers have asked me why I didn't have a notions line of my own. Even other designers advised me that it was a good idea. But I resisted. It just didn't seem exciting to me, and certainly not inspiring. But then one morning just before Quilt Market opened for the day I spied these fabulous black & white striped zipper tapes in a zipper booth near mine and something clicked. We started our notions line with these wonderful zippers and have expanded from there, and I have to say, not only was one this one of the best business moves we've ever made, it's one that we almost certainly would NEVER have considered, had it not been for our presence at Quilt Market. (with Ricky Tims at left)
*get some of my products listed in a few catalogs? Catalogs are the REAL backbone of my business (did you know that?) and they generate a LOT of my income and here's the deal. Catalog buyers just don't like taking chances on folks who just dabble in this as a hobby, because when they place an order, it might be for 200, 300, even 500 patterns, and what better way to demonstrate that you are serious about your work than to display at Quilt Market.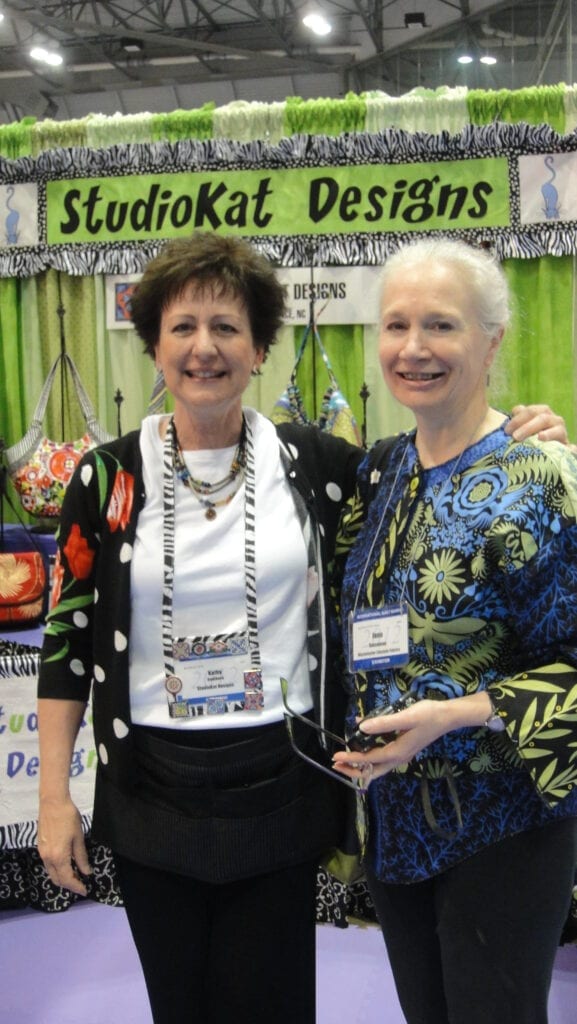 *get noticed by magazine editors?Magazine editors are always looking for new products and designs to spotlight, especially from businesses with a reputation in the market. And everytime a picture of one of my products shows up in a magazine, that's a FREE ad! Not to mention all the folks who go home and blog about what they saw at Market and include pictures of my products in their posts.
*develop a relationship with a fabric house? How would you like to open the door and find a box of FREE fabric or notions on your doorstep? I can't tell you how many yards of fabric show up at my door and I get to play with it before the shop owners even see it! And once I get a sample made, then I have a fabric house cross-promoting my pattern! And in this digital age, I don't always have to even go to the trouble of making lots of  bags. One fabric house I work with manages to digitally change the look of a sample bag without my having to so much as thread a machine. That's right, every month they send out an email promoting a different fabric line using a new digitally enhanced picture of one of the bags I made them (and at not cost to me!)
(with Jane Sassaman at left)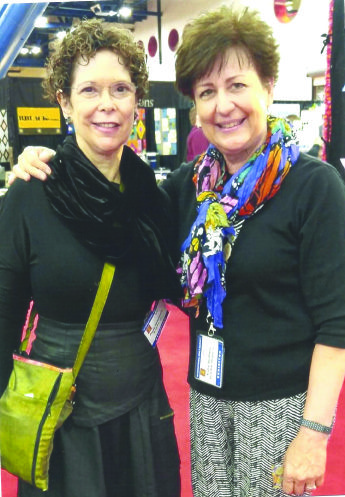 meet the movers and shakers in this industry? In addition to a fabulous creative atmosphere, Quilt Market is also the perfect place to learn from some of the best business minds in our industry. And to me, the networking possibilities alone make it worth the cost. WOW! I've met some pretty powerful people. Just check 'em out!
So… even though hosting a booth at Quilt Market is no cheap undertaking, if you want to have a real presence in today's fast-paced, every changing marketplace…you gotta have a real presence at Quilt Market!
(with Paula Nadelstern at left)
And now…. it's YOUR turn!
And remember, we love reading your comments and answering your questions too, so please feel free to leave either or both in the space provided below.
---
Check out the best sewing pins with me on Pinterest, join our Facebook discussions, get your daily sewing fix on our Facebook Business Page or get behind the scenes scoops on Instagram, and be the 1st to know about new patterns, discount codes and sample sales by signing up for our monthly newsletter.