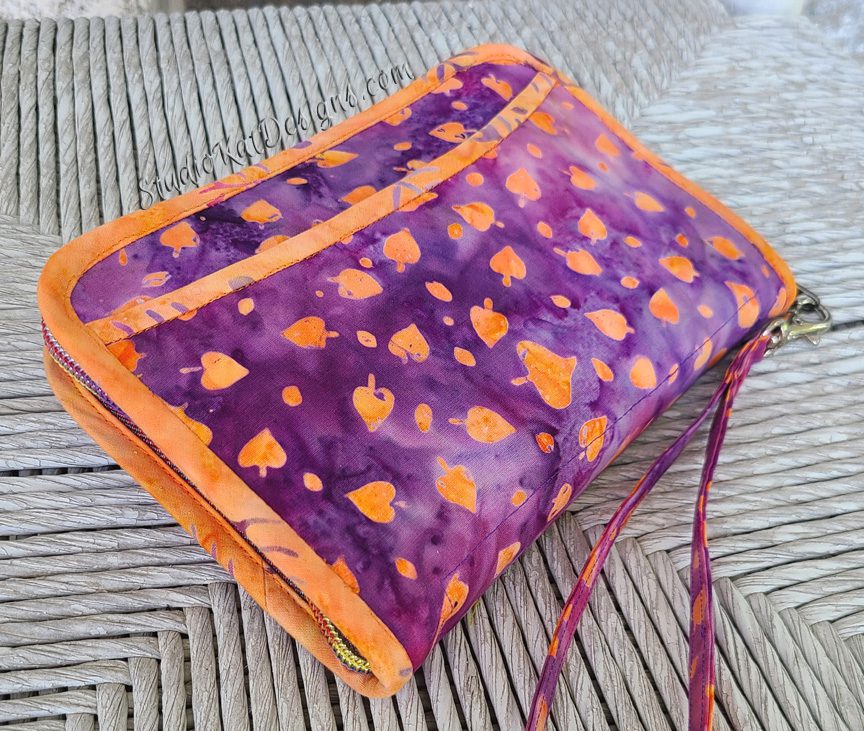 So…
A couple of months ago (in August) I released the Easy Go Wallet pattern and in the process of working up that design, Kate Colleran sent me two different fabric combos from her unique batik collections.
During the runup to the Easy Go Wallet release I shared the little wallet I created with Kate's "Sea Cookies" collection but… Kate asked me to please NOT publish any pictures of the wallet I made with her "Breezy" collection until she had a chance to formally release this new batik collection at the Fall Quilt Market in Houston.
Of course I understood, so that's why I've waited until now to publish this post,
but then again, some things are worth waiting for, right?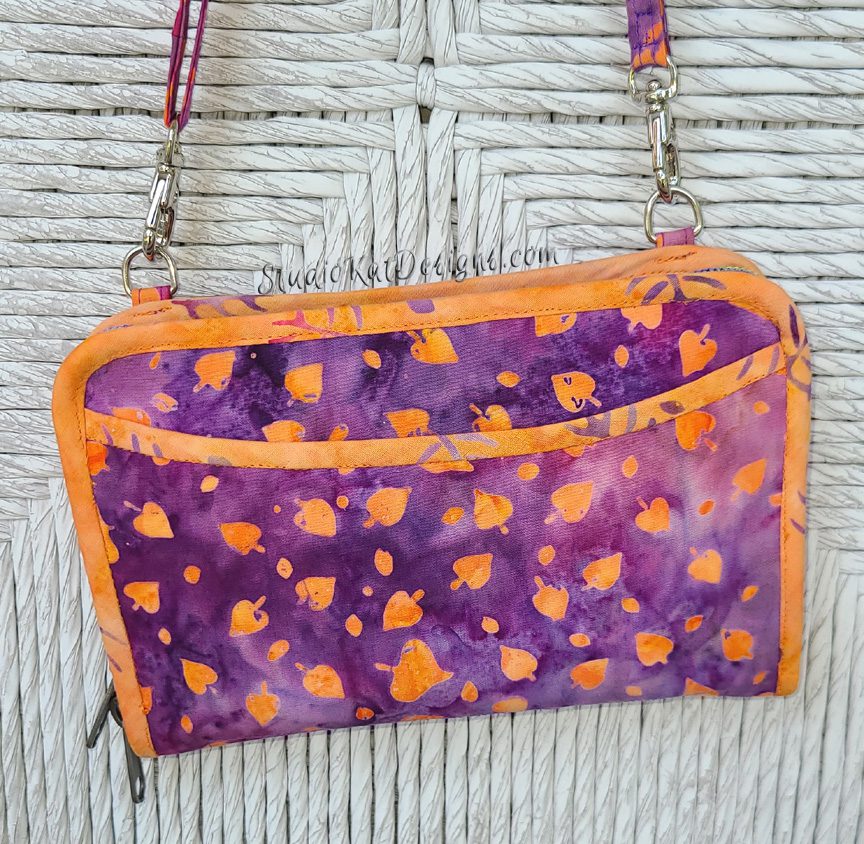 Here's a nice view of the Bag Back (at right) and the Bag Front (at left), which as you can see has a nice slot pocket for items you need quick access to (like boarding passes and tickets). In these views this wallet is set up with an adjustable strap so it can be worn as a shoulder or a cross-body bag!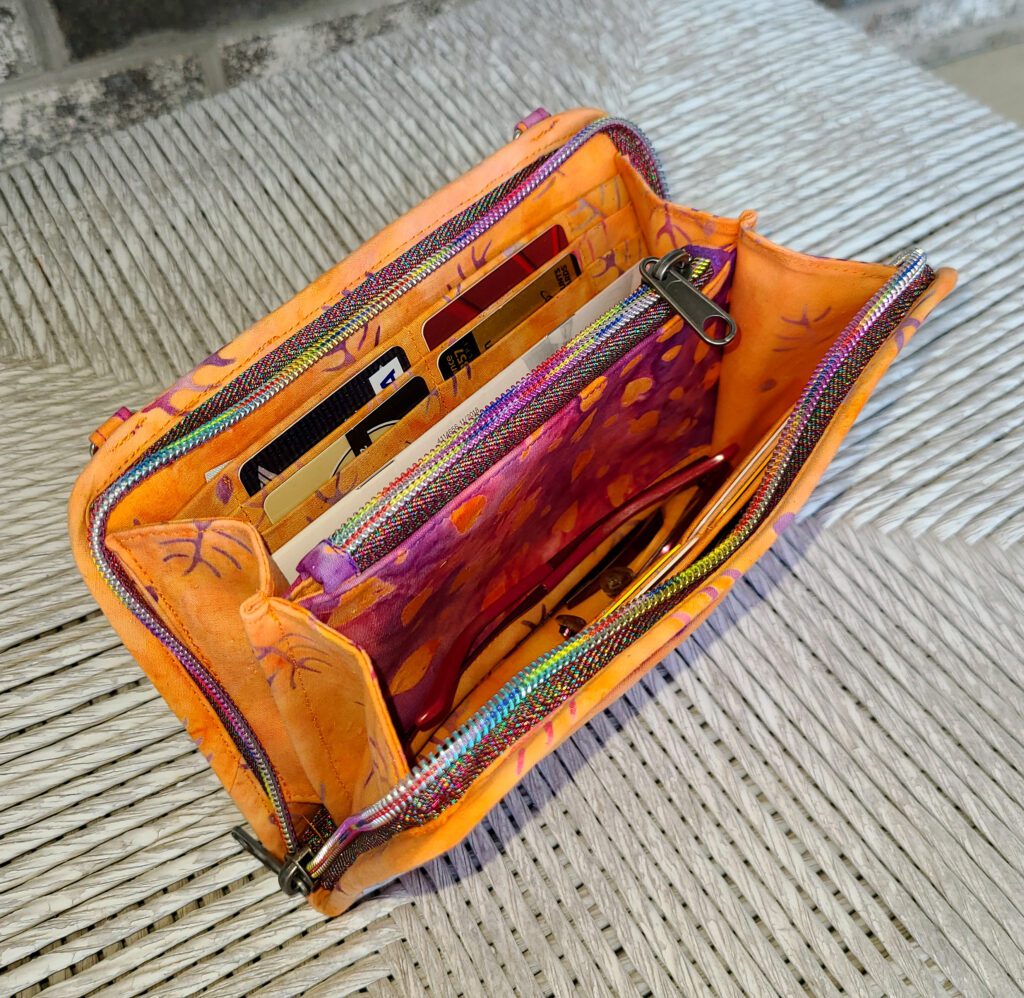 So here's two interior shots and this time, I chose to picture this wallet with reading glasses inside the wallet (instead of a cell phone) since carrying both reading glasses and a cellphone is a bit too much for this slim wallet. But if you look closely, there's also room for a pen, eight credit cards (stored on their short edge), a check register and a zippered coin purse.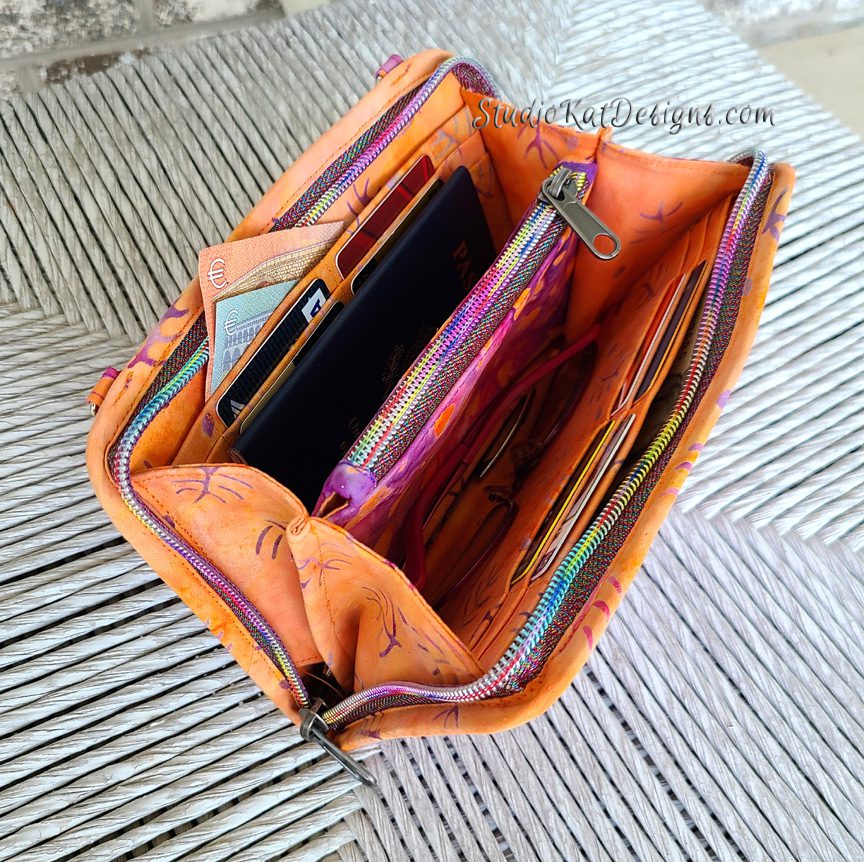 And actually there's TWO separate slot pockets for paper money. This may seem like overkill but I carried this Wallet on a recent trip overseas and found that the extra slot pocket was extremely helpful to have for two reasons:
First: a US passport fits perfectly & securely in this slot…
and Secondly: it was so convenient to be able to keep my American Dollars separated from my European Euros.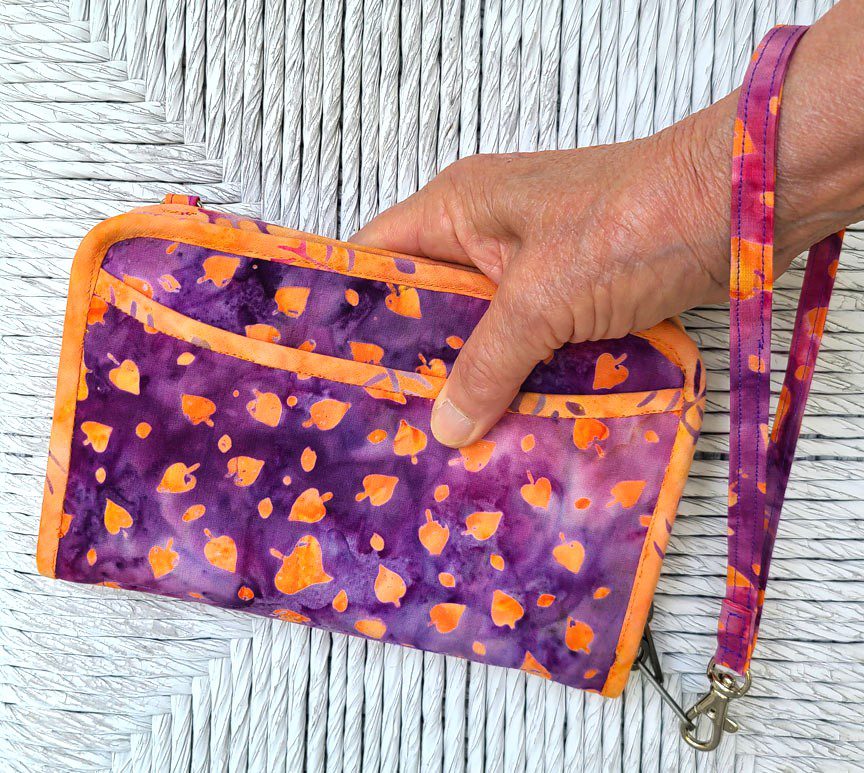 And here's the deal… the Easy Go Wallet easily fits into all but my tee-tiniest of bags and I have really enjoyed the flexibility of carrying it with a wristlet strap or adding a shoulder style strap when I take this little number out on the town!
Because I don't about you but I totally despise even the idea of having to carry my belongings in a clear bag to a basketball game or a play. How humiliating! I would so rather carry a stylish little bag like this and still have room for a lipstick, & my phone!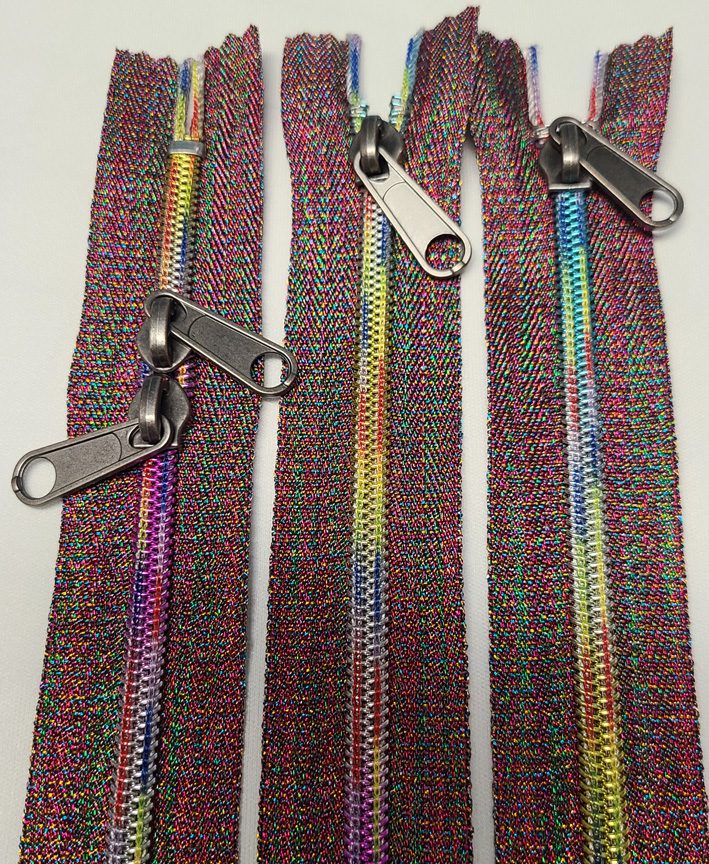 And I couldn't end this post without first drawing your attention to our absolutely amazing our new zipper style
adds to the total "look" of this wallet! These zips were a HUGE hit at the Fall Quilt Festival in Houston last week
and you can find out more about them HERE!
And now, it's YOUR turn!
If you have comments you'd like to share or questions you'd like to ask about this design in general or this sample in specific, please feel free to leave either or both in the space provided below.
Check out the best sewing pins with me on Pinterest, join in on discussions or show off your work in our FaceBook Group, or get your daily sewing fix on our Facebook Business Page or get behind the scenes scoops on Instagram, and be the 1st to know about new patterns, discount codes and sample sales by signing up for "Bag Making is Fun", our bi-monthly newsletter.