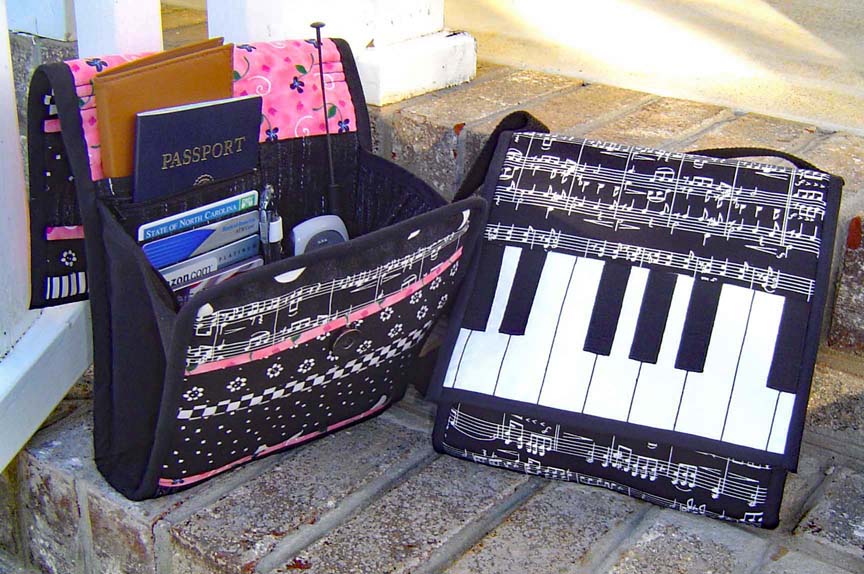 So…
I got right to work on a new pattern not long after we got home from the International Quilt Festival in Houston and here's the deal… starting a new pattern is always a scary, but exciting time to me!
I love that feeling at the start of a new bag pattern when all things are still possible… when all of my options are still open and nothing's been ruled out yet! But for this design, I decided to do something rather unusual! I decided to …
Go Back in TIME!
back to 2004 to be exact!
Back then I was a novice designer with a lot of BIG ideas! The only thing was I didnt always have the expertise to carry them out! (We've all been there, right?) The picture you see above is my very 1st design that I carried all the way to Market as a finished pattern, the Vervalise! I was so proud of it then and it was very well-received by the public! But as time passed, I've come to realize that I could've done a lot better job at making it more customer friendly in the construction department. It's the classic case of "If I had just known then, what I know now!"
I also think I could have made it more useful. I could have added even MORE features to appeal to a broader audience and to make it more of an everyday bag. So even though I generally do not revisit old designs, I've been ruminating over this for months, and then in the middle of the night a few months ago I GOT IT!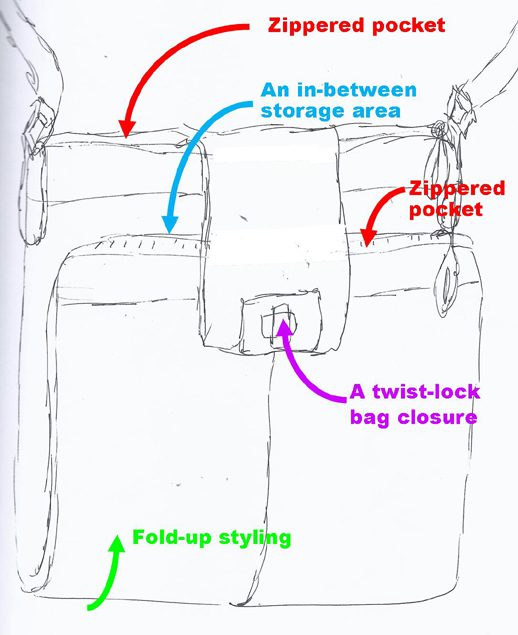 I had a EUREKA moment!
I suddenly knew just how I could modify the look, the functionality and the construction of my old design to better make it fit my original vision!
Let me show you what I have in mind now!
So as you can see… this is basically a messenger bag with a fold-up feature. Right now I'm thinking there will be two completely separated main compartments with both having a zipper closure. I'm also going to experiment a bit with a twist-lock closure for the Flap on this Bag, since I'd like to place what will amount to a wallet area BETWEEN these two zippered areas and the twist-lock can potentially provide a good deal more security than a magnetic snap closure can. (I'll most likely allow for a magnetic snap to be used here if there are some who are reluctant to buy-in to the idea of the twist-lock. )
So… now that I've described it for you,
and given you a sketch to look at, its time for…
the 1st prototype
Now remember, the whole purpose of the 1st prototype is to assess the finished dimensions of the bag and to get the pattern pieces for the "shell" perfect! There's a few things however that I never waste my time with on a 1st prototype and these would include…
nice fabric
a lining
storage features of any type (inside or out)
good zippers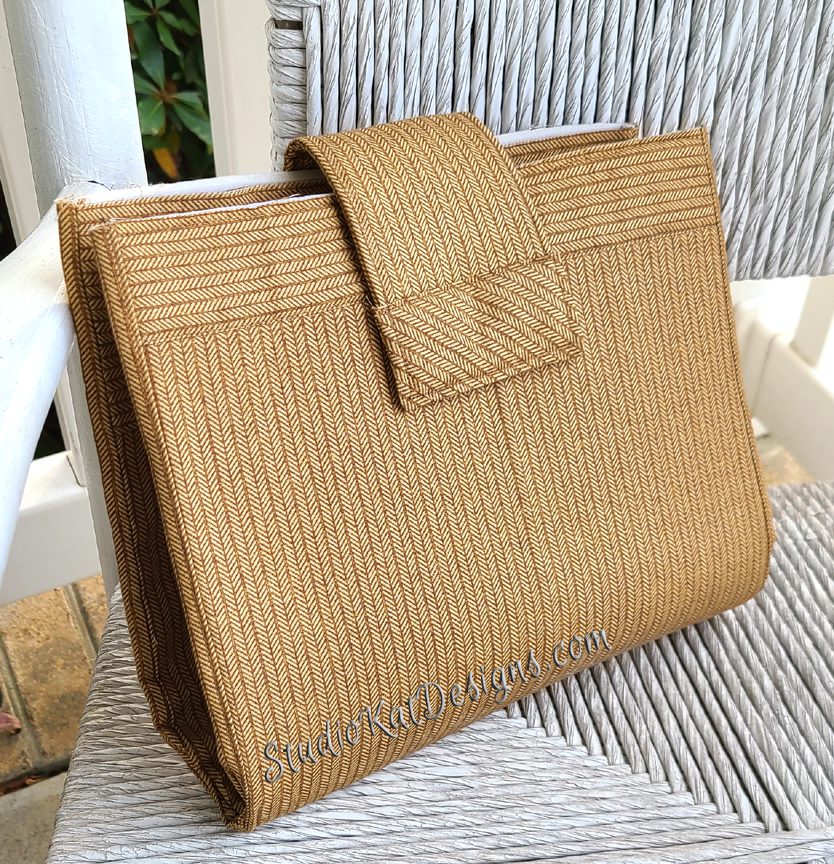 So even though this prototype leaves much to be desired in terms of looks, (let's face it, it's pretty ugly), it proved to be very useful indeed to me as I was able to assess that this sample was about a full inch taller than desired. Additionally I was really happy with how these pattern pieces came together, needing only a couple of slight modifications.
Now, based on what I deem as the resounding success of this prototype, I will confidently move along (with somewhat better fabrics & a full set of zippers & hardware) to the next round where I'll be adding the storage pockets to both the lining areas & exterior PLUS I'll be adding the "special feature components" that will live in between these two zippered storage areas. Then of course I'll actually carry this sample for a week (or more if I like it) to determine whether I actually enjoy carrying this bag AND if the features are placed sized right & placed in the right places.
So if you're thinking that the next post in this series will feature our "Gorilla Sample", then you are absolutely correct so I'm hoping you stay tuned for that!
And now, it's YOUR turn!
So now I would LOVE to know what your general reaction is to this idea. I know I didnt give you much to look at but if there are features you'd like to see in it, now would be the time to say! And if you have comments or suggestions you'd like to share about this design in general, please feel free to leave either or both in the space provided below.
Check out the best sewing pins with me on Pinterest, join in on discussions or show off your work in our FaceBook Group, or get your daily sewing fix on our Facebook Business Page or get behind the scenes scoops on Instagram, and be the 1st to know about new patterns, discount codes and sample sales by signing up for our monthly newsletter.