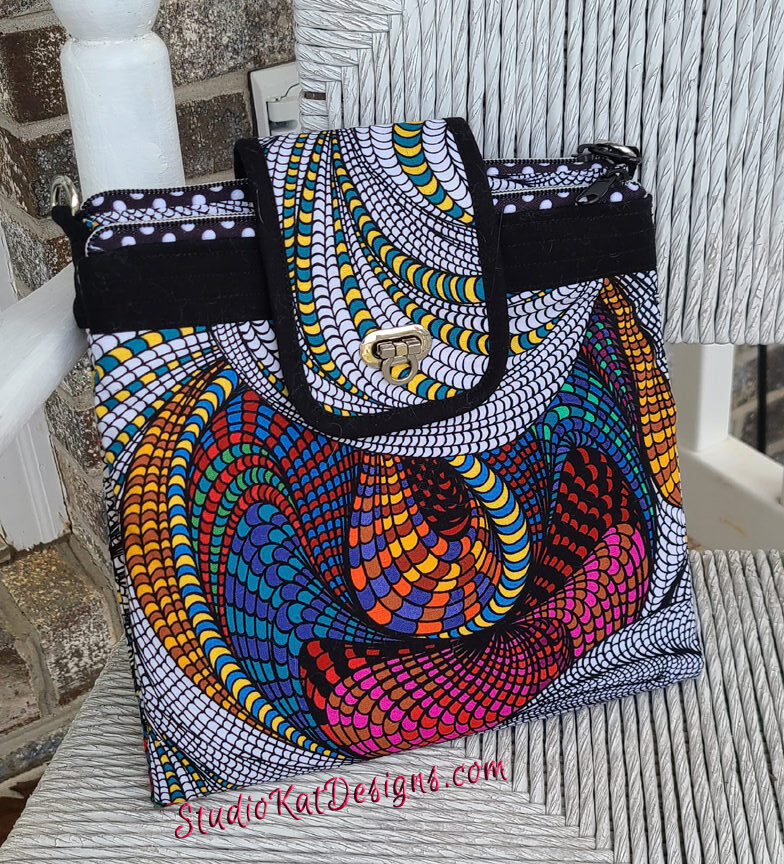 So…
if you've followed any of our previous editions of Purse Pattern Chronicles, then you know that the post that comes after the Inspiration & Prototype post is the "Gorilla Sample" post and that's exactly what this post is!
And here's the deal…since I felt sooo good about my prototype sample and how it went together I actually pulled out a piece of fabric I've always liked but have never been able to work into one of my previous designs. But, since the "Gorilla Sample" generally ends up being MY bag to keep and since this bag seemed to be the perfect size for this fabric, I thought, "Why not?"
The only thing is… there was a fatal flaw in my planning. You see, I had it in my head that I would try using fusible fleece for this bag. My thinking was that it would make for a soft pliable bag that would mold to the side of the body and would feel so nice to carry.
But things don't always work out like I think, and THIS was one of those times!!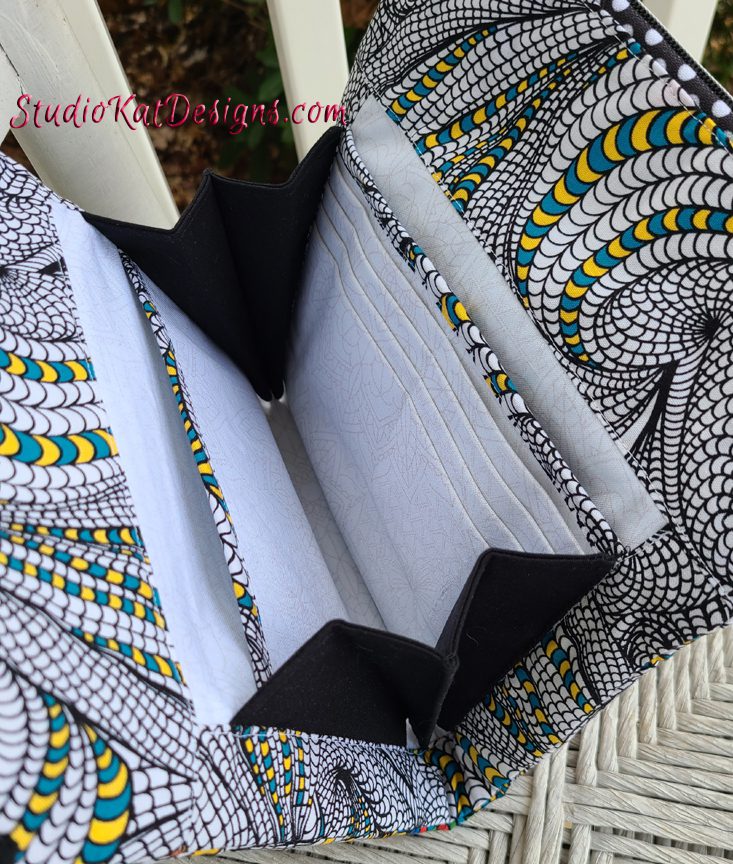 Turns out- this sample was a total FLOP!
And by that I mean LITERALLY!!! It just seemed to totally collapse upon itself. It was actually a HOT MESS and I was SO disappointed that I had wasted this fun fabric.
I was actually tempted to tear it apart (for about 70 seconds) and then I just cut my losses and instead just didnt complete the bag (fyi- I didnt make a strap or waste that hardware).
On a good note though– the experience was NOT a total loss, because I was VERY satisfied with how the interior came together. There's 8 card slots with a nice slot pocket behind them, and opposite that is a 2nd slot pocket and a decent storage area between them for pens, a lipstick or even a cell phone.
This interior section is held secure by two magnet snaps which keep this area clenched closed and the side Welts keep anything from sliding out thru the sides!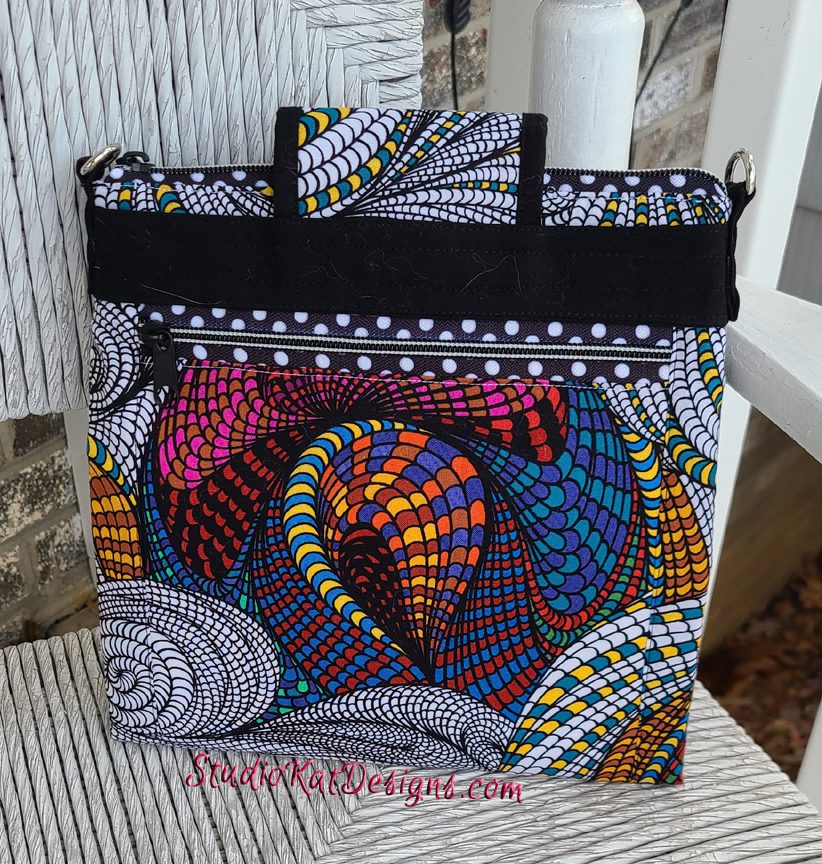 Other things I learned from making this sample…
I really like how a little twist lock could work with this design.. it would add some extra security to the inner area. The only thing is, I tried a flip lock for this sample because I thought it looked "cooler" BUT… I do not like how it operates. It kinda takes BOTH hands to open it up and I don't like that at ALL.
For that reason I'll probably stick with an actual twist lock as I move forward. Of course a customer can always opt for using a magnetic snap here instead of a twist lock if they prefer!
And finally at left is a snapshot of the Bag Back which features an additional zippered pocket.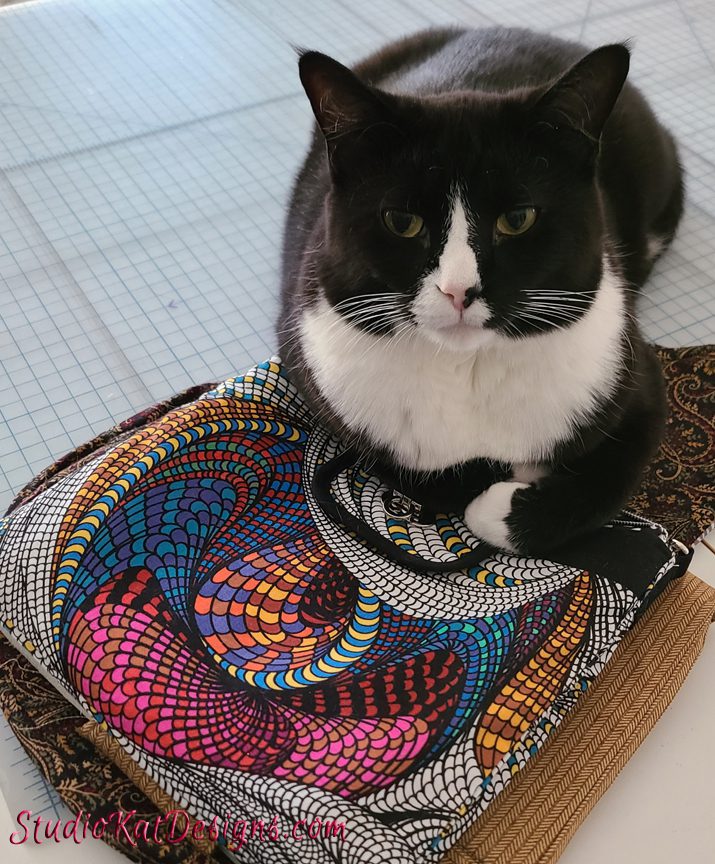 When all is said and done, while there are quite a few small modifications that need to be made before I make what I hope will be a first true sample of this new design, I'm feeling very confident going forward!
And even though this sample will never be carried as a handbag, Pippin LOVES it! It evidently makes a lovely soft place for him to sit and watch me work!
And now, it's YOUR turn!
How does this design strike you? Does it seem like a bag you'd enjoy carrying? And what if any features would you like to see added? If you have comments or suggestions you'd like to share about this design in general or this sample in specific, please feel free to leave either or both in the space provided below.
Check out the best sewing pins with me on Pinterest, join in on discussions or show off your work in our FaceBook Group, or get your daily sewing fix on our Facebook Business Page or get behind the scenes scoops on Instagram, and be the 1st to know about new patterns, discount codes and sample sales by signing up for our monthly newsletter.