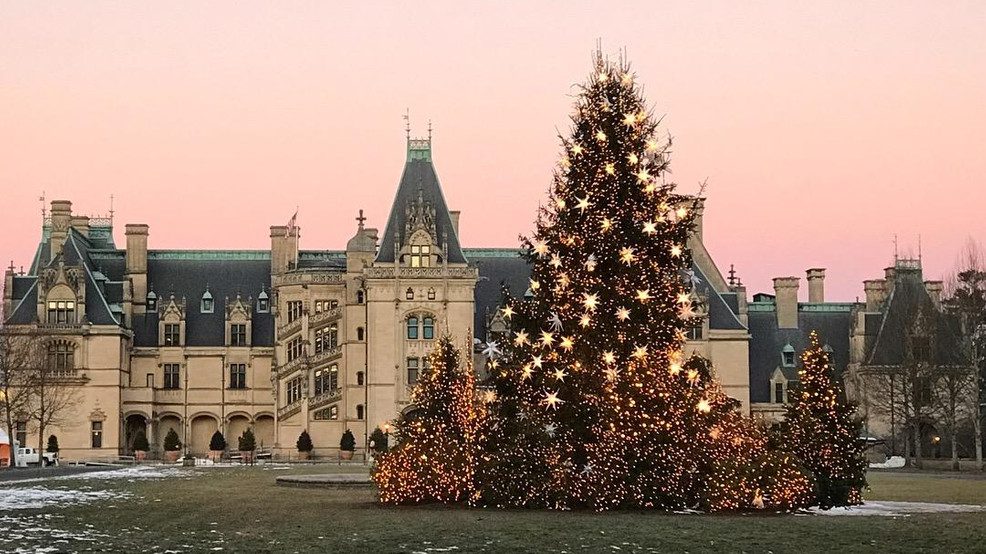 So… if you've been following our posts from this cycle of Purse Pattern Chronicles, then you know by now that it was our intention to name our new pattern design for Summer '21 the Biltmore Baglet but then…
a scary, disturbing, "just-in-the-nick-of-time" thing happened on the way to finalizing & publishing this new pattern…
More about that in a bit but here's the deal, naming a new pattern is SO hard that typically I start studying and pondering and STRESSING OUT about it from the moment I cut the 1st pattern piece. I've enlisted the help of friends and family to the point where even THEY have run out ideas or have grown as frustrated as me when their good suggestions are found to have been used before!
The point being, its a whole LOT harder now to come up with a product name that's descriptive yet original than it was in 2004 when I first began designing bag patterns and since I've always been ultra careful to do my due diligence and research to make sure the name I've chosen has never been used before, what happened this weekend really was a shock to my system!
On Saturday evening I got a message from alert reader Becky Hardy, who told me that she was concerned about my including the word "Biltmore" in this pattern name due to the fact that it's trademarked by the Biltmore Estate in Asheville, NC. I was floored. Of course I know better than to use well known trademarked names like Pepsi, Toyota, Disney etc., but it never crossed my mind that Biltmore would be one of those names. But the more I checked, the more I knew Becky was RIGHT. The folks at Biltmore actively defend their trademark, as is their right to do, but even if they didn't, keeping "Biltmore" in our pattern name would be an incredibly dangerous thing to do! So after the initial shock wore off my mindset was one of both…
Despair & Gratitude
I'll tell you more about the gratitude in a bit but the despair stemmed directly from knowing that now I had to come up with an alternate name! I felt kinda like I did in the days following my bout with Covid. I couldn't think straight or decide how to move forward. I tried using my new design naming system (naming a new design after a place on this earth I loved), which I honestly thought would make it easier to come up with design names going forward, but here's a sampling of why it only made me sink lower and lower.
Barcelona? Nope, it's in use.
Santorini? Taken.
Capri? In use.
Venice? You guessed it. It's already been used…. as usual. And I could go on & on & on!
So I basically wasted my whole Sunday oscillating between trying to come up with a name, or trying unsuccessfully to do something else…ANYTHING else! But on Monday the brain fog lifted just enough to push the disappointment aside and hear my "Ah-Ha moment"!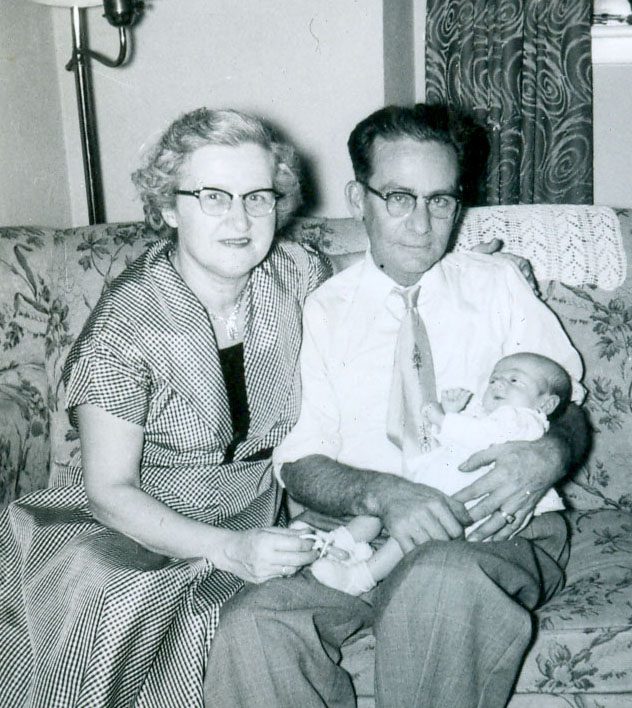 Instead of a special PLACE… why not name our pattern after a special PERSON?
And I knew in an instant who that 1st special person HAD to be…
my grandmother!
(seen at left with my granddad
holding me at 2-weeks old)
My Grandmother…
who worked for 40 years sewing up little boys jackets for Sears Roebuck, plus taking in mending to make ends meet while raising 4 kids, one of whom was my Mom.
who "infected me" with a lifelong love of baseball. Way back then we loved the NY Mets when the Mets were the losing'est team in the MLB.
who could grow more produce in a 12′ X 15′ garden than most folks could in a half acre. She grew things vertically b4 vertical gardening became a "thing".
who flew to NC from CT at 75 years old to care for my 7-week old daughter during my 1st stressful week back at work. Oh, and by the way… while she was loving on my baby girl, she ALSO re-covered my worn out couch, stocked my freezer with easy meals to thaw & cook, all while watching the World Series!
who lived in her house alone after my granddad died in his mid-60's, & traveled alone to see her kids & grandkids all over the country, & still taught a youth Sunday School class until heart surgery sidelined her at 89.
who visited me during one really tough week at the Quilt Festival in Houston (fifteen years after her death). Yep, check it out here & see what YOU think!
who took the "trip of a lifetime" to Israel w/her SIL against the advice of family and friends not too long after the "6-Day War", and long before the advent of cell phones or email.
was the most genuine human being I've ever known… a spiritual giant who even 23 years after her death is still my role model and who I miss even to this day.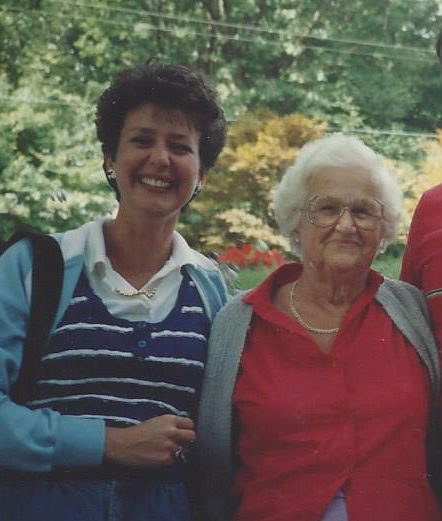 That's why I'm naming our new pattern…
the Elsie K Baglet
in honor of my grandmother,
Elsie Katherine Knorr Mather
(seen at right sharing a laugh with me
several years later)
So… thank you Becky Hardy for alerting me to what could have been the most devastating mistake of my career… a mistake that could have drove us out of business (and I am NOT kidding). I so appreciate you taking the time to contact me, because as distressing as this past weekend has been, it's nothing compared to how devastating it would have been to have found out about this error through a court order 1, 2 or 5 years from now! I guess the old adage, "If you see something… SAY something" still applies today and it would do us all well to remember that!
And now, it's YOUR turn!
What do YOU think about this new method of choosing names for our designs? Do you think it makes sense, or is it kinda lame? If you have comments or suggestions you'd like to share or especially if you have a "see something, say something" moment YOU'D like to share, please feel free to leave either or both in the space provided below.
Check out the best sewing pins with me on Pinterest, join in on discussions or show off your work in our FaceBook Group, or get your daily sewing fix on our Facebook Business Page or get behind the scenes scoops on Instagram, and be the 1st to know about new patterns, discount codes and sample sales by signing up for our monthly newsletter.