So… I think I've mentioned (several times) during the run-up to the Gemini FlightBag that I had a difficult time finding fabrics that inspired me in this go-round. I'm blaming it on the stupid pandemic but finally one Saturday I found myself perusing the Spoonflower website, which is something I promised myself I wouldn't do again.
Why, you might ask?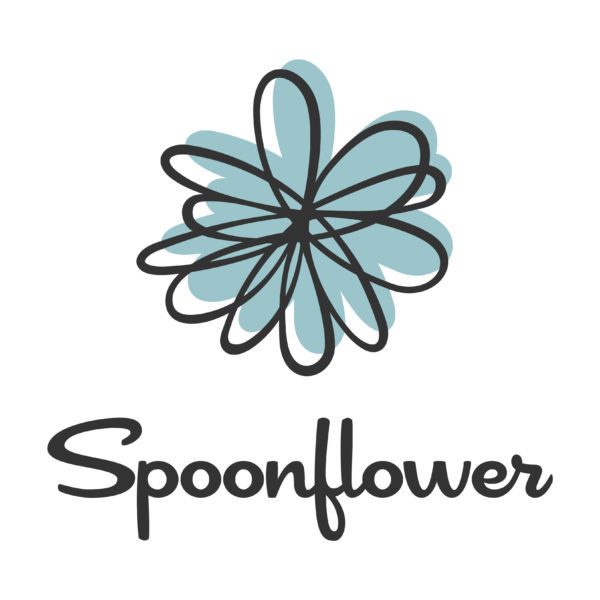 Because past experiences tell me that even though the fabric designers are fabulous, and the pictures on the website are gorgeous, the fabric is going to look tired and washed-out when it arrives in the mail and that's SO disappointing! I've honestly never actually used any of the fabric I've bought thru Spoonflower and its been several years since I've even considered giving them a try again, but here's the deal… Spoonflower has continued to grow and expand and it made me think… maybe things are better now?
But rather than be disappointed again, this time I ordered samples of my two favorite designs (which is what they recommend). And I was glad I did, because once again I was not too happy with the colorations!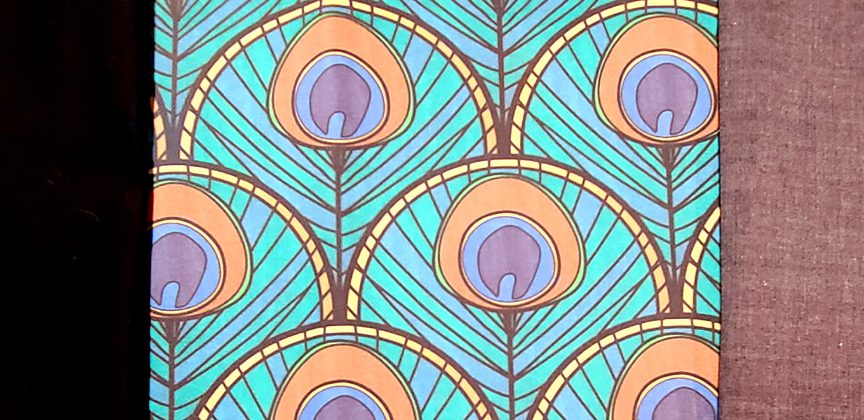 As in the past, the main thing I was disappointed in was the black areas! If you look closely at this photo, the black in the printed fabric more closely matches the grey fabric on the right, than it does the true black on the left, and this REALLY bothered me.
So this time. I called them!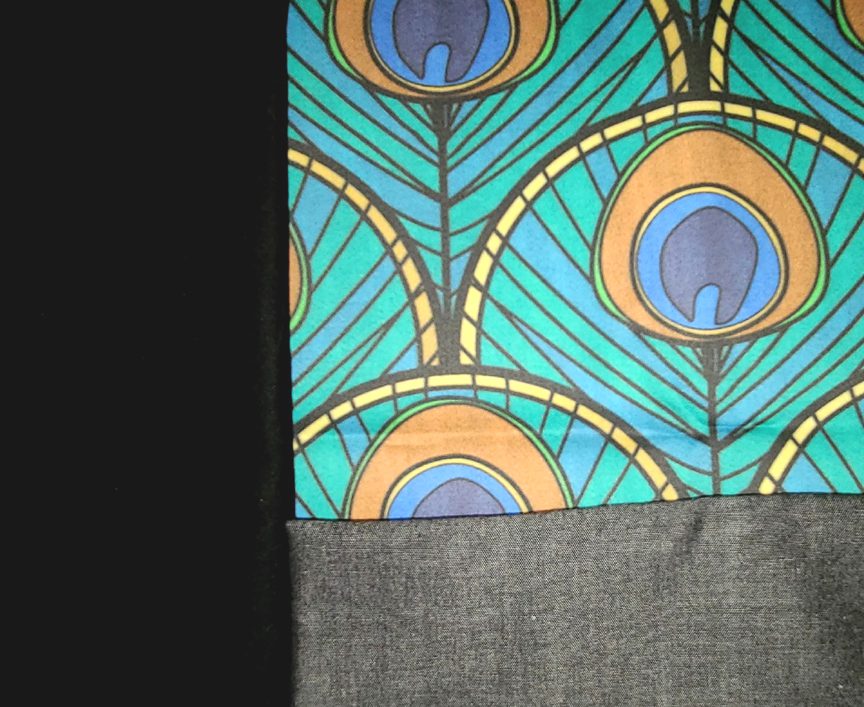 I wanted to know WHY it is that the black in their fabrics never seems to be a true black. After all, if the big fabric manufacturers can produce a true black… then why can't Spoonflower?
The gal I spoke with was very nice but she really didn't have a straight answer about why the blacks never seem to be a true black. She issued me a discount coupon & encouraged me to get another sample made up in "cotton sateen" rather than the 100% cotton which I did, and you can see at left. Was there a huge difference in the colorations? No… but it was slightly better and since I had deliberately chosen a fabric with very little black in the design, I went ahead and ordered a full yard in the "cotton sateen".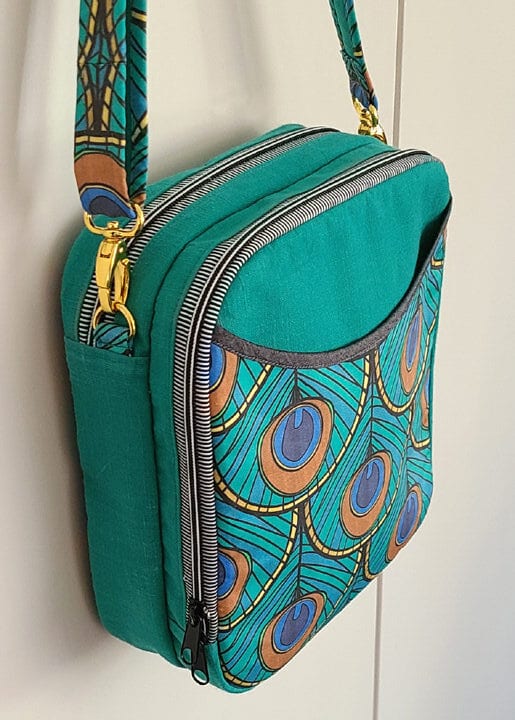 As you can see, I used this fabric in the run up to our Gemini FlightBag pattern. Because the black wasn't a true black, I used a charcoal grey fabric for the bias tape trim on the front pocket and a matching teal green for the contrast. I think it turned out great! If you're interested in duplicating this look, just click HERE to get some of this fabric for yourself!
So what's the verdict on Spoonflower?
Even though I am pleased with the result of this particular bag, I still have misgivings about the Spoonflower process. It still bothers me that black is never a true black and I really don't understand why Spoonflower can't do better than this. Will I buy more fabric from them in the future. Perhaps… but you can bet I'll always get a sample first and I'll very likely limit my choices to fabrics that do NOT feature dark colors.
So here's my recommendation, should YOU choose to do business with Spoonflower.
1- Always, ALWAYS, pay the extra up front to first purchase an actual sample of the fabric you're interested in using. Keep in mind that this fabric is NOT cheap, so its hard to add this expense up front to the eventual cost of a yard of fabric, but it sure beats buying a whole yard of something you're unhappy with & will never use.
2- DO NOT waste your time on a fabric that has a large percentage of black (or even navy blue for that matter) in the print. I can pretty much assure you that you'll be disappointed in the look of Spoonflower's black. AND… the washed-out black tends to pull down the overall vibrancy of the rest of the colors in the print!
3- DO go with an upgraded fabric choice as opposed to the 100% basic cotton. I recommend the cotton sateen fabric which had a very nice feel & finish and much more "body" than the basic cotton.
Now it's YOUR turn!
Would any of you care to share your Spoonflower experience? After all, maybe my experience has been an isolated one. And, perhaps more importantly, if anyone out there can explain to us why Spoonflower cannot seem to produce a true black in their fabrics, I'm all ears! And remember, we love reading your comments and answering your questions too, so please feel free to leave either or both in the space provided below.
Check out the best sewing pins with me on Pinterest, join in on discussions or show off your work in our FaceBook Group, or get your daily sewing fix on our Facebook Business Page or get behind the scenes scoops on Instagram, and be the 1st to know about new patterns, discount codes and sample sales by signing up for our monthly newsletter.