So….
Today I'm ready to show you the cover of our new pattern! But those of you who have been following our "Purse Pattern Chronicles" for a long time know that this is not our normal way of doing things, right? That's because usually we have fun in the process of choosing our cover sample! For years now we've had multiple posts including those where you have a chance for some input until FINALLY we do the big reveal! So why is this time different?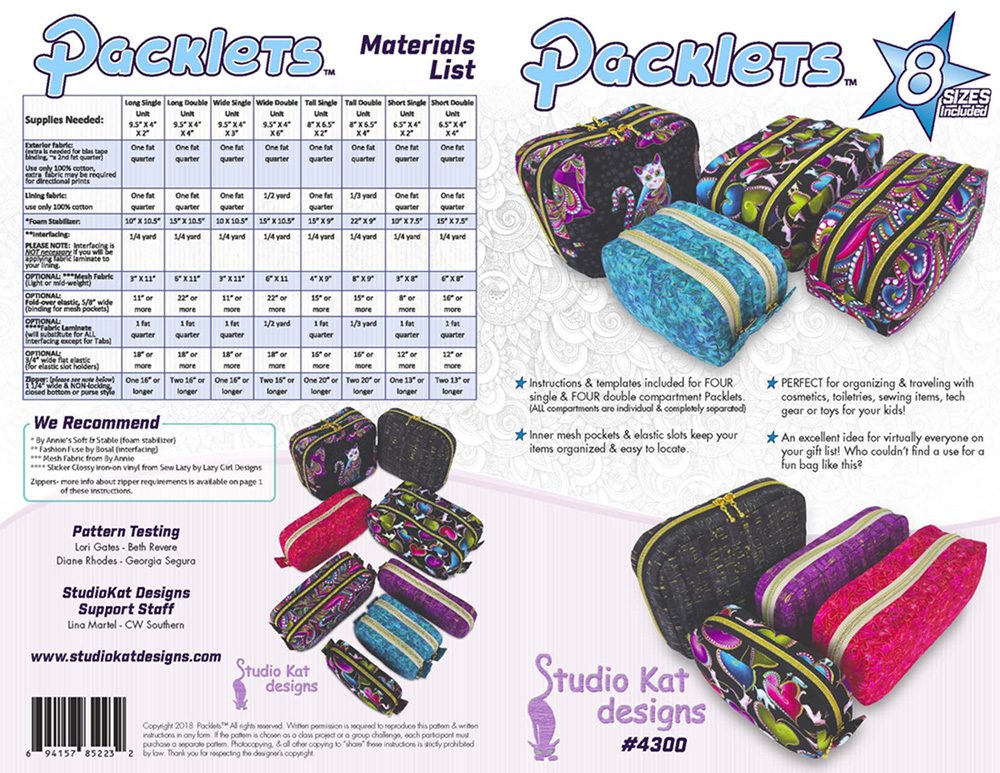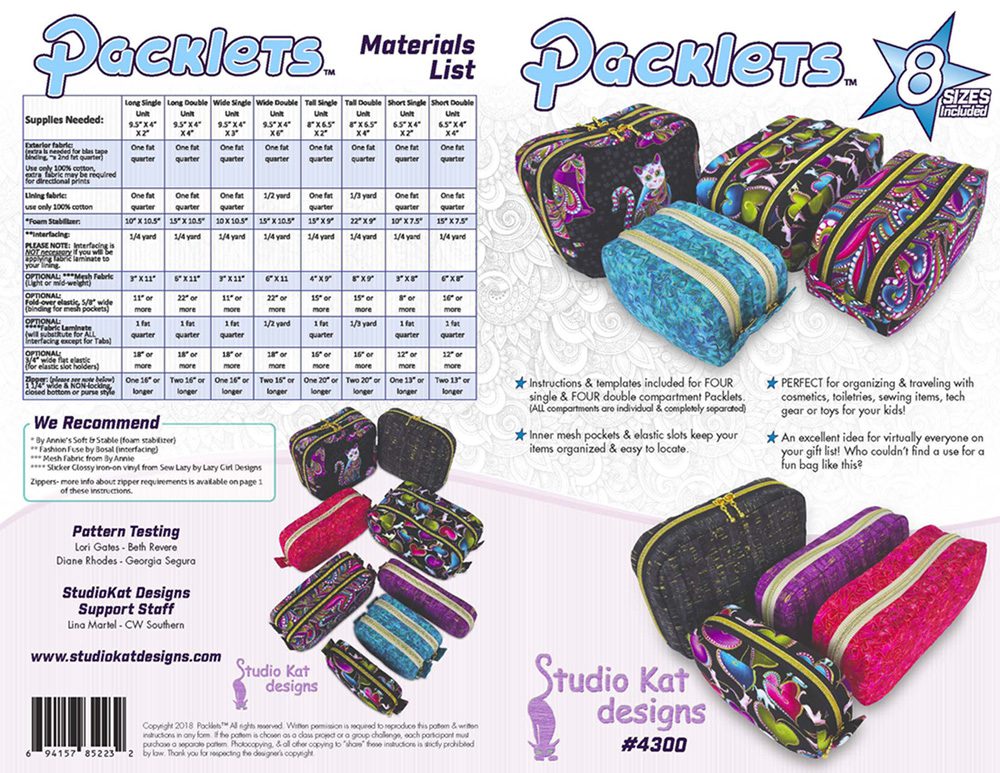 It's because this pattern is totally different
than any other we've created!
Well for one thing… there's EIGHT bags included in this pattern, not just one. And here's the thing…all eight Packlets need to be on the pattern cover since they are all different sizes! And I figured that since they all needed to be on the cover that they should go together… they should look good together… like they're all part of the same family!
So… I looked around for a cool fabric collection that included a few fun, focal prints as well as some interesting more subtle prints that could perhaps count as solids (since I've never been that big on solids)! When I discovered Ann Lauer's "Cat-i-tude" collection I knew I'd hit the jackpot! It had everything I was looking for, great colors, amazing prints and…. CATS!!!! In the end, it was actually pretty darned EASY to pick out the cover worthy Packlets… because they really were ALL were cover worthy!
So as you can see…
for this round of Purse Pattern Chronicles it turned out that the hard part really wasn't about choosing the cover samples themselves at all, so there was little to no need of parading all of those samples out for you to choose from! Instead, the hard part turned out to be staging those EIGHT little Packlets into one photo so that they ALL looked good! It turned out to be a MUCH harder task than I ever thought it would be, especially since this time I was totally on my own without any of YOU to bounce my ideas off of!
And now…. it's YOUR turn!
I'm almost afraid to ask what you think of this pattern cover, but go ahead and give to me. And remember, we love reading your comments and answering your questions too, so please feel free to leave either or both in the space provided below.
**********************************************************************************
Check out the best sewing pins with me on Pinterest, join in on discussions or show off your work in our FaceBook Group, or get your daily sewing fix on our Facebook Business Page or get behind the scenes scoops on Instagram, and be the 1st to know about new patterns, discount codes and sample sales by signing up for our monthly newsletter.