So…
to borrow a football metaphor, we're now in the red zone for this new pattern. We're looking at a mid-January release but first I've got one last sample to show you before I have to choose ONE of these samples to be the cover model for our pattern cover (and I need to do it soon in order to meet our target dates). It's going to be a really hard choice so as usual, we'll be soliciting some assistance from YOU in our next post in this series!
But first, here's a few photos of our last sample of this design for your consideration;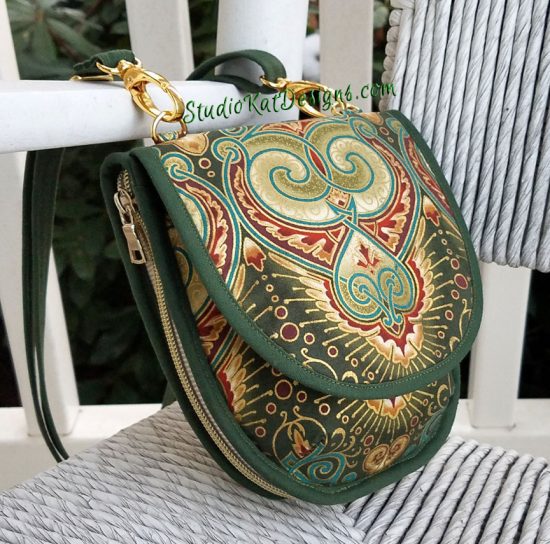 For this sample I used this stunning fabric from a collection by Jason Yenter. I'll give you more info about it at the conclusion of this post, but suffice it to say that I LOVED working with. The size of the focal items was PERFECTO for the size of the Go-Go Compact!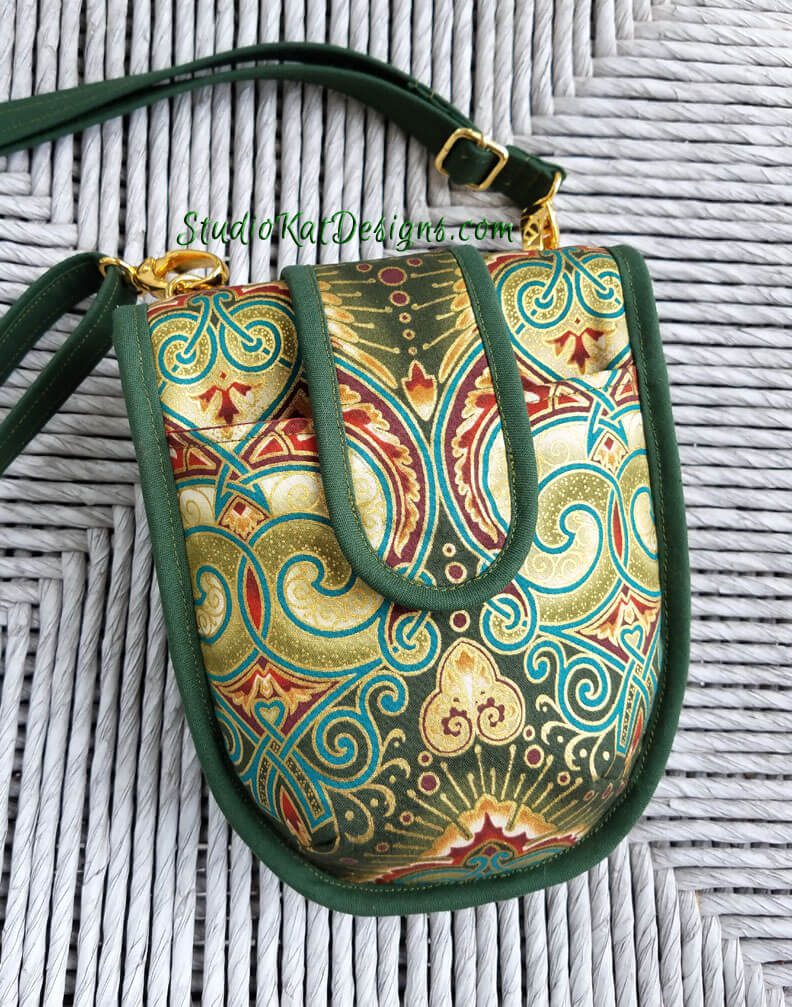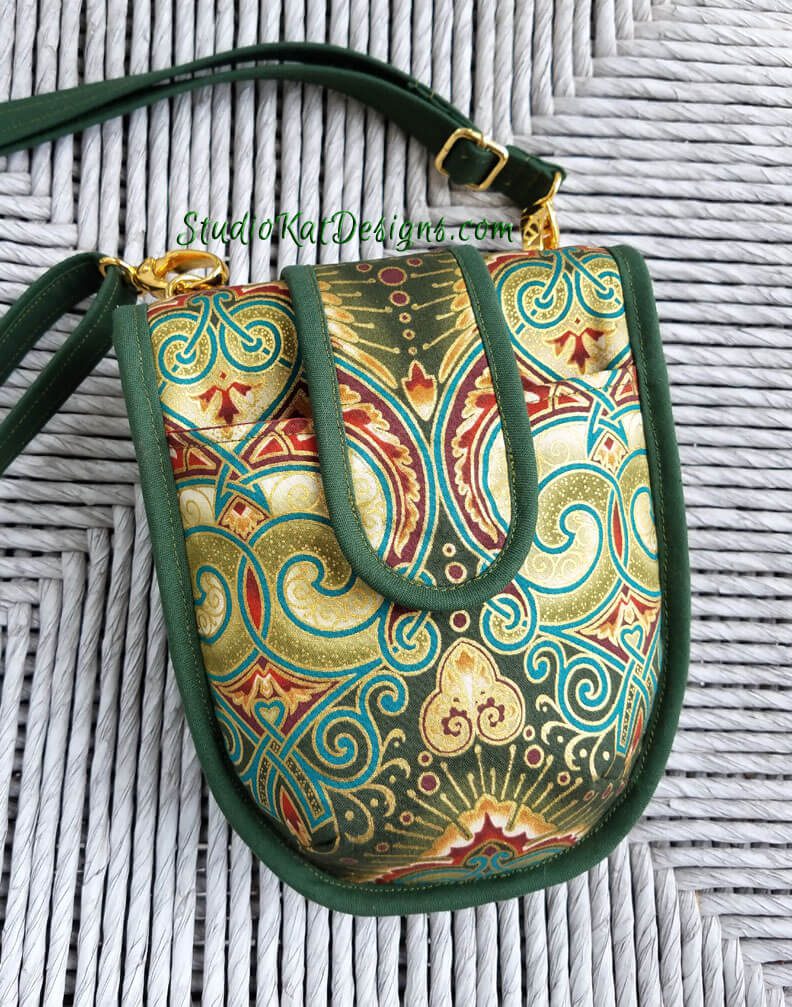 And if you'll notice, the focal area on the bag back is totally different that the focal area on the front. I like it when a fabric offers these kind of options. And while the colorations are somewhat subdued, this print could certainly not be called dull or boring.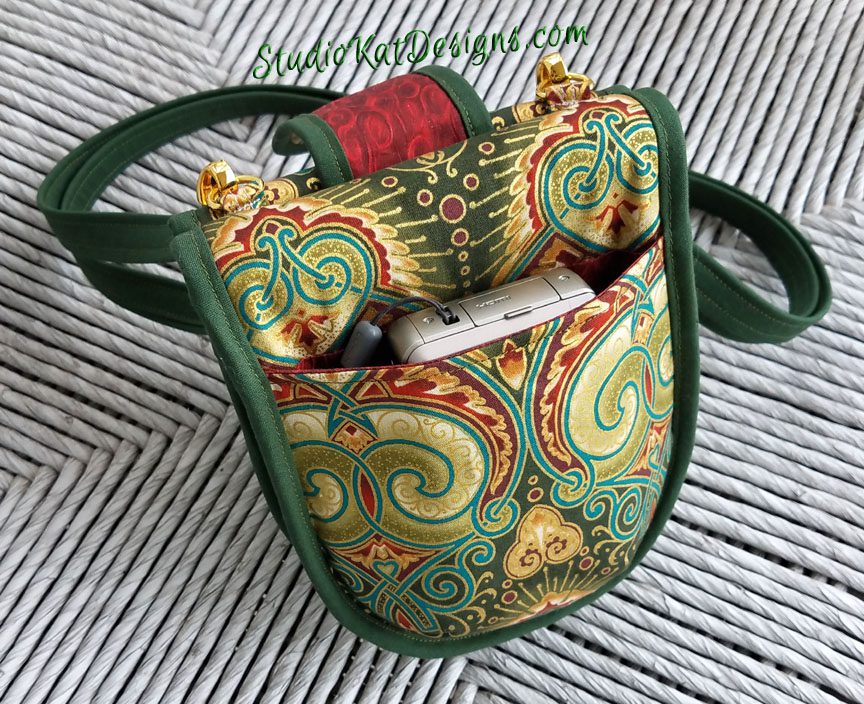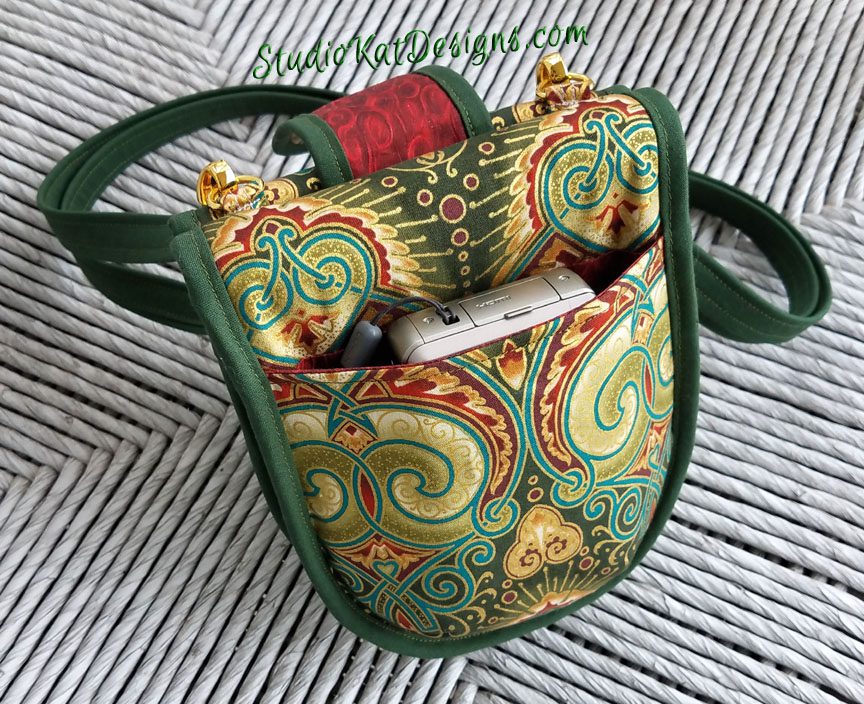 The cool red print you see here on the underside of the magnetized Tab, is from the same collection as the exterior print, but the green in the bias tape is from my stash. And this exterior Slip Pocket is really versatile. In this picture I have my camera stored in it, but more often than not I like to carry my sunglasses and keys in there.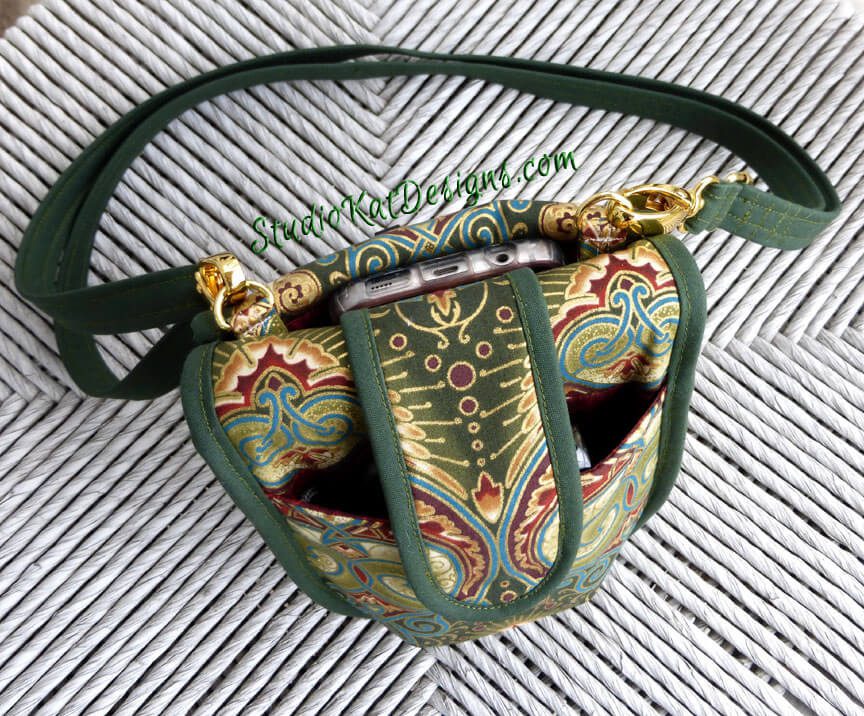 And this secret slot in between the two exterior pockets is my favorite feature on this bag because this is an IDEAL spot to store my phone. I've tested this slot with a wide variety of smart phones (Samsung Galaxy, iPhone 6 & 7 and more) and found that it works with all of them (except those that are really mini-tablets).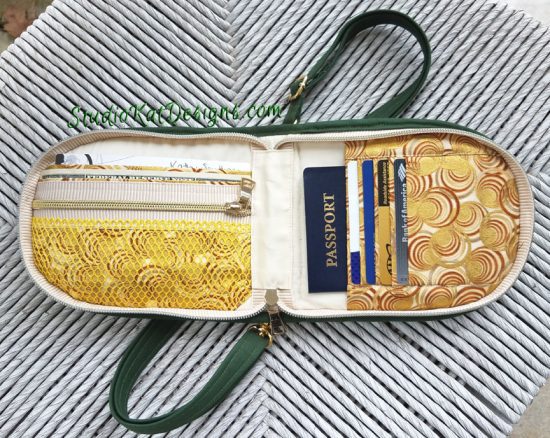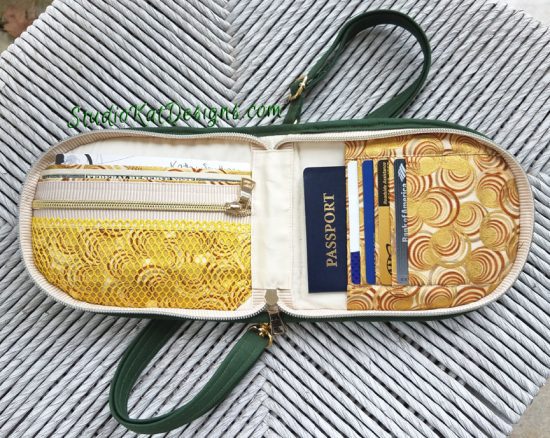 And for the interior… again, I used a print that was from my stash. I wanted to continue the gold theme on the inside of the bag and I definitely wanted to find a cool print with a gold finish but it wasn't particularly easy to find. As a matter of fact, I was to the point of planning an alternate interior scheme when lo and behold I found this print in my stash. There wasn't a lot of it, but with a little creative piecing, there was just enough! 🙂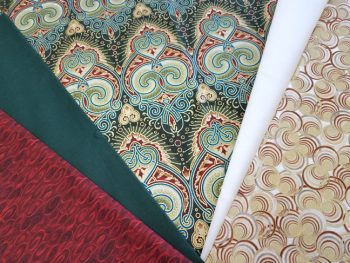 So with that, it's time to talk about this fabric!
Exterior- Royal Fan Stripe in pine green/gold from the "Deco Elegance" Collection by Jason Yenter for In the Beginning Fabrics
Red Contrast– Soothing Swirls in garnet red from the "Pastiche" Collection by Jason Yenter for In the Beginning Fabrics
---
And now…. it's YOUR turn!
This completes our collection of samples for the Go-Go Compact! Do stay tuned for our next post in this series when we let YOU help us decide which of these samples should become our pattern cover model! And if you have any comments or questions at this point, please feel free to leave either or both in the space provided below.
---
Check out the best sewing pins with me on Pinterest, join in on discussions or show off your work in our FaceBook Group, or get your daily sewing fix on our Facebook Business Page or get behind the scenes scoops on Instagram, and be the 1st to know about new patterns, discount codes and sample sales by signing up for our monthly newsletter.