So…
in our last post we told you all about the inspiration behind what will eventually be our new design for Spring 2018, and now I'd like to show you our original "sketchwork" because I'd love to get some feedback from YOU!
First– the Exterior
My vision for this bag is to make it highly organized and a bit on the small side since that seems to be the trend of late. It'll have a pouch-style front pocket with a mag-snapped closure and a back slip pocket. In between these areas will be a 3-sided zippered closure protecting the interior contents.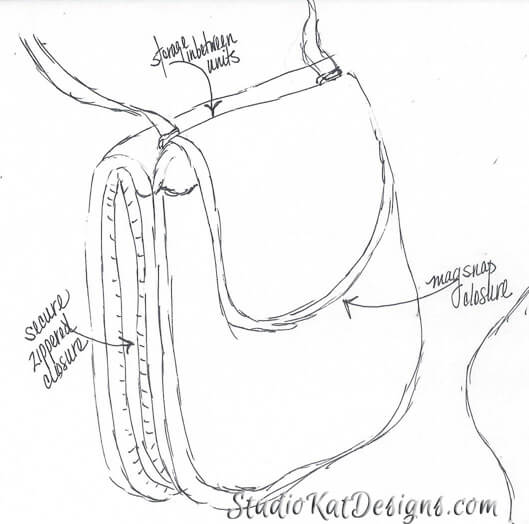 While I certainly know of individuals who could carry this bag as an everyday bag, you'd have to have a pretty minimalistic lifestyle in order to do so. My thinking instead is that this bag would be ideal for shopping, traveling, going to sporting events or for attending other special events (like quilt shows). The front pocket is sized perfectly for a camera as well as other small items while sunglasses (or reading glasses) can be stowed in the back slip pocket. And here's the fun part, there's actually a hidden storage area in BETWEEN the front and back of the purse which is sized perfectly for smart phones. It'll be a snug, but not too tight fit, so the phone will be secure and it should be really easy to hear it ring. 🙂
And next– here's a peek at the INSIDE!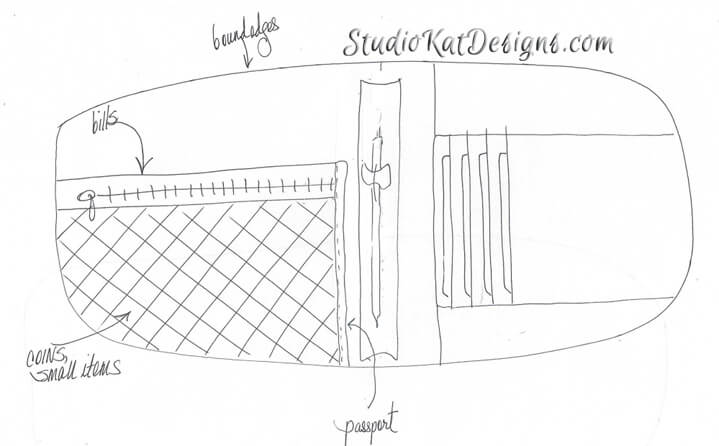 On one side of the interior will be the wallet area which will include a slot for paper money, a mesh pocket for coins and a deep slot in back for a passport, a checkbook or foreign currency. On the opposite side is storage for four cards with a deep slot behind them all for other important flat items, like pens, tickets, boarding passes, or tissues.
So stay tuned…
In the next post in this series I'll show you the 1st prototype for this new design, but in the meantime I would really love to know what you think about this idea and if you don't see that one feature you really love having in a bag, NOW would be the time to let us know! And remember, we love reading your comments and answering your questions too, so please feel free to leave either or both in the space provided below.
---
Check out the best sewing pins with me on Pinterest, join our Facebook discussions, get your daily sewing fix and behind the scenes scoops on Instagram, and be the 1st to know about new patterns, discount codes and sample sales by signing up for our monthly newsletter.