So…
as of our last post in this series, we were pretty much done making major changes and improvements in our new design for Fall 2017. Yeah, there were still a few notch placements to tweek, and a few places I wanted to experiment with procedure, but overall I knew it was time to stop sewing for a couple of weeks and get busy writing instructions (except for that double-card holder section I promised, right?).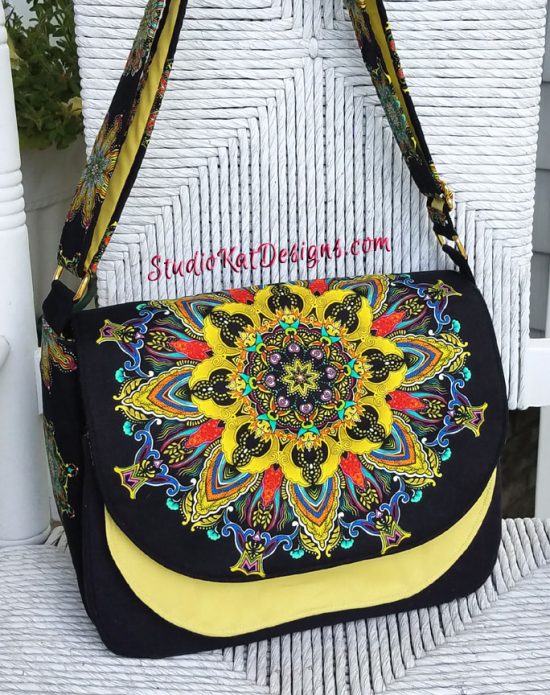 First of all, this might just be the world's most PERFECT fabric for a bag exterior, no? More about that at the end of this post, but seriously I do love this look and even though I rarely pull a bag out of our "stable" and keep it for my own personal use, that might be happening THIS time, because I LOVE this bag!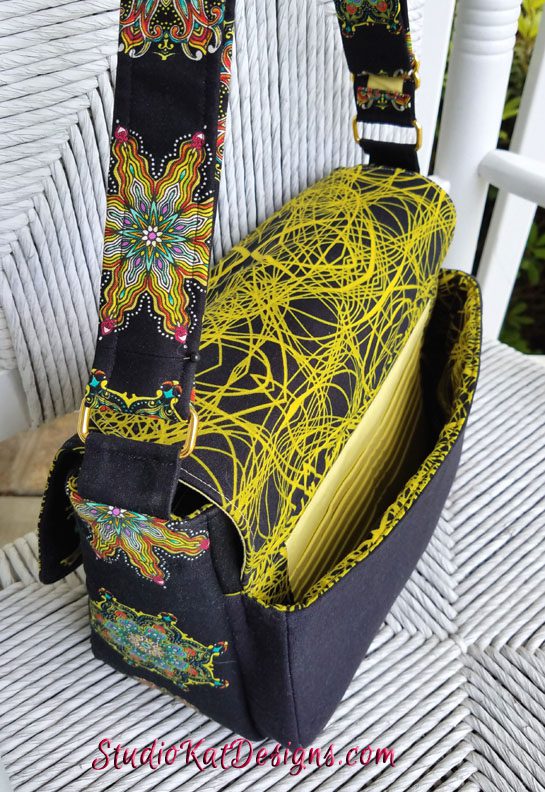 Here's a shot of the promised & afore-mentioned double-card slot area. There's room for 12 ID/credit/loyalty cards in this area with plenty of room leftover for a phone, keys and maybe a few more things! And even though its undetectable now, I made a BIG change in the way this section is constructed which I think is easier to illustrate and to accomplish.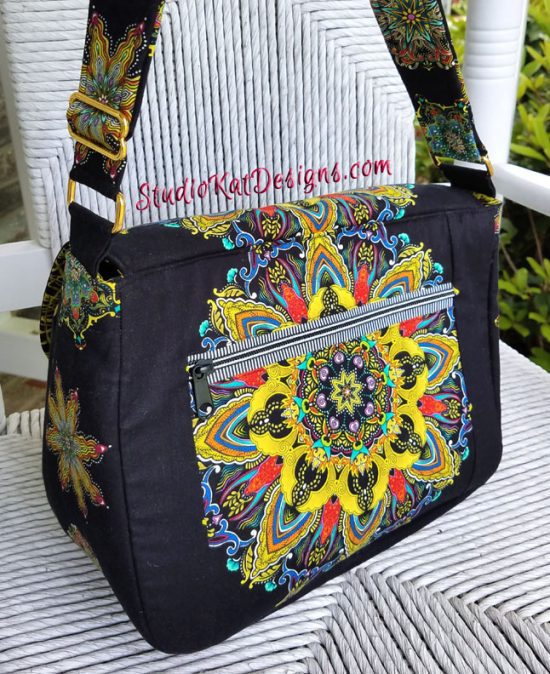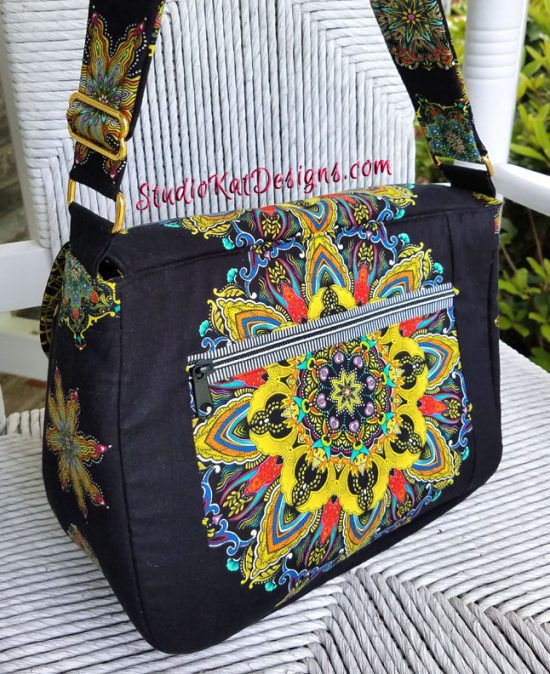 Here's a look at the bag back which goes to show you that this unique print looks just as great going as it did coming! I actually purchased a "panel's worth" of this design (by Paula Nadelstern) which featured 3 different kaleidoscope prints AND a whole row of mini-kaleidoscopes which I used along the side edge of the bag and up thru the strap!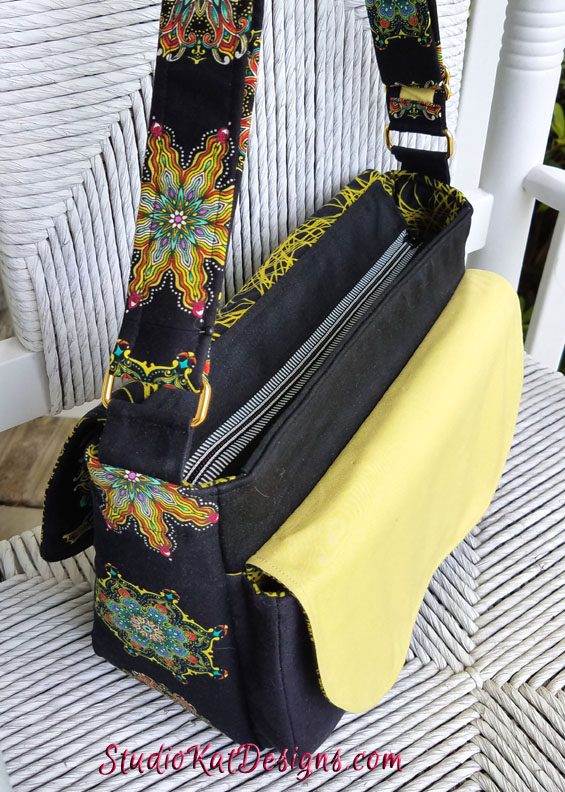 The Bag Flap over the main compartment covers an optional zippered entry. It would of course always be my recommendation to included the zippered closure, but I know there's some of you who prefer to leave it out. I know its not a good habit, but even though I don't ALWAYS zip my bags closed, whether or not they have a flap, I prefer having that option to fall back on for the times when extra security seems called for!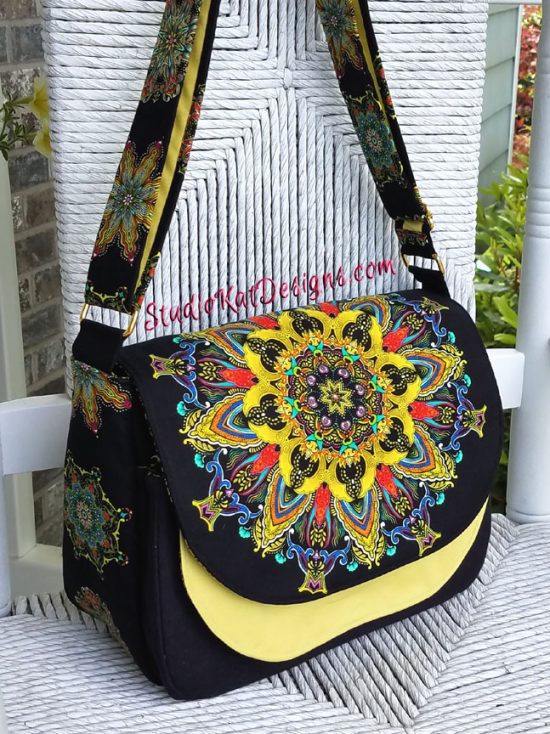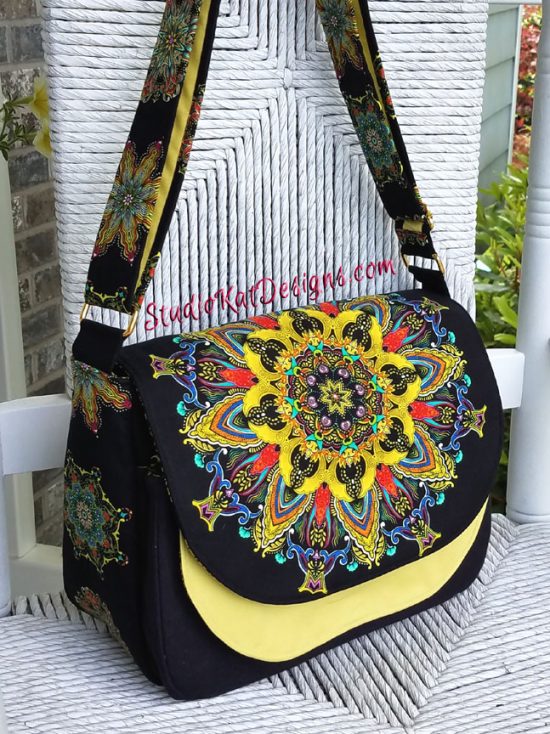 And now for a few obligatory details–
The approximate size of this bag is… 12″ wide X 9.5″ tall X 4.5″ from front to back.
Bag Name– TBD… got any ideas???
Release Date– we're hoping for early August
Fabric requirements–
Exterior= 1/2 yard,
Lining= 3/4 yard,
Contrast = 1/2 yard (for Pocket Flap, CC Slots & Strap Liner)
Blender= 1/3 yard, (for Pocket Flap & Wall)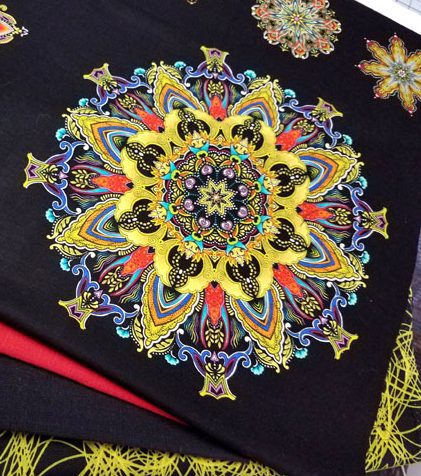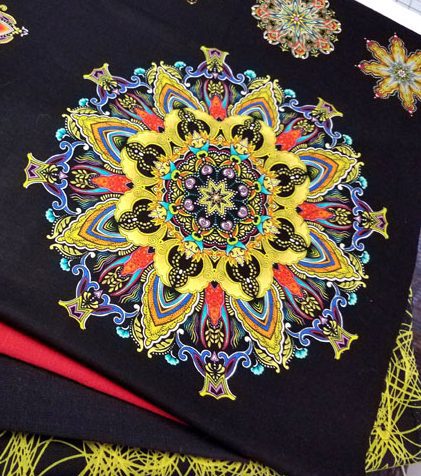 And now let's talk about this delicious fabric by one of my favorite designers, Paula Nadelstern.
The main print is from Paula's "Kizmet" collection for Benartex and the lining is is from the "Patternista" collection. Both of these collections have been out for some time now, so they may not be all that easy to find.
As a side note, Paula stopped by my booth at the AQS Paducah show and told me a bit about her new fabric collection to debut at the Fall Market in Houston. I'm hoping to procure some samples so I can make up a bag for display in the Benartex booth!
**********************************************************************************************
And now…. it's YOUR turn!
I'd love to know what you think of our new design at this point in the process? Does the size of this bag appeal to you and do you like the double card slot we added in this round? And remember, we love reading your comments and answering your questions too, so please feel free to leave either or both in the space provided below.
**********************************************************************************************
Check out the best sewing pins with me on Pinterest, join our Facebook discussions, get your daily sewing fix and behind the scenes scoops on Instagram, and be the 1st to know about new patterns, discount codes and sample sales by signing up for our monthly newsletter.