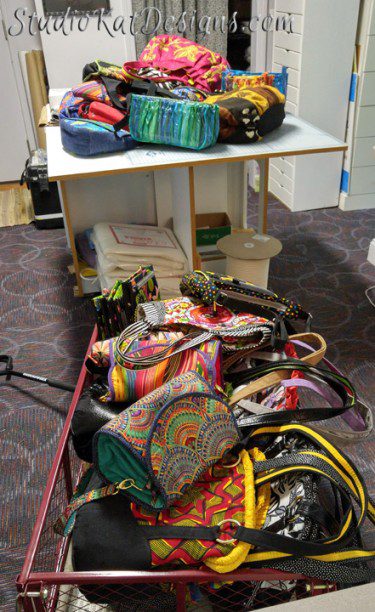 So…
If you're a regular here, then you know that in recent posts we've been showing you our new "show-look".
First, we revealed our new booth layout which includes an all-new 6′ X 6′ grid wall for our zippers and bag hardware, and in we followed that post with a closeup look at that gridwall!
But we still had to figure out which of our sample bags to take to Houston with us, and how we'd be arranging them for both the Quilt Market and also the Quilt Festival. And here's the deal… even though our bag display area will be the exact same size and configuration as it's been for the last 3 shows, we'll actually have MORE space for our bags (since our patterns will be hung on the gridwall)!
So let's drag these bags out to the garage and show you how our display will look.
First up… the Quilt Market!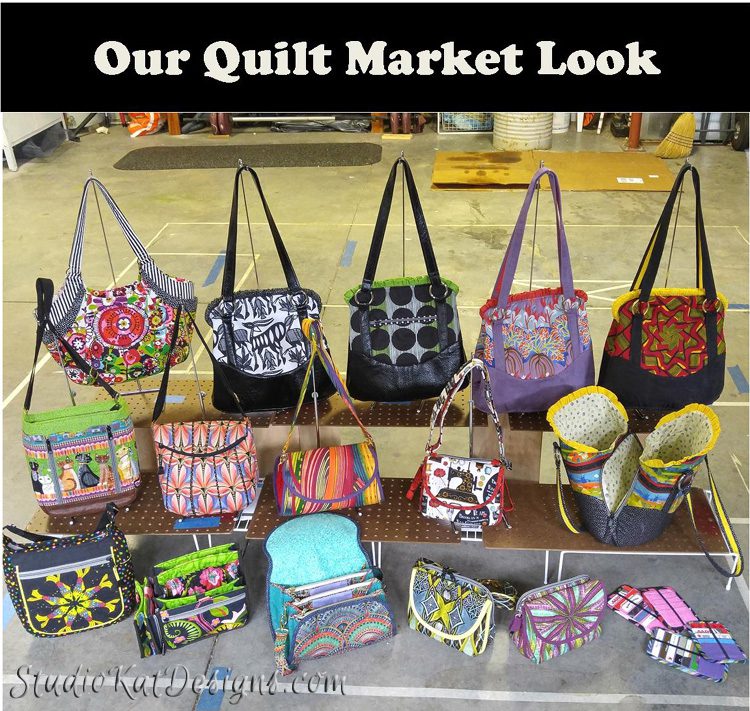 First off, we're trying something totally new with our Quilt Market display this Fall, because we've noticed that ever since the credentials were tightened up for this wholesale show in the Spring of 2014, that our pattern sales have been pretty much limited to our most recent offerings.
So… rather than take up valuable shelf space with our older designs, we'll be giving our shoppers a chance to consider our newer designs in more than one fabrication. As you can see in the picture above, our newest pattern, the Triple Play will be shown in 5 different exterior treatments, while we'll show them 3 different versions of the HipBag Hybrid.
This is a complete departure from the way we've displayed our bags up to now at Market, so stay turned for our post-Market posts and we'll let you know how it works out for us. (We'll have at least one sample available of each of our current designs just in case someone wants to see an example of an older pattern.)
But on the other hand, this will be our Quilt Festival display…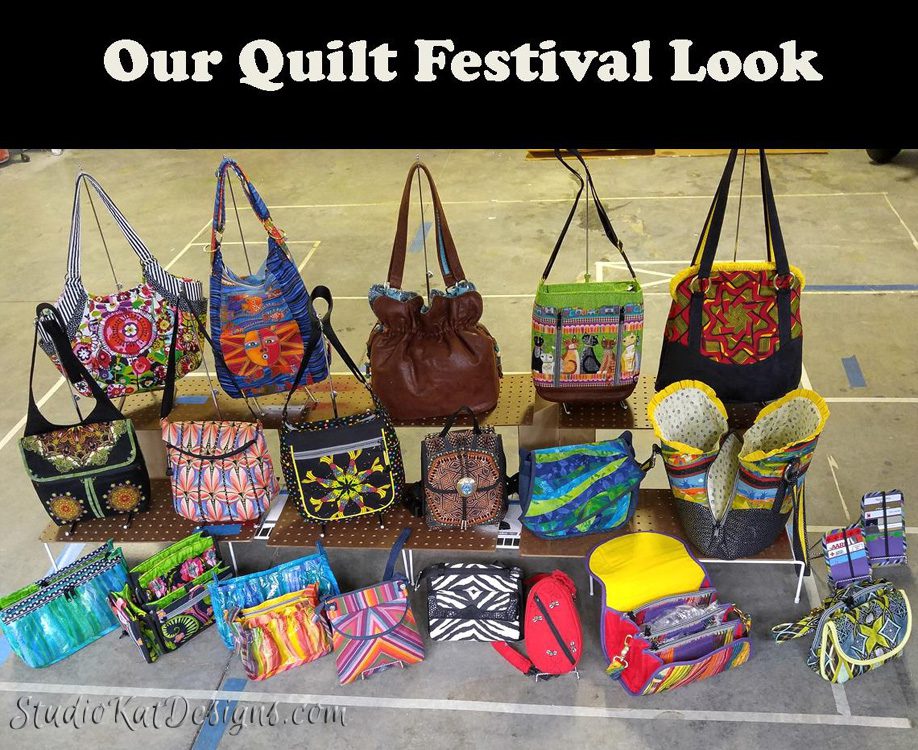 On the other hand, many of the folks who come into our booth at Quilt Festival are totally unfamiliar with our products, and for this reason we want to show them as many of them as we can, which is why we've only got one sample of each design represented in our festival display. (There will still be a few of our older designs behind the counter if anyone wants to see a sample.) AND… you might have noticed that our old black & white polka-dotted pattern bins are gone, since now our shoppers will find them on hooks on our brand new grid wall.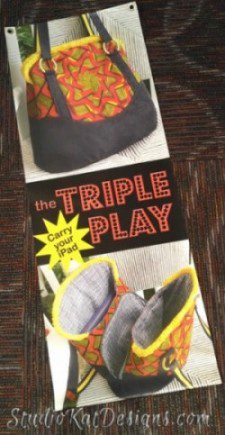 But that's not all we're changing up for this show because we've of course added a new poster for our back wall, and… here's some exciting news….
we'll actually be offering "Hardware & Zipper Kit" options for a few of our more popular designs. Our customers have begged us to do this, but it was just too overwhelming to think about with all the zipper & hardware choices we offer, AND I couldn't figure out how to automate the check out procedure with our barcode scanner. But guess what? This summer I found a website where I could produce my own "in-house" barcodes which now makes these kit offerings possible.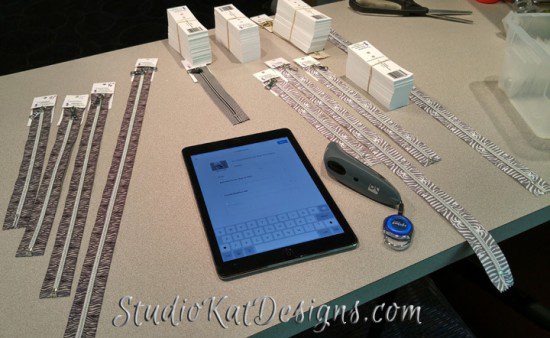 So… I'd love to know what you think of these changes, so if you're coming to either of these shows we'll be relatively easy to find in Booth #823, so please stop in and chat for a bit. But… if coming to Market or Festival just isn't in the cards for you this year…
Why not see the Show thru OUR eyes?
Get our instant updates and sneek peeks by following us on FaceBook or on Instagram
************************************************************************
And remember, we love reading your comments and answering your questions too, so please feel free to leave your comments about these and any other aspects of this new design in the space provided below.
***********************************************************************
Check out the best sewing pins with me on Pinterest, join our Facebook discussions, get your daily sewing fix and behind the scenes scoops on Instagram, and be the 1st to know about new patterns, discount codes and sample sales by signing up for our monthly newsletter.