So…
seems like we've done nothing but get ready for, and then recover from Road trips and shows this year.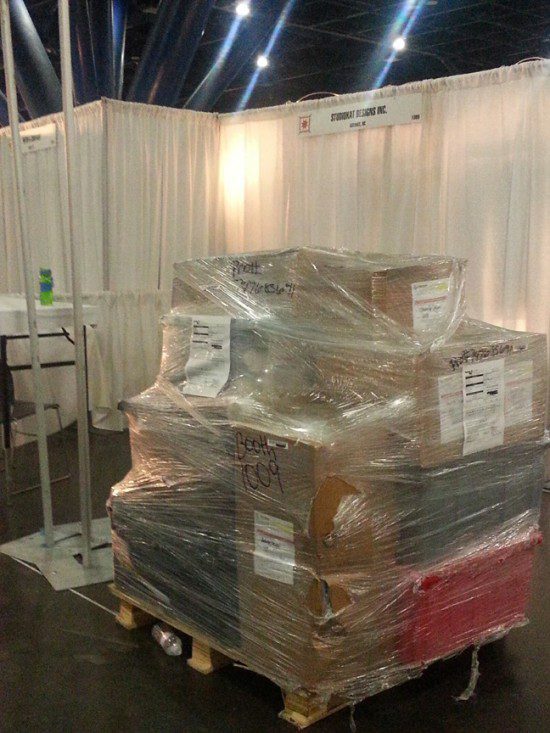 It's been fun, exciting, exhausting and we've REALLY enjoyed mixing & mingling with our customers! But you know what else? It turns out that doing two big retail shows in advance of the International Quilt Market & Festival provided us with the perfect warm-up. I didn't anticipate this benefit, but it was great feeling so comfortable with our booth layout going into the two biggest shows of the year!
So in a recent post we showed you our intended layout for the Houston shows and the adjustments we had in mind…
and here's how it went!
The picture at left is how our pallet of supplies looked when we arrived in Houston late on Thursday afternoon!
Did everything survive the trip unscathed? Well… no, as usual. There was some damage on a few of the containers as you can see. As a matter of fact, one of the plastic crates on the interior of this pile was pretty much broken beyond repair, but the good news is, nothing on the interior was damaged.   🙂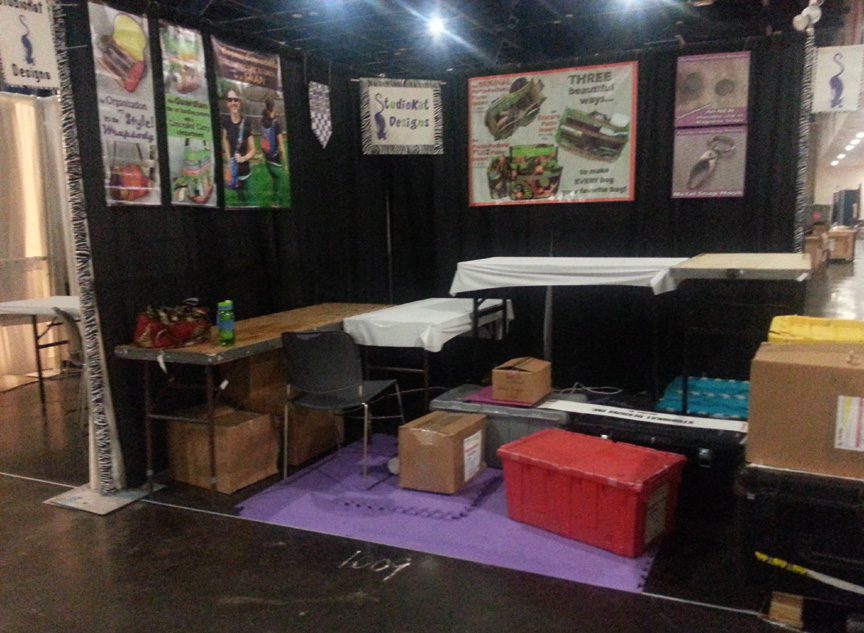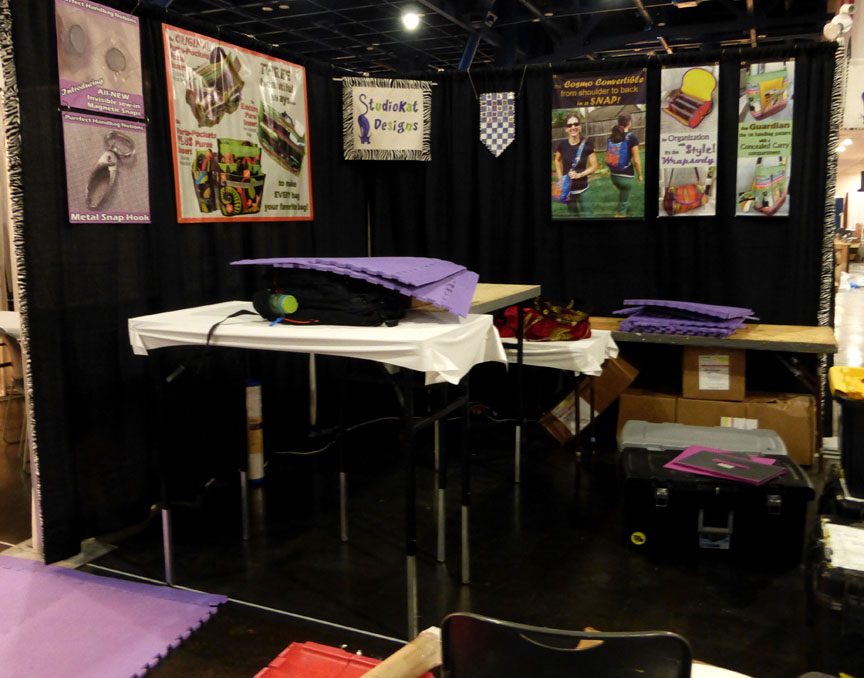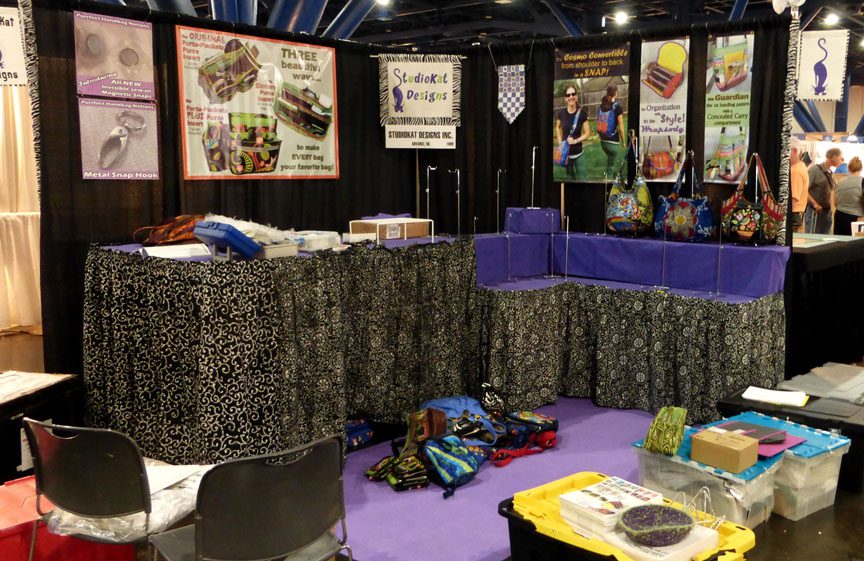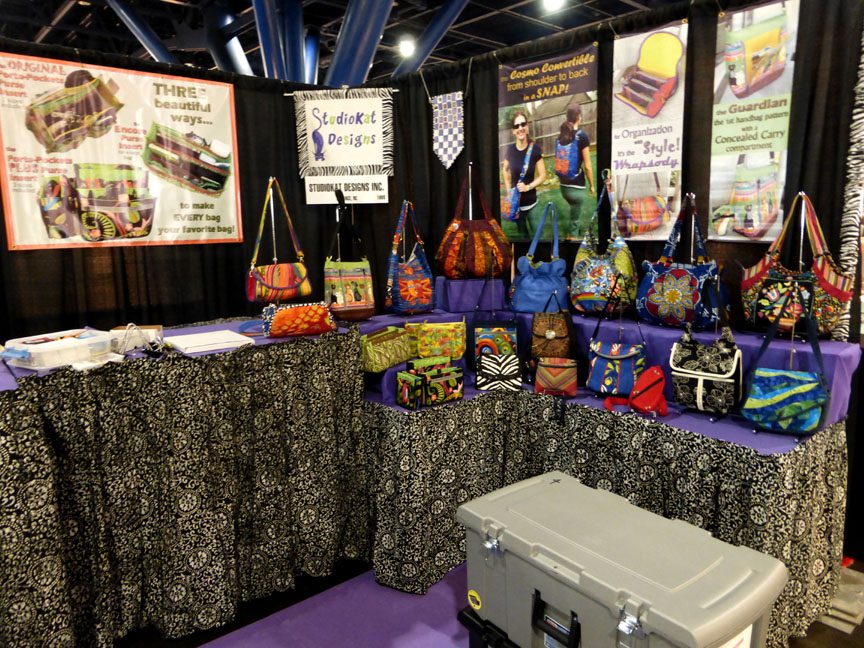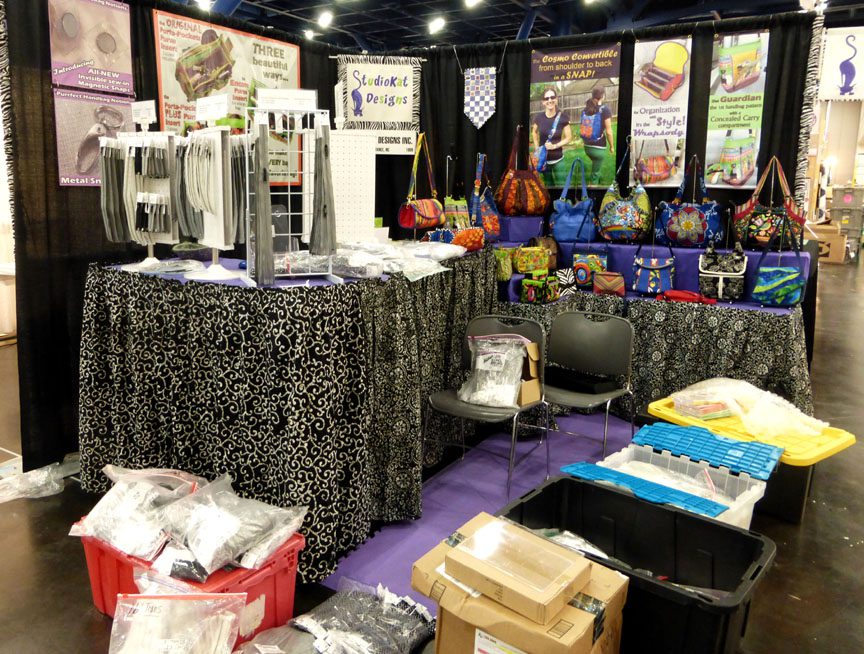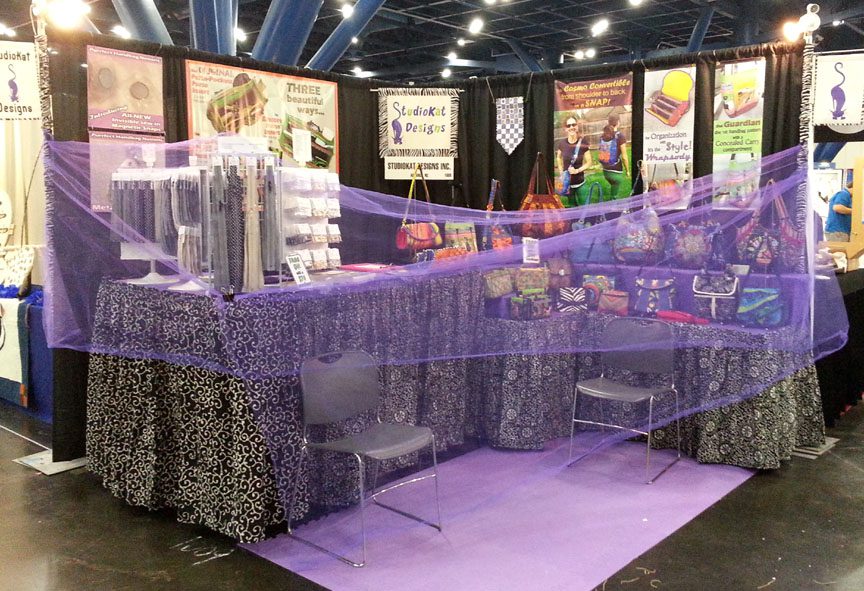 And speaking of Saturday morning... when we walked in there was a little note from the management asking us to removed the little logo banners we normally hang from the top of our 10ft poles. The reasoning?…. we were not to have anything hanging out beyond our 10ft X 10ft booth area which is a little strange, since we all know we've used these banners for 4+ years without incident and what's more, I saw other booths in other areas of the convention center who actually had items completely out on the red rug area in front of their booth (which is a definite no-no!)
So we had a choice… (don't we always?) Do we start our week off with by making a big deal about this, or do we choose to comply? Long story short… we let it go. We decided it just wasn't worth it to kick off this important week with a negative campaign. The hubster suggested that we hang them from the table skirts so that they face the other "thoroughfare" leading up to our booth and I liked this idea as you can see in this picture above, taken just moments after the Quilt Market doors opened! 🙂
And now… it's YOUR turn!
I'd love to hear your thoughts about our Quilt Market "look" and what about our being asked to take down our logo banners? Do you think we should've taken issue with that by citing other violations we saw in other areas of the floor? Please feel free to share your thoughts in the space provided below!
***********************************************************************
And if you enjoyed this post, please feel free to share it via FaceBook or Twitter!