So…
in just a few short weeks we'll be back in Houston for the Fall version of the International Quilt Market and we've got some BIG changes in mind for our display!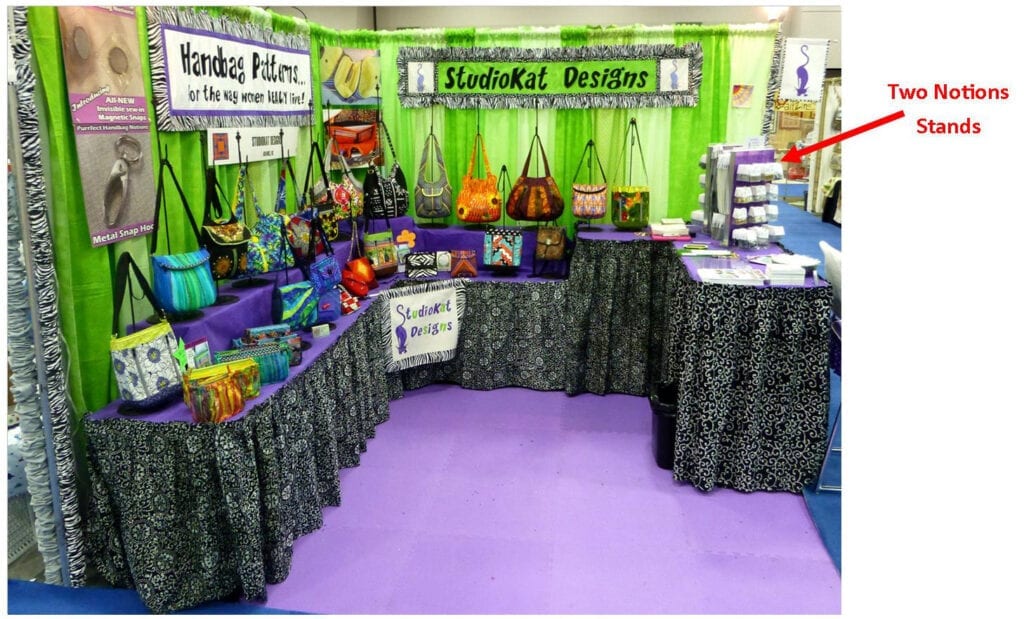 And as usual, I'm going to kick the process off by taking a long hard look at our last Market booth (which you can see above, at Spring Market in Portland OR), to determine if anything about our display needs to change. But here's the deal, we made some MAJOR changes to our booth layout since Portland when we vended at a retail show in June, and since there were certain things about that layout that we LOVED, I want to take some time to ponder if some version of that retail show layout would be effective for us at Market.
The Spring Market in Portland was a very good show for us. We had LOT of foot traffic and even though we added a second notions carousel for this show, this area was STILL congested, primarily because only one person could shop each carousel at a time and because they were still positioned too close to our sales area.
So… after pondering our options, here's the setup we're going to try for Market this Fall.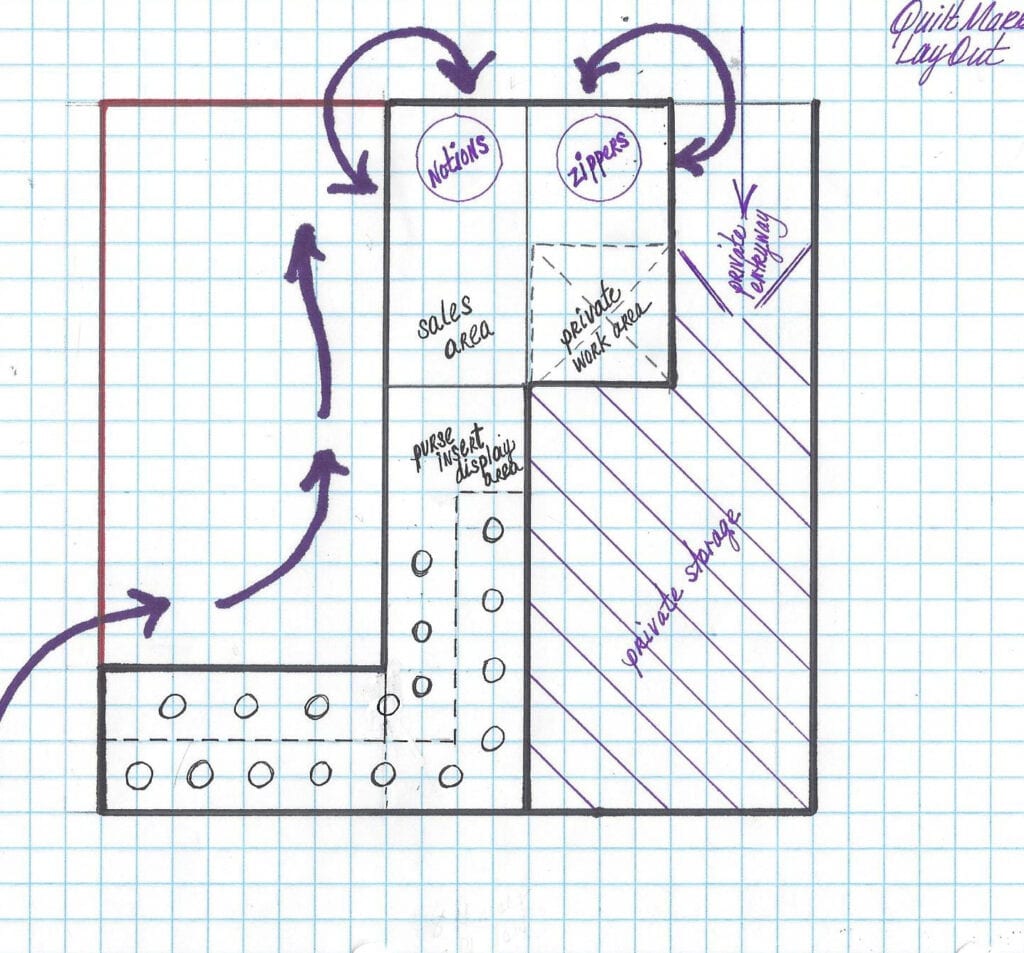 One thing we REALLY found that we enjoyed about our retail show layout was having a private area behind the display which is great for storage, but it also gives us a place where we can legitimately sit and relax if the traffic slows down, and this is going to be pretty important this time, since we need to save our strength for the 4-day Quilt Festival this year.
This layout also does some pretty wonderful things for our traffic. Our old setup was starting to get a little closed up, and this new display is more open and inviting. But best of all, the notions and zipper area is WAY more accessible with 180 degree shopping available on both carousels. We should be able to restock our carousels from behind the counter which is a big plus and I'll enjoy having a private area behind the counter to put personal items like my phone, camera and a drink.
The bag display area is a little smaller than we're used to, so I'll have to limit myself to only one sample of each design with the possible exception of the new pattern, the Cosmo Convertible. Since we're switching to black drapes this time (because we liked them so much in Raleigh), I'm considering hanging only one of the wall banners this time (probably the one that says StudioKat Designs). This way I can use this freed-up wall area to display more bag samples here if I like.
So…what do YOU think?
Please feel free to let us know what you think about this display layout. Our readers have been to WAY more shows that we have, and have provided us with some very excellent feedback about our booth presentations in the past, so we really value your input!
---
We actually LOVE comments and questions, so please feel free to leave any you might have in the space provided below and stay tuned for our next post in this series when we'll show you our Quilt Festival layout !

Did you enjoy this post? If so, please feel free to share it via FaceBook or Twitter
Check out the best sewing pins with me on Pinterest, join in on discussions or show off your work in our FaceBook Group, or get your daily sewing fix on our Facebook Business Page or get behind the scenes scoops on Instagram, and be the 1st to know about new patterns, discount codes and sample sales by signing up for our monthly newsletter.