"Seen at the Show"- International Quilt Festival 2021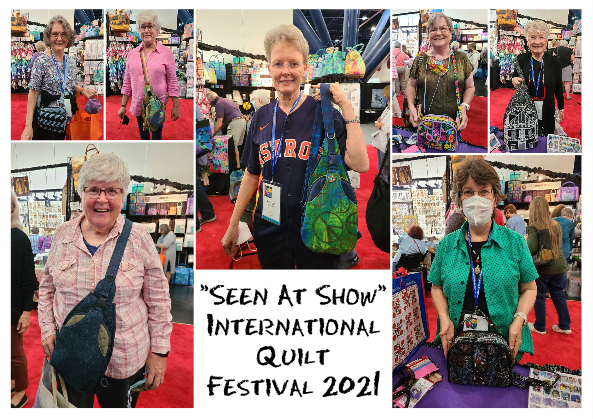 So...
even though I've been in business for over 15 years, I still get a big kick out of seeing our customers carrying bags they've made from our patterns! And what better place to "spy" these customers than a retail quilt/craft show, right?
And if you're thinking that since the Houston Quilt Festival is the largest shows of its type in this country, that it stands to reason that it would be there that we'd "spy" the most bags made from our patterns.... then you'd be absolutely RIGHT! BUT--- having said that, even though we "spied" 22 of our bags in our 2019 show, we actually only saw 7 bags this year which if you think about it, shouldn't be surprising because our so many of our "regular" customers were not able to attend the show this year! All said and done, I really got the impression that SO MANY of the folks who were in attendance this year had either never attended this show, or had not done so in several years!
So with that in mind, I was pretty happy to see these bags, and here's hoping we'll see MANY more next year!
And you know what? This show only served to make me excited for our next show (in this case, Road to California in Ontario, CA). I just can't wait to see what our West Coast customers have been working on!
And now, it's YOUR turn!
Check out the best sewing pins with me on Pinterest, join in on discussions or show off your work in our FaceBook Group, or get your daily sewing fix on our Facebook Business Page or get behind the scenes scoops on Instagram, and be the 1st to know about new patterns, discount codes and sample sales by signing up for our monthly newsletter.