So…
ALL of the bags pictured below were created using our patterns & either shared on our FaceBook Group page, or mailed to us directly! But here's the deal… even though the bags we showed you here last month were very diverse and awesome, THIS month's Eye Candy is seriously AMAZING!
So let's get started, shall we?
Diane Rhodes created this amazing Uptown Saddlebag for her sister who LOVED the 1st Uptown Bag that she made for her a while back. And this is a new color palette for Diane to be using since she normally working in jewel tones, but it really works for this bag. SO impressive!
This is Dawn Eratt's 1st Sling Along and while she says that she found it challenging, she will definitely be making MORE! And isn't this a striking color combo?
This is Risa Mitchell's 3rd Boho Baguette and she says that she couldn't be more pleased with the outcome! She adds that she learned a few things, made a few mistakes but that overall this has been a fabulous experience!
And Debbie Harris actually posted these pictures on her way to Michigan to gift this Sling Along to her 93 yr old aunt. Debbie chose the green fabric because her aunt is Irish and added the gold contrast because she's a "golden oldie"! Deb hopes she'll like it! How could she not? 🙂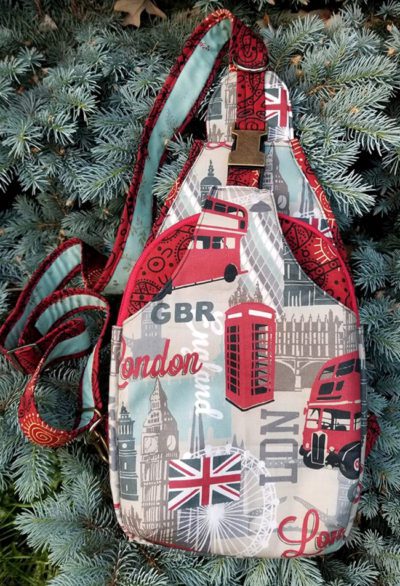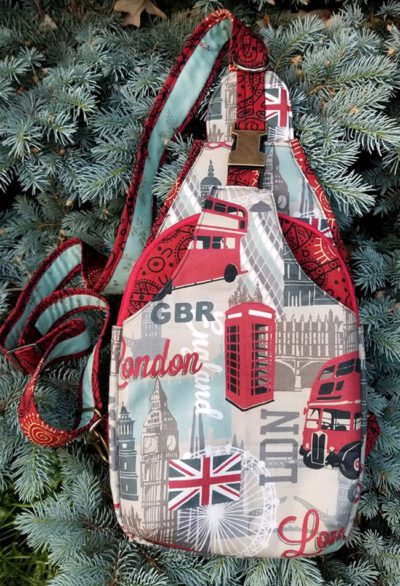 And this is Carla Marett's very 1st Sling Along and added that she took each step in this project "one step at a time" to ensure that she missed nothing! The result? She love, love, LOVES the pattern and will be making more! And as a side note, didn't she do a bang-up job on the photographing as well?
And here we have pictures of the very 1st customer-made Bangle Buddie! Gail Petersdescribes her bag as fairly conservative but that she loves working with batiks!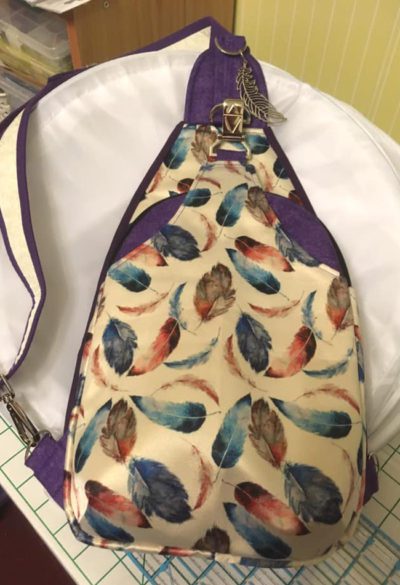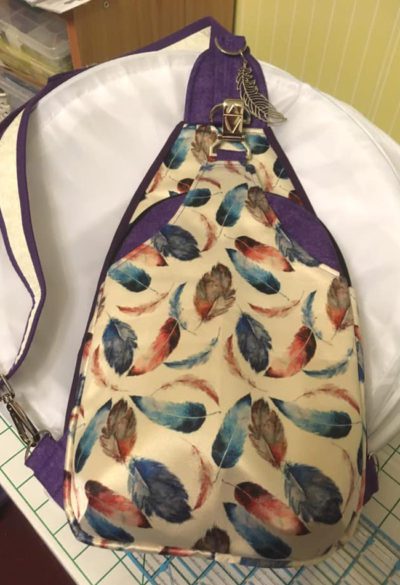 And Dawn Eratt is back with yet another Sling Along which is destined to be another gift, but guess what? Dawn says she loves this one so much she doesn't want to part with it, so she just might duplicate this look for herself before starting on her next bag, which will be a Bangle Buddie!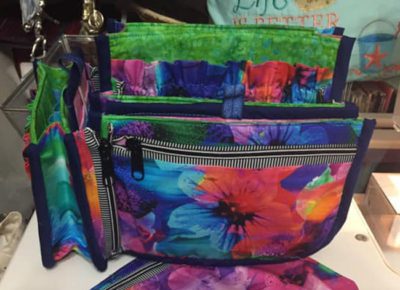 Virginia Compton says she made this, her 1st Porta-PocketsPLUS Purse Insert exactly like the cover model. She says it fits perfectly into her Quattro and plans to make a few more only next time she plans on spending more time customizing the features to her personal needs! There's SO many possibilities!
This is Kirby Roswell's 1st Sling Along and wasn't she BRAVE to choose vinyl for the exterior (for everything but the front pouch area)! Isn't it fabulous? great job Kirby!
So there you have it!
These are the bags I thought best qualified as "Eye Candy" for the month of August 2019. I hope you enjoyed seeing them as much as I did and if you'd like to join our new FaceBook group page to see these types of posts and SO much more, just click HERE. And remember, we love reading your comments and answering your questions too, so please feel free to leave either or both in the space provided below.
******************************************************************************************
Check out the best sewing pins with me on Pinterest, join in on discussions or show off your work in our FaceBook Group, or get your daily sewing fix on our Facebook Business Page or get behind the scenes scoops on Instagram, and be the 1st to know about new patterns, discount codes and sample sales by signing up for our monthly newsletter.