So…
in our last post we told you that we had only one more sample to create before making the all-important decision about which bag we'll be placing on the pattern cover and if you're thinking that this fabric looks familiar… you would be absolutely RIGHT! You might remember that I used this fabric for my original "Gorilla Sample" which you can see HERE! Anyway, since I liked how it looked on that bag so much and since it photographed so great, I thought I'd use it again and maybe it would be a good cover contender!
So here goes…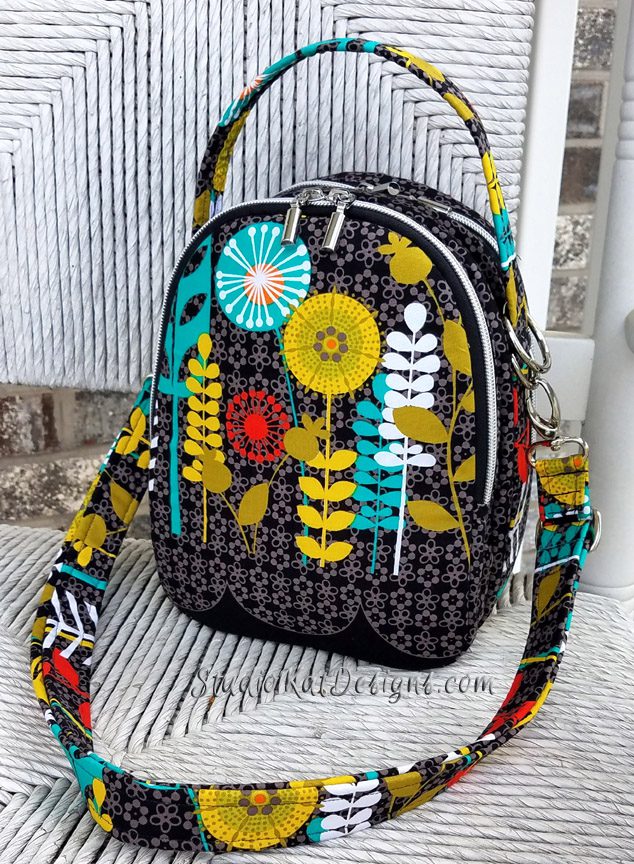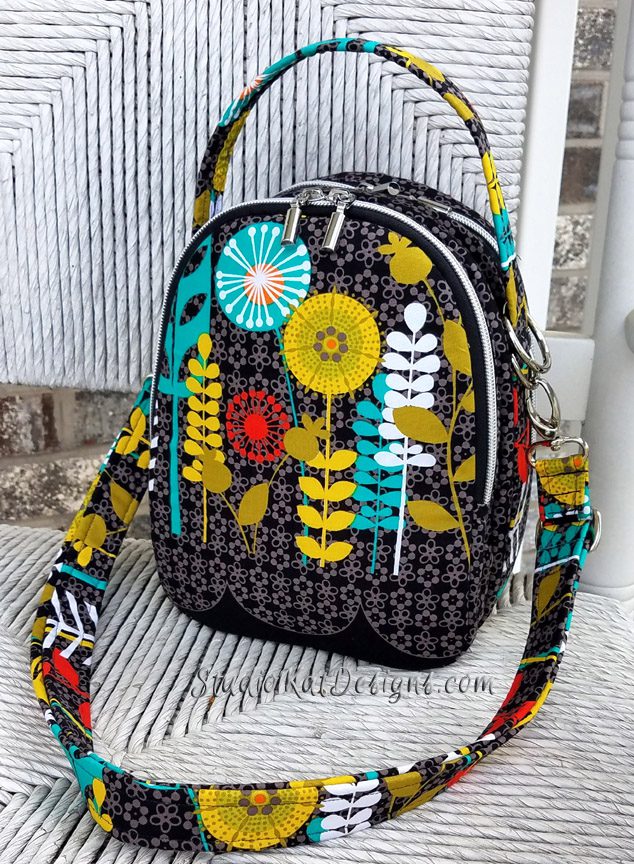 Just to change it up a little, I used a slightly different fabric placement for this sample as I wanted to incorporate some of the scalloped bottom edge of this border print, and I'm happy with the result.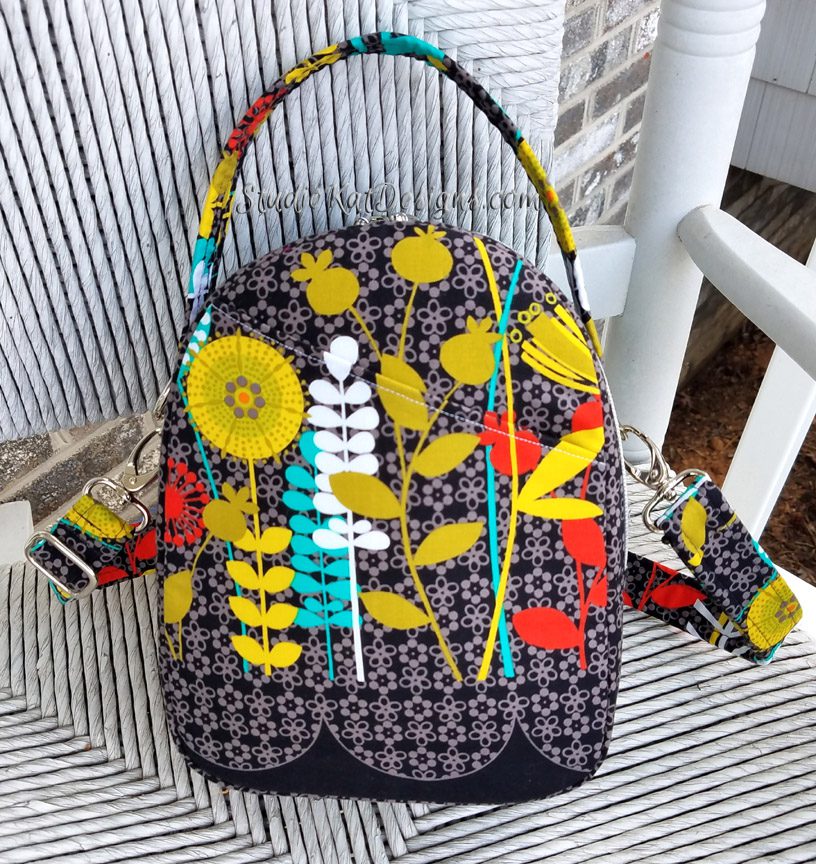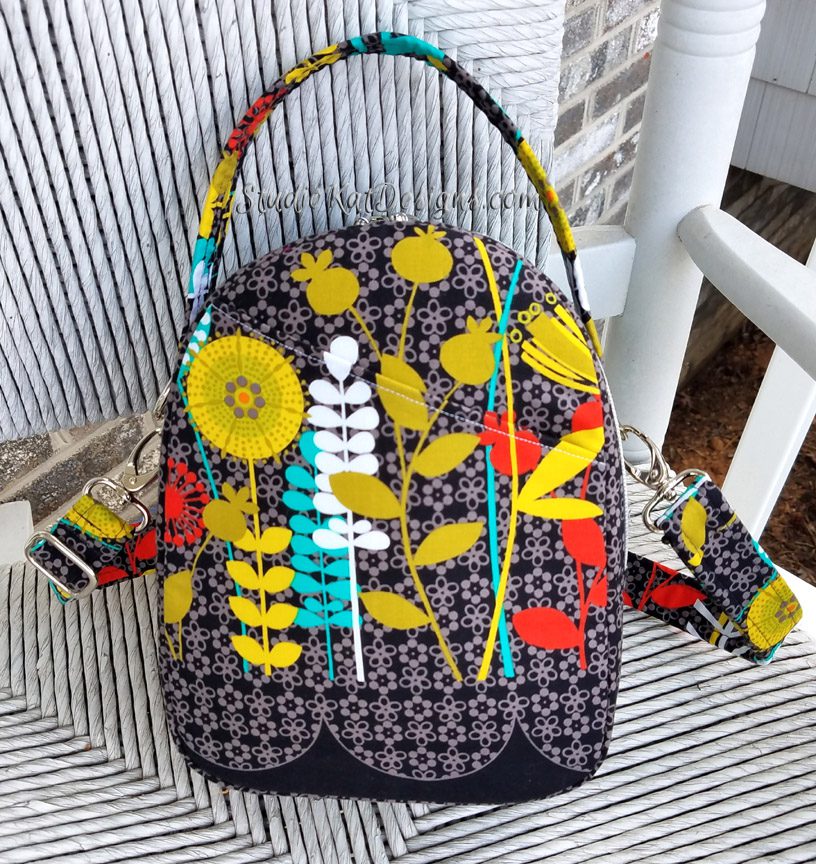 And I deliberately choose a different section of this print for the back as I wanted it to have a totally different "feel" than the front. This is also a pretty good shot of the back pocket as well.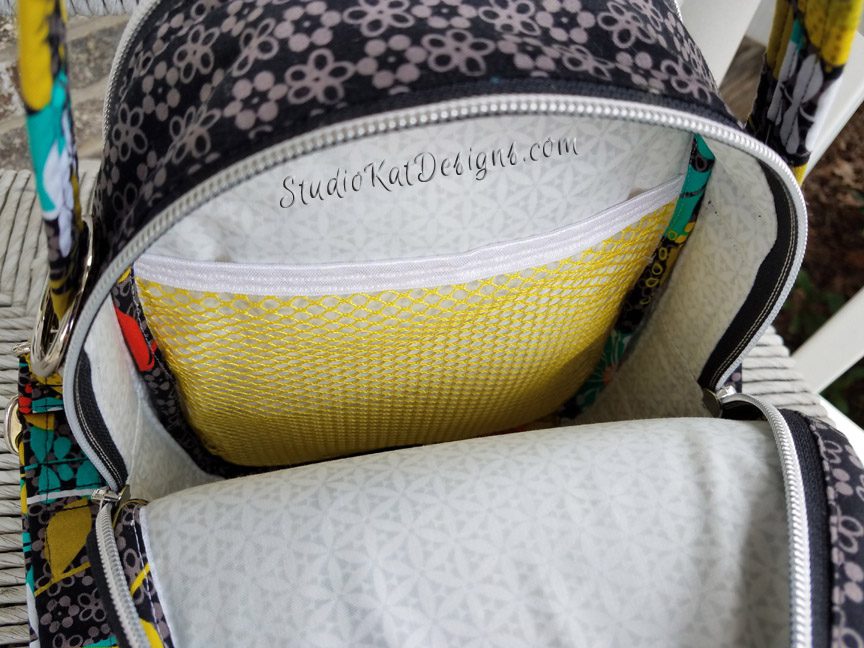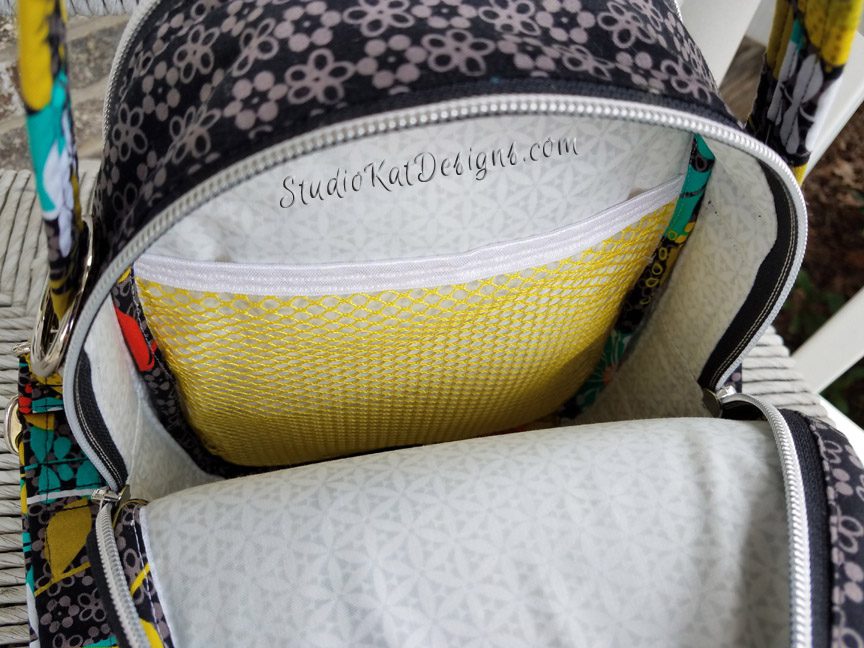 Here's a good shot of the interior mesh pocket and actually, one could easily choose to incorporate a 2nd mesh pocket on the opposite wall.
And finally…
We've had a couple questions about the name we've chosen for this bag, the Bangle Buddie. Let me explain a bit. You see in the end, naming is perhaps the hardest thing I face right now with any new design. I literally lose sleep over it! Especially since any name we choose HAS to be original so as not to infringe on anyone else's copyrighted name. That's a big burden, believe me, because if we screw up in this way, it COULD cost us thousands in a lawsuit.
So this was my thinking…Picture a bangle bracelet for a second and you might catch my vision. My thought was that the grab n' go handle was somewhat like an embellished bangle to be worn at the wrist. A VERY different type of bangle bracelet to be sure, but a bracelet just the same. Perhaps I should've explained it better, but either way I liked it in the end. Hope this helps. 🙂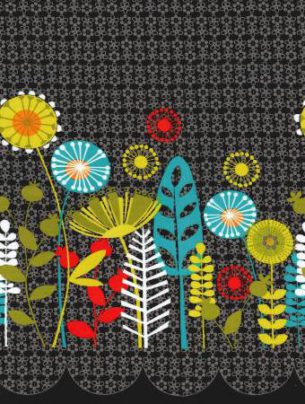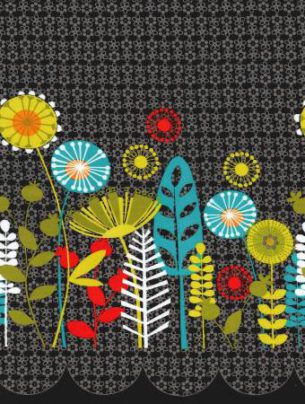 And lastly… here's some info about this AMAZING fabric!
It's called "Coin Flowers a Plenty" by Michael Miller and guess what? We're carrying it on our website NOW!
Just click HERE to find out more information and to pick up some yardage for YOUR next project or to duplicate this look when the pattern is released!!
And now…
it's almost YOUR turn!
Since this is the last sample bag we'll be making before we have to make that all-important decision about which one will grace the pattern cover, DO stay tuned for our next post in this series when we'll be soliciting YOUR advice about which sample we should choose!
And remember, we love reading your comments and answering your questions too, so please feel free to leave either or both in the space provided below.
******************************************************************************************
Check out the best sewing pins with me on Pinterest, join in on discussions or show off your work in our FaceBook Group, or get your daily sewing fix on our Facebook Business Page or get behind the scenes scoops on Instagram, and be the 1st to know about new patterns, discount codes and sample sales by signing up for our monthly newsletter.