So…
in our last post I told you about the inspiration for our next design which can be used as a tech gear bag or even a cosmetic case. We also showed you the original sketches.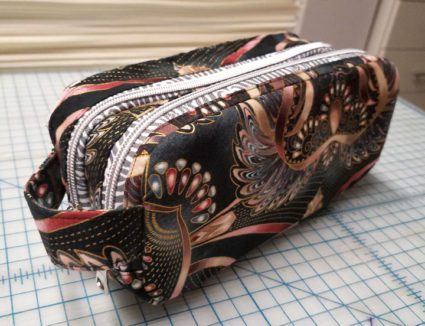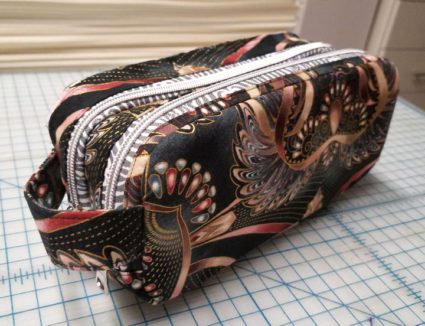 And now… I'm ready to show you the very first prototype I made!
But first… remember that this is a prototype bag. The primary purpose of a prototype for me is to get all the main pattern pieces sized correctly (if not for this sample, then for the next), and to place my notches. The fabrics are scraps from my stash, the zippers have flaws, and the bag is basically unlined. I just don't like to waste good materials on a prototype!
Now this may look like a very basic design to you, but here's the deal…
The inside of this sample will eventually have a lining that's installed in a way which is a big departure from our norm. That is… all the seam edges (for both the exterior AND the lining) will be located on the inside of this bag where we'll bias tape them to conceal the raw edges. This just makes for more efficient storage possibilities which is pretty important for a storage unit like this!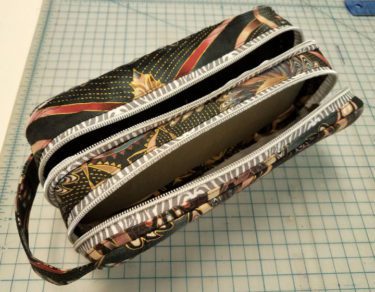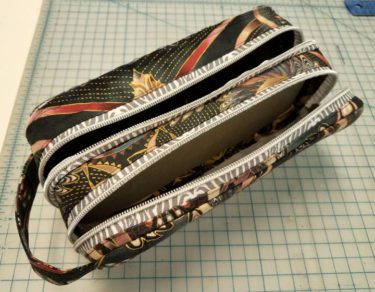 There's actually two completely separate chambers in this unit, each with its own zipper which comes pretty close to spanning from one bottom side edge to the other. This allows for each compartment to open VERY wide, BUT, not so wide that it allows the contents to tumble out the sides (I've had storage bags that do this and it's very annoying!).
I'm thinking that I can eventually include some interior mesh pockets for smaller items and maybe some stitched-in elastic slots on a side wall or two. And I especially like this size for tech gear. It should also accommodate quite a few cords, both long & short.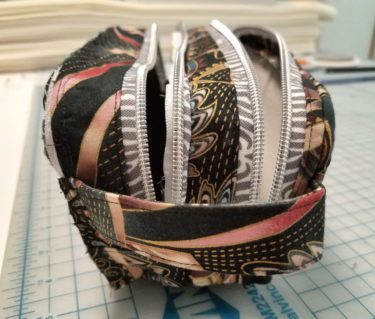 I'd eventually like to include a few other sizes in this pattern in order to provide storage for other types of items. Right now I'm thinking a wider tote (more along the line of a men's shaving kit), and a shorter unit (perhaps for small cosmetics) and maybe even a taller one (for small bottles & tubes).
So… all in all I'm satisfied with this effort, but obviously I'll make a few changes in the next round. First of all I'll put a complete lining in it, plus….
I'll use a lighter weight interfacing. These seams were a tad bulky, even without the added lining layer. There's a few products I need to experiment with between now and then but I will. 🙂
the strap needs to be shorter and placed differently.
the center divider (which you can't see in these photos) is too flimsy. Maybe I'll try some fusible fleece in this area for the next sample?
*********************************************************************************************
And now…. it's YOUR turn!
I'd love to know what you think of our new design at this point in the process? Does these seem like items you would find useful? And what ideas might you have for other sizes or interior accoutrements? And remember, we love reading your comments and answering your questions too, so please feel free to either or both about these or any other aspects of this new design in the space provided below.
**************************************************************************************

Check out the best sewing pins with me on Pinterest, join in on discussions or show off your work in our FaceBook Group, or get your daily sewing fix on our Facebook Business Page or get behind the scenes scoops on Instagram, and be the 1st to know about new patterns, discount codes and sample sales by signing up for our monthly newsletter.