If you're in the process of working out the details of the bag you want to submit to the 2018 Road 2 California Bag Challenge, then it's pretty good bet that you'll be interested in figuring out a way to make YOUR bag stand our from all the rest of the entries, right? And in this post, I'm going to show you SIX ways to create a "stand out" bag exterior!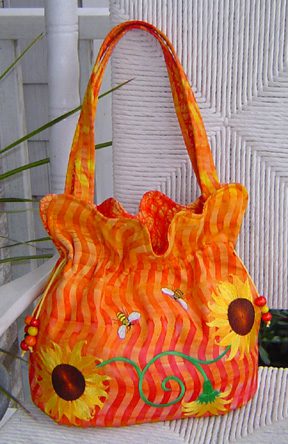 Embroidery
Whether it's a simple monogram or an elaborate digitized design, embroidery is a wonderful way to create a one-of-a-kind exterior whether you have a large expanse to fill or just a small corner to fill. In most cases however, one would generally need a specialized sewing machine to achieve a look such as this!
And just so you know, I have zero skill in embroidery. The embroidery featured on this Boho Baguette was done by the incomparable Susa Glenn.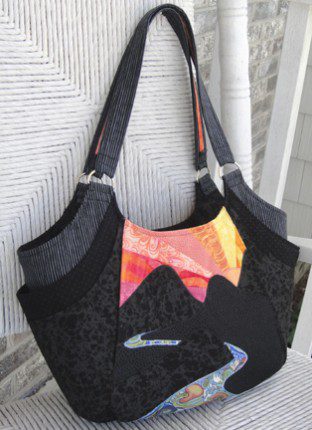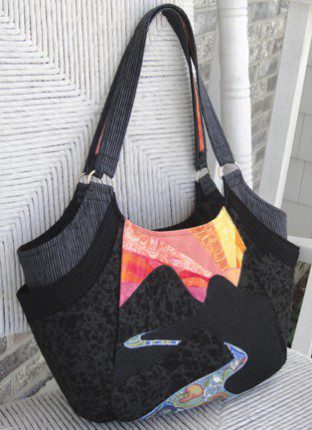 Applique
Whether you create your own unique design or feature a portion of favorite fabric, applique is an effective way to draw attention to certain design features of your bag.
I like to fuse my design motifs in place first with Wonder Under and then satin-stitch the raw edges for a finished look
In the case of this Quattro (at left) I appliqued the entire front pouch area prior to making the bag. I'm a long-time Lord of the Rings fan and this was my tribute to my favorite trilogy series.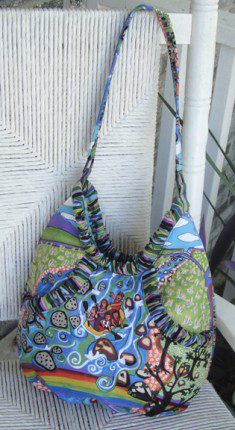 LARGE Prints
Even though bags are small projects, they are often the perfect vehicle for very large prints. The fabric I used for this DittyRoo for example, had a repeat of over 48 inches!
I for one LOVE using large prints on my bag samples. I find it to be a terrific way to draw attention to particular design elements of my bags.
Here's a tip for you– I recommend first making a tracing paper copy of your pattern piece so you can see that you've placed the design item item you want to feature perfectly prior to cutting your fabric. While it's true that can utilizing a large print can be a bit of a "fabric waster", the satisfying result you achieve can make it worthwhile!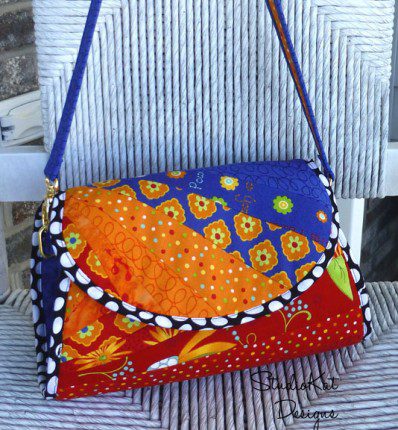 And here's an insider's tip for you– When you're selecting your fabrics, remember that black & white prints are a perfect neutral, and beyond that…. They add pizzazz without competing with the overall look!
And here's another hint–
This rule of thumb also applies when selecting zippers! To add interest without clashing, we always suggest going with a black and white print zipper to add interest to your exterior without commanding center stage!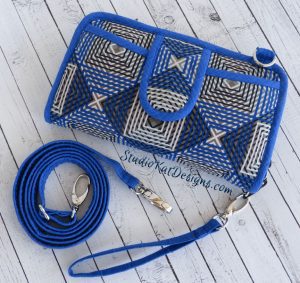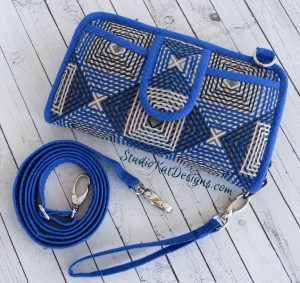 Fussy Cutting
This method of embellishment is a particular favorite of mine! I LOVE the challenge of getting my pieces all lined up so that print has one continuous look!
The drawbacks? This technique can be both time AND "fabric-consuming", but the result can be SO satisfying as it was with this Walkabout, at left!
My advice? Make tracing paper copies of all the pattern pieces you'll be matching and choose your print carefully. Some prints are inherently easier to match than others (plaids can be a good place to start) and a smaller repeat tends to be much less wasteful.
And let the buyer beware: The prints produced with today's modern digital methods are much more consistent between repeats & thus easier to match. Although I love using African & other ethnic prints produced by hand, the repeats can be quite inconsistent and more complicated to use!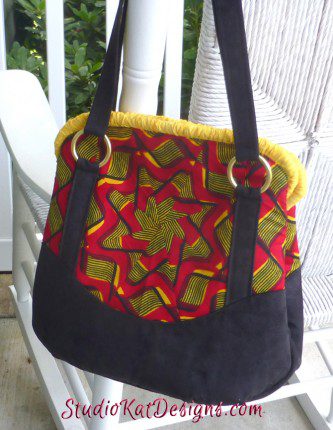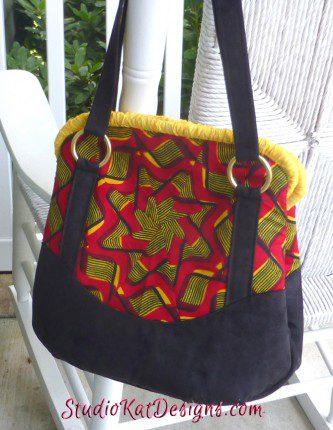 Special Piecing
I also enjoy piecing my way to a unique look for my bag exterior! The best part? You don't have to be perfect to get great results (which is ideal for beginners, or if you want a satisfying result without investing a huge amount of time into theprocess), and the results are totally impressive!
I generally only apply the piecing to a small section (or focal point) of the bag, but the effect can be quite impressive.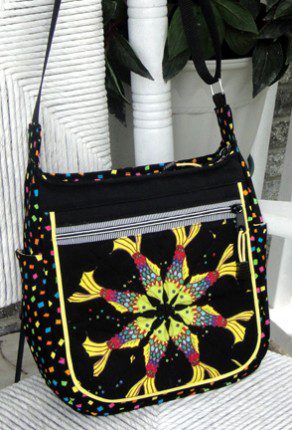 Once again, fabric selection is of utmost importance. In general, a smaller print, or a print that fits within each of the triangular segments of this new design is optimum.
This technique works best on bags with a flat, open focal area, such as the Triple Play at left. We have even included the pattern pieces required to accomplish this look in the Triple Play pattern as well as a few others such as the HipBag Hybrid and the Cosmo Convertible.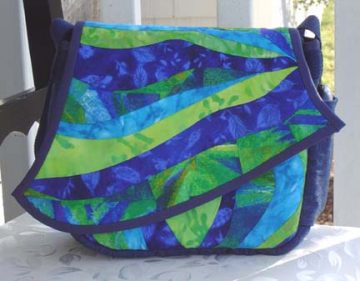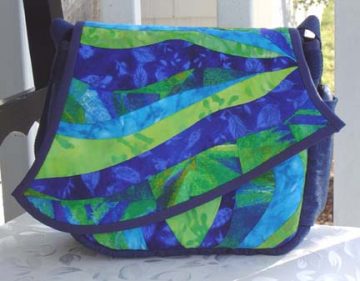 For other designs, the additional pattern pieces are available as a free download on our website, like for the Baggalista at left.
We have even more free resources (known as "Kat Tricks") available HERE on our website, and for those who are interested in a more in-depth study of these techniques and many others, you might want to check out our eBook.
And now…. it's YOUR turn!
What's YOUR favorite way to embellish YOUR projects?
*****************************************************************
Check out the best sewing pins with me on Pinterest, join in on discussions or show off your work in our FaceBook Group, or get your daily sewing fix on our Facebook Business Page or get behind the scenes scoops on Instagram, and be the 1st to know about new patterns, discount codes and sample sales by signing up for our monthly newsletter.