So… can you take one more post showing off one of our patterns with a "vinylized" makeover"? By now you just might be thinking I've gone off the deep end for iron-on vinyl, but here's the deal… As much as I am convinced that purse inserts are the best thing to ever happen to a handbag, I'm equally convinced that iron-on vinyl is the BEST thing to ever happen to a purse insert!
Look how great it looks on our Porta-PocketsPLUS Purse Insert!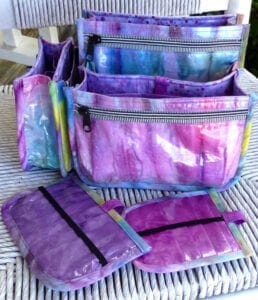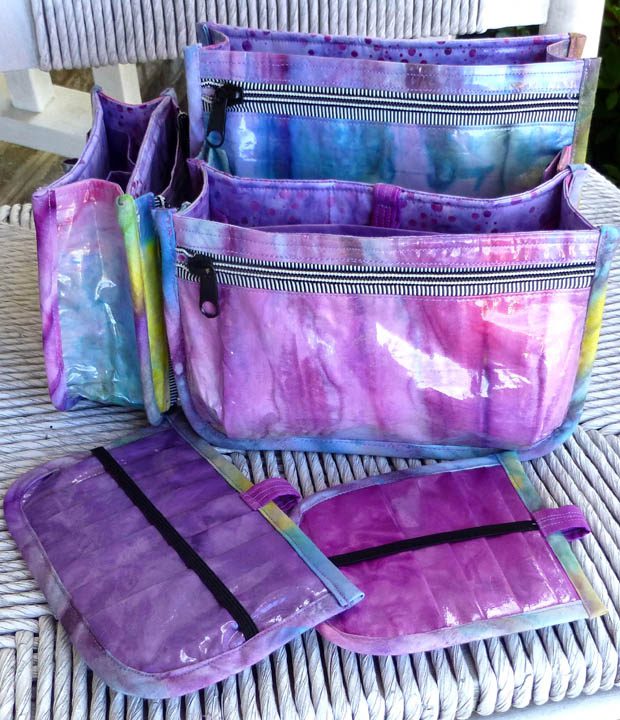 To review: We used Shiny Iron-on vinyl by Sew Lazy on our Porta-Pockets Purse Insert in the 1st post in this series, and Matte Heat n Bond by Thermoweb on our Encore Purse Insert in our second review, but here's the deal… Up until now, I just haven't had much luck taking a picture that captures the difference between these two materials…
BUT…
finally, here's a picture I'm reasonably happy with. The sample underneath is coated with "Gloss" Heat n Bond, and as you can see, it has a slick, wet finish, whereas the sample on top is coated with the "Matte" Heat n Bond.
The look is muted, a bit milky, plasticized if you will.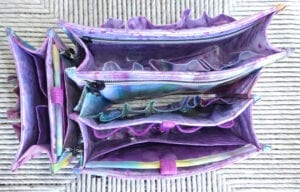 And that's not the only difference I noted between the Shiny and the Matte finish. You might recall from our review of the Matte Heat n Bond, that it seemed that the process of gathering of the Pouch Pockets was considerably more difficult than it had been when using the Shiny product in the Porta-Pockets review).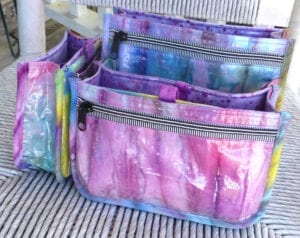 Could this have been the fault of the Matte vinyl?
I wasn't sure then, but to settle the issue, I decided to try the Gloss version of the Heat n Bond for the construction of this Porta-PocketsPLUS! And you know what?
I can't explain why, but once again the Pouch Pockets were WAY easier to gather & stitch! So…as far as I'm concerned, the case is closed.
The Gloss Heat n Bond and the Shiny from Sew Lazy are just easier to work with. Period. 🙂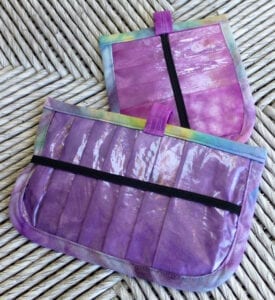 And here's yet another advantage to using iron-on vinyl in our Purse Inserts.
Credit and Loyalty cards just stay put better within the vinyl-coated slots of the CC Caddys and Holders than they did within the fabric-only slots. No shifting or sliding. I still recommend installing the elastic security band, (but only as a precaution).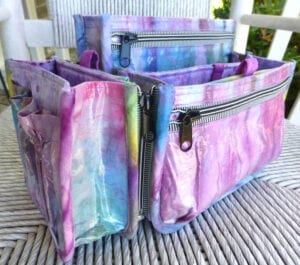 So… in conclusion, as we found with our other Purse Inserts, using Iron-On Vinyl is a beautiful AND practical option for the Porta-PocketsPLUS Purse Insert. And once again, I'm recommending just a few modifications to the pattern templates and instructions to make the process easier.
We've summarized these changes for you in a convenient color pictorial which is specific for the PortaPocketsPLUS, and you can download it by clicking HERE!
So….This may finish up our experimentation with Iron-On Vinyl and our Purse insert patterns, but now the question that remains is…
What about the rest of our patterns?
Have YOU tried iron-on vinyl for a handbag?
Which of our handbag patterns do YOU think would benefit
from a "vinylized" exterior?
*********************
Did you enjoy this post? If so, please feel free to share it via FaceBook or Twitter!