So…
we've recently added four beautiful new pieces of hardware to our line, and believe me, these pieces REALLY are beautiful!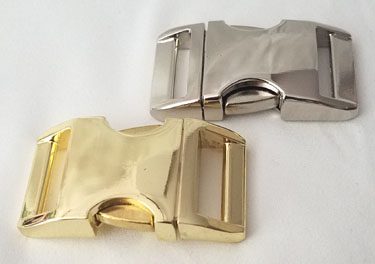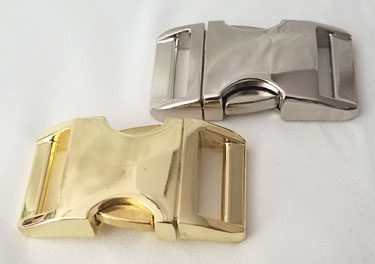 First- take a look at our new metal Side Release Buckles!
Our customers have been asking for metal Side Release Buckles for over a year now and we have been working hard trying to source them without much success until now. And I'm really happy with these beauties! They're a little pricey but if you have a special project in mind, this buckle may be just the thing that takes it from great to SPECTACULAR! Click HERE for more information.
Next- Consider these Gate Rings!
I've always been fascinated with Gate Rings and even though we've had quite a few requests to start stocking them, it's always been my policy to only carry hardware that is actually used in the construction of our bags. But with the introduction of our new Gateway pattern, it was time for us to source them out! And aren't these just beautiful? I really love the flat edge on these rings! I think it gives them extra shine and pizzazz!
And just like the Buckles above, these Gate Rings are a little pricey, but their functionality can actually save you money in the long run. In the case of the Gateway design, they take the place of a conventional set of D-rings and Snap Hooks with the extra added advantage of being removable, so they can be used on more than one of your bags! Click HERE for more information!
And now…. it's YOUR turn!
Both of these products are available in either brass or nickel finish and remember, we love reading your comments and answering your questions too, so please feel free to leave either or both in the space provided below.
****************************************************
Check out the best sewing pins with me on Pinterest, join in on discussions or show off your work in our FaceBook Group, or get your daily sewing fix on our Facebook Business Page or get behind the scenes scoops on Instagram, and be the 1st to know about new patterns, discount codes and sample sales by signing up for our monthly newsletter.