So…
in a recent post, I told you about some of the things that worked well for us this year, as well as some of the things that didn't quite go as I had hoped. And now, with our 2016 assessment completed, I'm ready to detail our goals for the new year, 2017.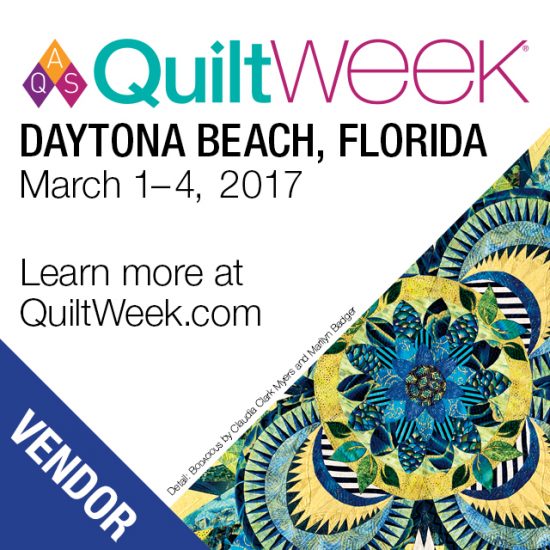 1) Our Show Schedule for 2016-
Since it's for sure that once again we will NOT be traveling to Spring Quilt Market, this year in St Louis, I've been researching my options for our 4th retail show. We're still pretty happy with our West Coast show (Road 2 California), and its hard to beat our deep South show (International Quilt Festival) and our mid-West show, AQS Paducah, I'm STILL on the hunt for a terrific East Coast show. Just like last year, we were hoping to get into the Mid-Atlantic Quilt Festival in Hampton, VA but once again we weren't extended an invitation until WAY too late, so we opted instead to vend at AQS Daytona Beach this year. Many of our friends and fellow vendors told us how happy they were with last year's Daytona show so we'd love to meet YOU there in March of 2016, or at any of these other locations!
Road 2 California-Ontario, CA-Jan 19-22, 2017
AQS Quiltweek Daytona Beach-Daytona Beach, FL-March 1-4, 2017
AQS Quiltweek Paducah-Paducah, KY-April 26-29, 2017
International Fall Quilt Market– Houston, TX-Oct 28-30, 2017
International Quilt Festival– Houston, TX-Nov 2-5, 2017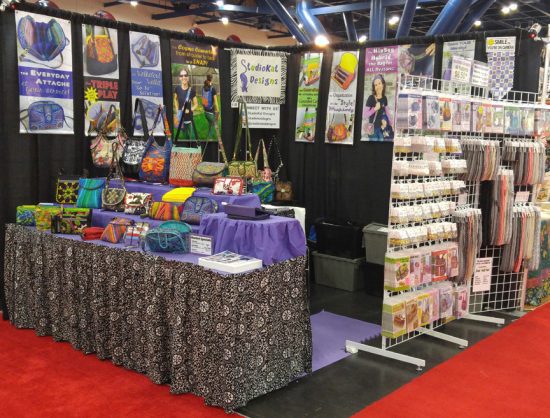 2) Create More Space in our Booth– Our booth has gone thru many, MANY permutations since 2008 when we first started vending at Quilt Market but we've kept our current arrangement (at left) without any changes since the Road to California show in January of last year. And here's the deal… I distinctly remember telling my husband that with that change we had officially eeked every bit of display footage out of that a single booth that we could, and if we wanted more display area it would mean doubling our booth size (and our expenses)! But here's the deal, I think I may have come up with a way to squeeze 2 more precious linear feet for our display. I haven't had a whole lot of time to flesh out the details of this idea with the holidays and all, but now I do so stay tuned for our 1st Road to California post (coming soon) for the big reveal! 🙂
3) Introduce Another New Zipper Print to Our Line– If you had told me 5 years ago that our zipper line would be as successful as it is today I wouldn't have believed it, because here's the deal…. I firmly believe that the primary reason that our pattern line survived the economic downturn in 2008 is because of our zippers and notions. So with this in mind and in an effort to keep moving forward, I'm starting to think about what our next zipper print should look like, but to tell you the truth I'm totally open to suggestion, so if you have a cool idea for a zipper print you'd like to see us produce, I'm all ears! 🙂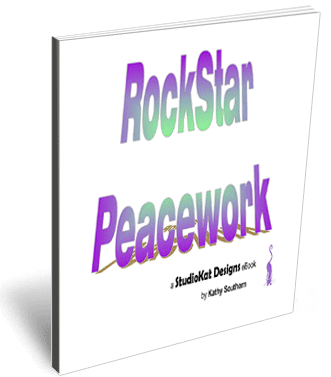 4) Write Another eBook– So…. it's been over 5 years since we published our first (and only) eBook, RockStar Peacework, and for some time now I've been kicking around a few ideas for a sequel, because here's the deal. SO many of you have been requesting information about the fussy-cutting techniques we use for our bag exteriors, that I've been thinking it might be a good idea to document the process we use in this way. I've even taken most of the pictures that would support the book! Now all I need to do is find the time to flesh out the details and I'm hoping that 2017 might be the year that I get the time to make this a reality!
So…there you have it.
That's what we'll be shooting for this year! But hey, if you have any comments, or suggestions for us, especially zipper suggestions, please feel free to leave them in the space provided below.
**********************************************************************************
Check out the best sewing pins with me on Pinterest, join our Facebook discussions, get your daily sewing fix and behind the scenes scoops on Instagram, and be the 1st to know about new patterns, discount codes and sample sales by signing up for our monthly newsletter.